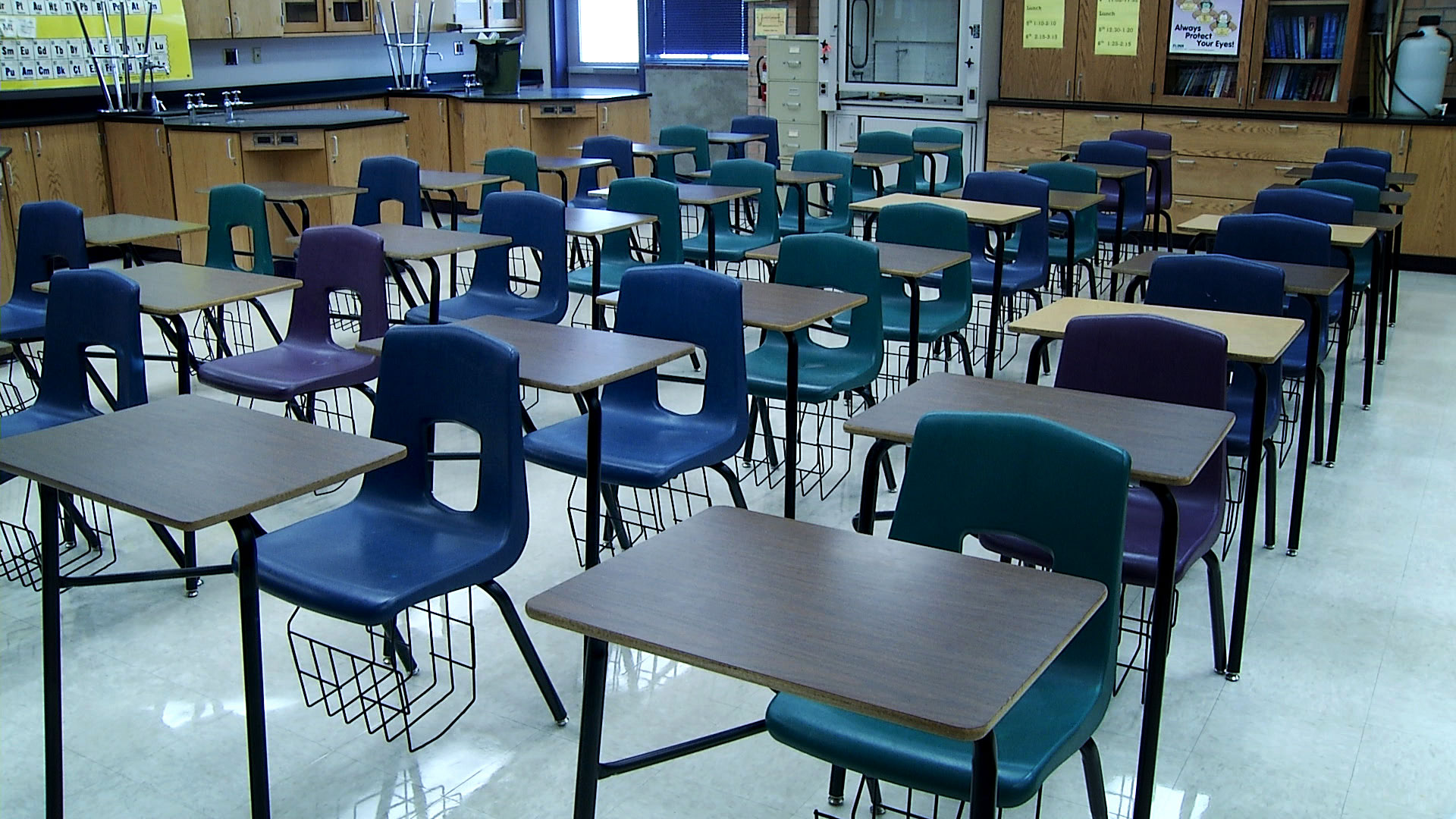 File image of an empty classroom at Sabino High School in Tucson.
AZPM Staff
Gov. Doug Ducey has long been in support of getting kids back into classrooms. He kicked that desire into high gear this week when he issued an executive order instructing schools to offer in-person learning by March 15.
Under the order, schools can still offer a remote option, but may only close if their county enters a period of "high" transmission. As of Wednesday, the day the governor issued the order, this includes only Coconino, Yavapai and Pinal counties.
Ducey experienced some pushback from educators, including State Superintendent of Public Instruction Kathy Hoffman, for his truncated timeline. His order gave schools less than two weeks to prepare.
However, many school districts in Southern Arizona already offer an in-person option or have plans to do so very soon.
Sunnyside Unified School District returned to in-person learning Monday. Amphitheater Public Schools entered hybrid learning on Feb. 15 and the district is looking to resume full in-person learning March 22.
Southern Arizona's largest school district, Tucson Unified, was already planning to offer in-person learning beginning the week of March 22. TUSD's plans are not hampered by the governor's order because the March 15 deadline falls during the district's spring break.
---
Ducey orders schools to open March 15
AZPM
Governor Doug Ducey issued an executive order, Wednesday, requiring public schools to offer in-person classes no later than March 15.
The order allows schools to continue offering a mix of in-person and virtual classes. It also allows a delay in the start of in-person classes if the school is scheduled for spring break on March 15.
State superintendent of public instruction Kathy Hoffman says the executive order is a challenge for some districts who already had plans to offer in-person classes, just not by March 15 due to local COVID conditions. She said the order would have been better with more collaboration with local schools.
---
TUSD is ready for in-person classes
AZPM
Tucson Unified School District Superintendent, Dr. Gabrielle Trujillo, said the district will comply with Governor Doug Ducey's order that schools offer in-person classes by March 15th.
Trujillo said the district had already planned to begin offering in-person classes after Spring Break, which is on the Governor's timetable. He said the district made that decision in Feb.
When teachers return to class, they will find masks and high-end HEPA filter units in the rooms.
---
Pima County Health Director 'comfortable' with school reopening
AZPM
The head of Pima County's Health Department is not expressing any public health concerns over the governor's order to re-open school classrooms in a couple weeks.
On Wednesday, Gov. Doug Ducey ordered public school districts to offer in-person classroom teaching by March 15th, or when they return from spring break. The order has drawn fire from some in the education community who say it doesn't give them enough time to prepare.
But Pima County Health Director Theresa Cullen said schools have already invested a lot of effort in creating safe teaching spaces.
---
Checking in on the 2021 Arizona legislative session, Ducey's executive order
Arizona 360
An executive order Gov. Doug Ducey issued this week called on schools to offer in-person learning by March 15. Under the order, schools can offer hybrid options.
News of the order and its reception at the Arizona Capitol led Arizona 360's discussion with Julia Shumway who covers the State Senate for the Arizona Capitol Times. Shumway also discussed other key issues emerging this legislative session and the pandemic's impact on procedures.
---
Tucson students head to charter schools in droves, public enrollment down
Arizona Daily Star
Charter schools across Arizona have seen an increase in enrollment this school year, as many public schools were slow to return to in-person learning, the Arizona Daily Star reports.
This led to a significant enrollment drop in Tucson-area public schools. Data from the Arizona Department of Education shows that over 4,000 students dis-enrolled from public schools in Tucson.
---
Marana School District look for new teachers, staff
Arizona Daily Star
The Marana School District put out a call to let teachers, substitutes and other staff members know that it is hiring, the Arizona daily Star reports.
The district will hold a job fair Saturday, March 6, at Quail Run Elementary School. Additional information about the district;s job openings is available online.
---
Arizona releases NCAA's Notice of Allegations
AP
Arizona has released the Notice of Allegations it received from the NCAA last fall, which includes five Level I violations.
The school released the notice after a judge this week ruled in favor of a lawsuit filed by ESPN.
The violations include a lack of institutional control by the men's basketball and swimming programs, and unethical behavior by assistant basketball coach Emanuel Richardson for accepting $20,000 in bribes. Richardson was among 10 people arrested in an FBI investigation into college basketball and served three months in prison.
---
Tohono O'odham Community College has received hygiene supplies from AT&T
AZPM
The Tohono O'odham Community College is confronting COVID-19 with the help of a recent donation of pandemic supplies from AT&T.
Hand sanitizers, disinfectant and gloves worth $76,972 arrived on 17 pallets in February from the telecommunications company. Alberta Espinoza, a counselor with the college and a licensed emergency medical technician, said right now the donation is being used to keep essential staff healthy, as the student body is still learning online.
Tohono O'odham Nation Health Care reported 1,735 cases have been reported among members in the Tohono O'odham Nation and nearly 6,376 vaccine doses have been administered, as of February 24 according to Tohono O'odham Nation Health Care.
---
Arizona House OKs guns in cars on school grounds
AP
PHOENIX — The Republican-controlled Arizona House has approved a bill allowing people to have loaded guns in their vehicles on school grounds.
The proposal by Rep. Jacqueline Parker passed on a 31-28 party-line vote with no Democratic support.
Parker said during an earlier debate that her proposal simply allows legally armed people to leave their weapons loaded when they're going to pick up their children at school. Democrats said it could lead to adult students bringing a gun onto school grounds where they could be tempted to pull it out after a teenage spat.
The bill now goes to the Senate for consideration.
---
Arizona bill limits sex ed, discussion of sexual orientation
AP
PHOENIX — Arizona lawmakers are considering banning sex education before fifth grade. The measure also would require written parental permission before discussing sexual orientation or gender identity in any class.
Critics said the measure would have far reaching consequences, muzzle teachers and isolate lesbian, gay, bisexual and transgender students. Democratic Sen. Victoria Steele of Tucson says it "threatens to take us back before the 1950s."
Republican Sen. Nancy Barto says she introduced the bill to give parents more of a voice in what their children are learning in school. She says children are being increasingly inundated with sexual material.
---
Learning remotely means getting creative on Navajo Nation
AP
BLUFF, Utah — Teachers and families are getting creative work through remote schooling in San Juan County, which overlaps with the Navajo Nation.
Mortality due to COVID-19 is around five times higher than in the rest of Utah so parents there are not ready to send their children back to school, despite the fact that poor internet access has made at-home schooling on the Navajo Nation difficult.
But their remote-school efforts appear to be paying off. Around 80% of the students at Whitehorse are on track to be promoted or graduate. That's just 7% lower than the graduation rate in 2019.