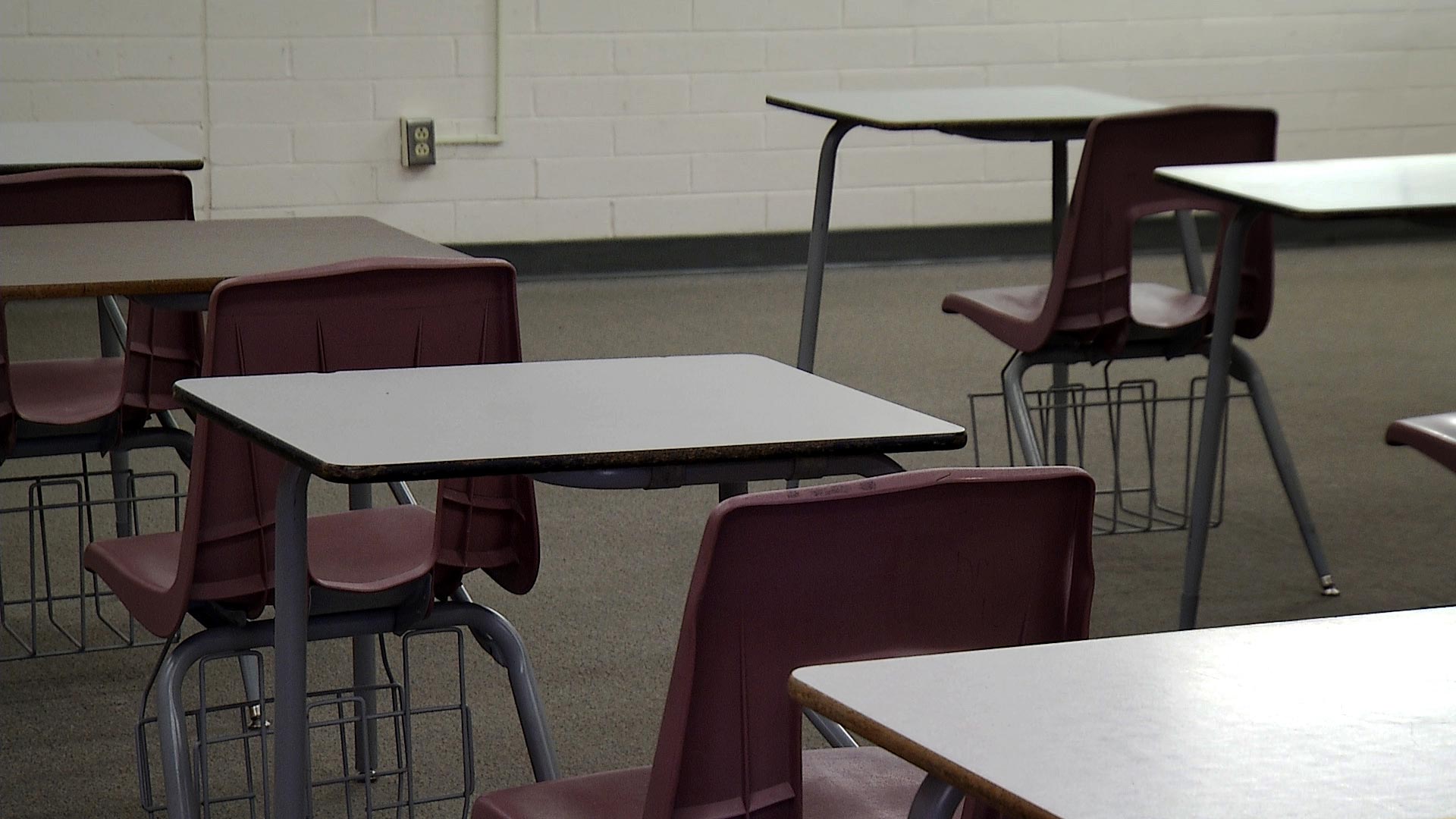 An empty classroom at Gridley Middle School in Tucson. November 2020.
AZPM Staff
Gov. Doug Ducey's March 15 deadline for schools to return to in-person instruction came and went this week, though most schools in Pima County were on spring break. However, when they return classrooms will be open.
For the region's largest district, Tucson Unified, it has been about a year since most teachers and students have been on campus. The district had a plan to begin its hybrid learning model even before the release of Gov. Ducey's order, though some teachers report frustrations with the reopening plan.
At Amphitheater Public Schools, a district of about 10,000 students, the plan is to reopen with fulltime in-person learning for nearly all students on Wednesday. While there is still an online option available for students who do not want to return, 94% of district parents surveyed opted for the in-person model.
Meanwhile, in the world of higher education, the University of Arizona displayed optimistic signs regarding the pandemic.
This week, the university announced it will expand its in-person classes in the coming weeks, thanks to improvements in COVID-19 metrics. This decision, coupled with UA's recently announced plans for an in-person graduation ceremony point to the a rosier outlook towards the pandemic than last semester.
---
Local businesses and schools adapt to changes in COVID restrictions
The Buzz
Governor Doug Ducey has ordered schools to offer in-person instruction and lifted capacity restrictions on indoor dining. Arizona's daily average of COVID-19 cases continues to decline but new variants are spreading in the state.
This week, The Buzz discusses these reopening steps and hears what the last year has been like for teachers and restaurant owners.
Listen to the full episode here.
---
Bill would allow Indigenous students to wear cultural clothing at graduation
AZPM
Indigenous students may soon not need to ask permission to wear traditional clothing or items at graduation.
A bill, HB 2705, currently in the Arizona Legislature prohibits public or charter schools from blocking students from wearing culturally-significant regalia. The proposal has passed the House with only two no votes and is expected to pass the Senate unanimously in the coming days before heading to Gov. Doug Ducey for his signature.
After a year of racial justice protests, former Arizona State Rep. Arlando Teller introduced a bill allowing Indigenous students to wear their regalia at graduation. State Rep. Jasmine Blackwater-Nygren, who replaced Teller earlier this year, picked up the bill.
---
Bitterly divided House panel OKs big school voucher bill
AP
PHOENIX — A bitterly divided Arizona House committee has advanced a massive expansion of the state's school voucher program just over two years after voters overwhelmingly rejected universal school vouchers.
Republicans called the measure already passed by the full Senate a lifeline for 600,000 low-income students who would become entitled to state funding for private school tuition.
Minority Democrats argue it will siphon money from already-underfunded public schools and go against the will of voters who rejected the larger expansion in 2018. Wednesday's 6-4 Ways and Means Committee vote sends SB1452 to the full House.
---
Teachers, community members stage protest at Capitol
Arizona Republic
Educators and other community members gathered at the state Capitol Wednesday to protest SB 1783, which opponents say would hurt school funding, the Arizona Republic reports.
Protestors argue that the bill would undo the work of Proposition 208, which passed in November and created a tax surcharge for Arizona's highest earners to help fund K-12 schools. The bill would allow for some small business owners to avoid the tax increase.
Proponents argue the bill helps small business owners. It passed in the Senate and is now headed for the state House.
---
Ducey talks disdain for new education tax, vows fast fix
AP
PHOENIX — A new voter-approved tax on high-earning Arizonans that will boost education spending is firmly in Gov. Doug Ducey's crosshairs.
The Republican vowed Friday to see Proposition 208′s new tax canceled either through the courts or the GOP-controlled Legislature.
Ducey told the Valley Partnership business group that he's been advising people who ask him about the new 3.5% surcharge to hold on while he works to minimize its effects.
---
Ex-CEO at Goodyear charter school gets prison in fraud case
AP
PHOENIX — A former CEO at a now-closed Goodyear charter school has been sentenced to four years in prison in a fraud case.
State prosecutors say Daniel Hughes also was ordered to pay restitution for his role in the theft of more than $2.5 million from the Arizona Department of Education, the U.S. Department of Education, the U.S. Department of Agriculture and the Federal Communications Commission.
The Bradley Academy of Excellence abruptly closed its doors in January 2018. Authorities then discovered the K-8 charter school had falsified its attendance records and Hughes was the architect of a scheme reporting fake students to the Arizona Department of Education to increase funding.
---
12-year-old girl headed to ASU hopes to work for NASA at 16
AP
TEMPE — Alena Wicker has been thinking big since she was small. At age 4, she told her mother that she wanted to work for NASA someday.
Now, the 12-year-old has been accepted to Arizona State University and she hopes to become a NASA engineer by age 16.
Wicker told Phoenix TV station KPNX that she has always dreamed of being an engineer because throughout her life, she liked building things.
Daphne McQuarter says her daughter has always had an affinity for building and design. McQuarter says Alena will be double-majoring in astronomical and planetary science and chemistry at ASU.
---
UA expanding in-person classes
AZPM
The University of Arizona announced on Monday that it plans to expand to Phase Three for in-person classes on March 29. Phase Three allows classes of up to 100 students to meet in-person.
The declining COVID-19 cases in Arizona and on campus allowed university officials to make the decision to move forward with more in-person classes.
"We're able to project the shift due to continuing lower numbers of COVID-19 in the campus population," said University of Arizona President Robert Robbins.
---
Newest UA telescope mirror in cool down phase
AZPM
One of the biggest and most advanced telescope mirrors ever created is currently cooling off beneath Arizona Stadium.
Technicians at the Richard F. Caris mirror lab on the University of Arizona campus produced the 8.4-meter (27 ft.) wide mirror earlier this month. The mirror is the sixth of seven that will eventually be hauled to a mountaintop in Chile and put in place as part of the Giant Magellan Telescope project.
UA scientist Buddy Martin says the mirror was forged from molten glass in an oversized furnace. He notes the next step in the process is weeks away.
---
UA groups plan webinar series on water issues
AZPM
Several University of Arizona groups are coming together to present a six-part public webinar series on water issues this year.
The first will take place Wednesday, March 17, and focus on different regional perspectives on water sustainability. Kathy Jacobs, Director of the Center for Climate Adaptation Science and Solutions at UA, is moderating the discussion. She said people often disagree on issues around water, especially in times of shortage.
"I don't believe everybody views this the same way and when you don't, you actually come to different conclusions about what's an appropriate decision for water management," Jacobs said.
Jacobs said Wednesday's discussion is intended to help understand the different ways people frame water issues as a step towards working towards more collaboration. It will feature representatives from tribes, utilities, environmental groups and Mexico.
The series is presented by the Arizona Institutes for Resilience, the Udall Center for Studies in Public Policy, and the Water Resources Research Center, and intended for the general public. Find more information here.
---
Arizona signs Barnes to contract extension through 2025-26
AP
Arizona has extended women's basketball coach Adia Barnes' contract through the 2025-26 season. The deal must be approved by the Arizona Board of Regents.
Barnes is Arizona's all-time leading scorer and she returned to coach her alma mater in 2016. She has transformed the Wildcats into a top-10 team after nearly a decade of struggling.
Arizona was poised to make the NCAA Tournament for the first time since 2005 last year before the season was canceled by the coronavirus pandemic. The Wildcats won 16 games during the truncated 2020-21 season, had their highest ranking in The Associated Press poll at No. 6 and spent 13 weeks in the top 10.
---
Sonoran Teachers Could Soon Get Vaccine, A Step Toward School Reopening
Fronteras Desk
Teachers in Sonora, Arizona's neighbor to the south, could get access to coronavirus vaccines.
Now that the state is considered low-risk for coronavirus spread, those vaccines could be coming soon for the state's teachers. That's according to President Andrés Manuel López Obrador.
"It's very likely that teachers will also be vaccinated there," he said of Sonora, where older residents in rural areas are currently being prioritized. A final decision should come within the week, he added.
Sonora is one of three states at green, and the only one in northern Mexico. Sonora's health secretary recently said his department was ready to aid schools in reopening as soon as this week.