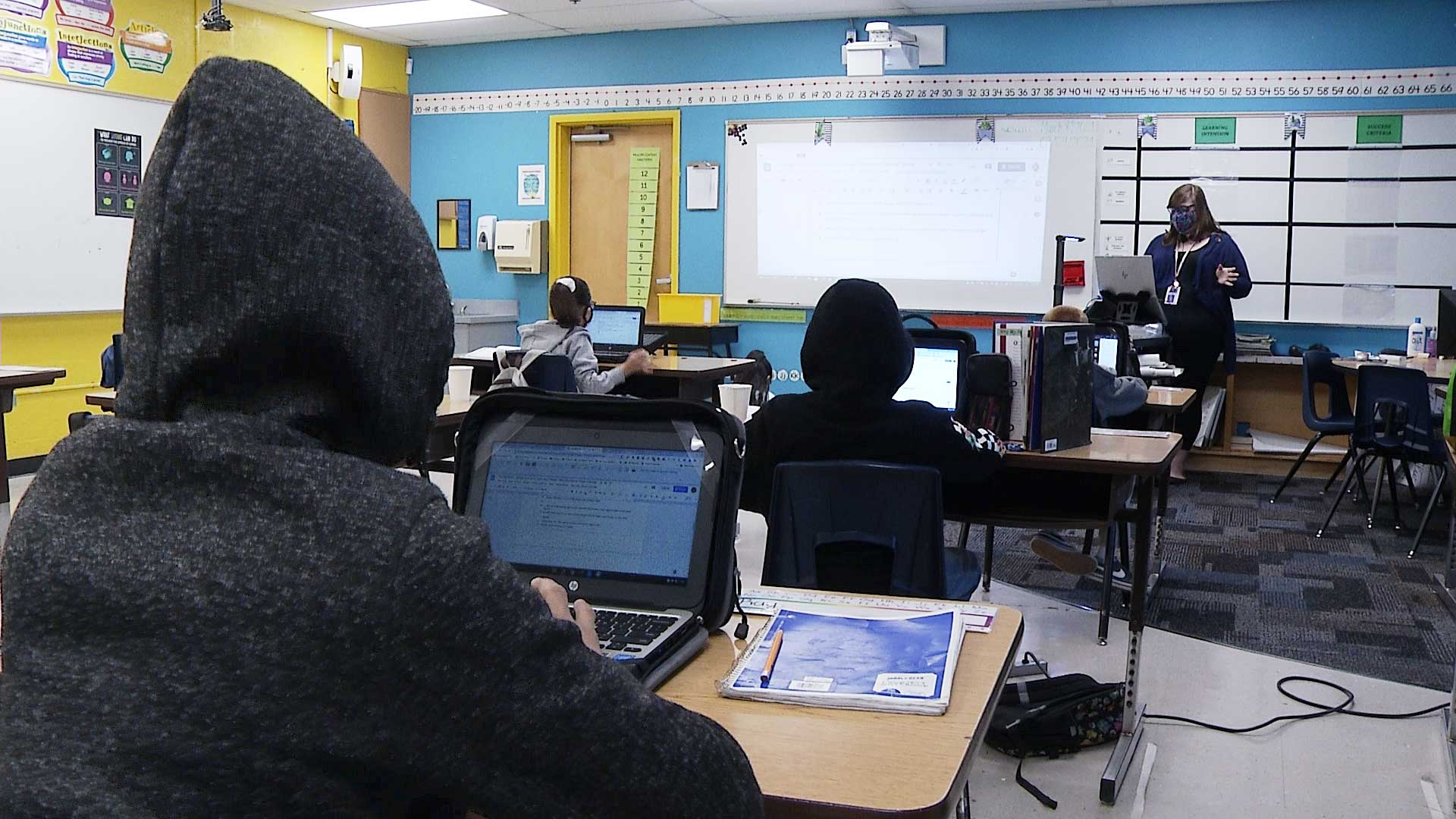 Students attend class at Los Amigos Elementary in the Sunnyside Unified School District. March 2021.
AZPM Staff
Pima County students returned to campuses this week after many of them had time off for spring break. For some students, this meant stepping foot on a campus for the first time in a year.
While some districts had already re-entered a hybrid learning model earlier this semester, the region's largest district, Tucson Unified, reopened its campuses for the first time this school year.
The district was already moving toward a hybrid model prior to Gov. Doug Ducey's executive order to reopen schools for any student requesting in-person instruction. The deadline for this order was last Monday.
TUSD opened its campuses Monday. The governor's order mandates that schools cannot turn away any student from in-person instruction. Because of this, TUSD has no cap on its class sizes, though about 50% of students chose to remain remote. District superintendent Gabriel Trujillo said most individual schools mirror this 50/50 split.
Meanwhile, in the world of higher education, Arizona residents (and their wallets) can breathe a sigh of relief. Arizona's three public universities did not suggest tuition increases for in-state, undergraduate students at a recent meeting of the Arizona Board of Regents, the Associated Press reports. The president of the board said that these universities are keeping pandemic-related economic hardships in mind.
Graduate students at the University of Arizona and Northern Arizona University were not so lucky and are facing tuition hikes.
---
First week back goes 'tremendously smooth' TUSD superintendent says
AZPM
The Tucson Unified School District welcomed students back to campus for the first time in about a year this week.
Despite a few bumps, district superintendent Gabriel Trujillo said that the transition has gone well.
"The first week of school has been tremendously smooth," Trujillo said. "We have had no complaints up in the superintendent's office."
About 50% of TUSD students chose to remain in remote learning while 44% enrolled in in-person classes.
The remaining 6% did not make a choice online. Those students were automatically placed in remote learning. Trujillo said some of those students showed up to campuses, causing schools to make adjustments.
The district has also had to contend with transportation issues, facing a 70% reduction in drivers. Trujillo thanked students and families for their patience while the district resolves the issue.
TUSD plans to return to full time, in-person learning in August.
---
TUSD welcomes back students after year of virtual learning
Arizona Daily Star
A year after the pandemic necessitated a switch to virtual learning, Tucson Unified students returned to classrooms this week. About half of the district's students chose to return to campus while the other half remained in virtual learning.
The district invested millions of dollars in mitigation efforts, such as buying masks for all teachers and students and installing air purification systems in classrooms, the Arizona Daily Star reports.
---
Many Tucson students may opt out of standardized tests
Arizona Daily Star
Earlier this school year, the state government ordered that all standardized tests be taken in-person, regardless of where a student is enrolled in virtual or in-person learning.
Local parents have reacted with apprehension toward the idea of sending their online kids back to campus to take a test after a year filled with pandemic-related struggles, the Arizona Daily Star reports.
---
Arizona panel advances measure cutting Proposition 208 taxes
AP
PHOENIX — An Arizona House committee has advanced a measure that would let successful business owners avoid paying a 3.5% income tax hike approved by voters last year to boost school funding.
Republicans on the House Commerce Committee advanced the bill in a party-line vote Wednesday.
The measure would eliminate a third or more of the funding from last year's Proposition 208, which boosted taxes on income above $250,000 for individuals and $500,000 for couples.
The bill would affect the owners of certain types of businesses that don't pay corporate taxes. Instead, their profits are taxed through the owner's income tax returns.
---
House panel OK's tighter school sex education rules
AP
PHOENIX — Arizona parents would have to opt-in to specific discussions of gender identity and sexual orientation or HIV in sex education classes under a proposal approved by a House committee.
Schools would also be barred from providing any instruction before 5th grade under the bill advanced Wednesday over opposition from minority Democrats.
Republican Sen. Nancy Barto of Phoenix says her proposal is designed to give parents more oversight of what their children are being taught and shield young children from inappropriate material.
Democrats argued it is an attack on LGBTQ students and puts young students at risk of abuse by barring instruction on topics like "good touch-bad touch."
---
No increases for resident undergrads in tuition proposals
AP
PHOENIX — The Arizona Board of Regents says tuition proposals by the presidents of the three state universities for the 2021-2022 academic year don't include increases for undergraduate students who are Arizona residents.
Regents President Larry Penley said the stance taken by the university presidents reflects a commitment to ensuring that education is affordable despite the financial hardships placed on many students by the pandemic.
While Northern Arizona University and the University of Arizona proposed no tuition increase for resident undergraduates, Arizona State University went broader by proposing no tuition increases for any current or incoming student, including undergraduates and graduate students.
---
UA researchers developing sensor testing for COVID-19
AZPM
University of Arizona researchers are investigating new ways to test for COVID-19.
One effort uses optical science to fine-tune detection of the coronavirus. UA professor Judith Su explains it's possible to find single molecules of COVID-19 with a test that could yield results in less than a minute.
"You know, a lot of these tests, it takes time to amplify the DNA or you need to have a specific viral load. We're very sensitive so we can detect single viruses," she said.
The new system is still under development. Scientists say the work is important because some new COVID-19 variants are evading detection through typical PCR testing that has become the worldwide standard for finding the virus.
---
Arizona university scientists propose lunar Earth repository
AP
A University of Arizona scientist and his five students said natural underground caverns on the moon could be used to store frozen samples of Earth's species in order to protect biodiversity in the event of global catastrophe.
Jekan Thanga and his students presented a paper during a virtual international conference earlier this month on the concept. Thanga said the underground biological repository would serve as a backup copy of frozen seeds, spores, sperm and egg samples from most Earth species.
Students Álvaro Díaz-Flores Caminero and Claire Pedersen said the idea came from the biblical story of Noah's Ark, but instead of two of every animal, the lunar ark would store 50 samples from each of the chosen species.
---
College system cancels classes after possible digital attack
AP
PHOENIX — The community college system for metro Phoenix shut down its internet-based computer systems and has canceled classes until March 29 due to suspicious activity that appeared to be the beginning of a possible cyberattack.
The 10-college Maricopa County Community College District announced the cancellations Friday night after having notified staff and students Tuesday that the system was down.
The district said it was working around the clock to restore access as soon as possible and that it will extend the spring semester by a week to make up for time lost, the statement said.
---
News outlet Indian Country Today has new a owner: itself
AP
PHOENIX — Indigenous news organization Indian Country Today has changed ownership. The National Congress of American Indians on Friday transferred its interests in the outlet to IndiJ Public Media, a newly incorporated Arizona nonprofit.
Indian Country Today has operated as an independent limited liability company under NCAI since 2017, when the Oneida Indian Nation donated the outlet to the country's oldest and largest tribal organization. It will now operate as an independent company.
NCAI President Fawn Sharp called the move an "exciting time for Indian Country Today to become fiscally independent and to continue its tradition of an autonomous free press."
Indian Country Today is headquartered at Arizona State University's Walter Cronkite School of Journalism and Mass Communications.
---
Sonoran Parents Push For Plan To Reopen Schools
Fronteras Desk
A new group in Sonora called Abre mi Escuela — or Open my School — is hoping to pressure state officials to come up with a plan to slowly and safely reopen schools.
Innan Lagarda, a mother of four and former educator herself, is the head of the group. She doesn't want the current school year to end without a plan in place to prepare schools for safe, in-person instruction.
Sonora is currently considered green, or low risk, according to the federal coronavirus scale, though state officials fear a possible third wave.
Mexico's president has previously said teachers there could soon be vaccinated to prepare for reopenings, though the vaccine rollout has been much slower across Mexico than in the United States.