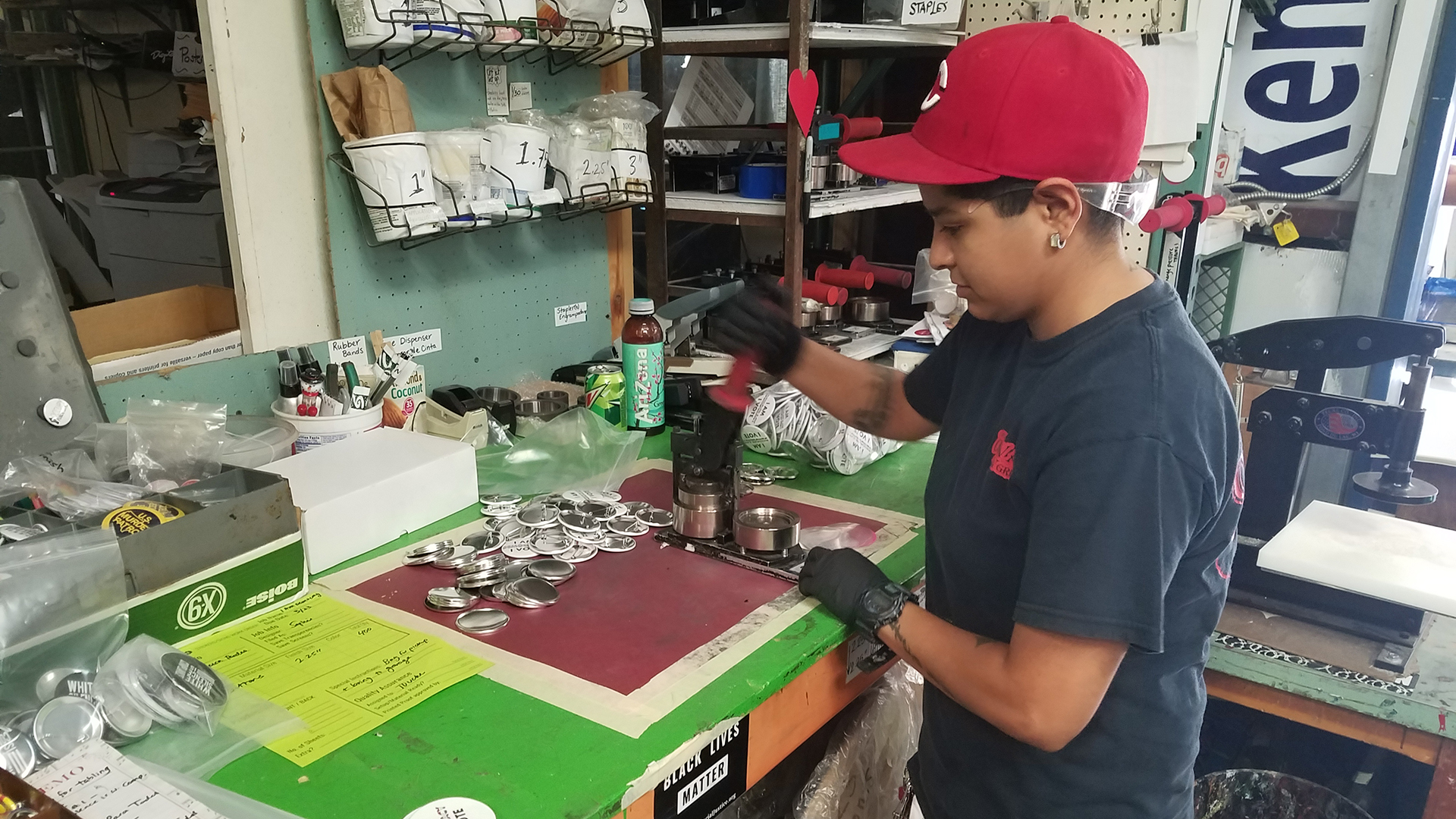 Roxanne Diaz makes buttons that read 'I am Democracy, and I Vote."
Zac Ziegler
This week, Arizona Public Media is taking a deep dive into the information included in the campaign finance reports for the top-fundraising candidates in the race for governor, and what money means for voters in an election for the state's highest office.
Part IV: Spending Money
The busy season is starting at The Gloo Factory, a print shop in South Tucson. It is when the campaign orders start rolling in.
"Employees groan this time of year, 'Oh, we got another thousand buttons we need out by Friday,'" said shop owner Dwight Metzger.
Gloo Factory employees took a break from those orders last week so they could process orders for the then-upcoming March for Our Lives rallies, student-led demonstrations all over the nation protesting gun violence in schools.
"We're working with the youth organizers in Tucson to provide all their merchandise: T-shirts, buttons, signage," said Metzger.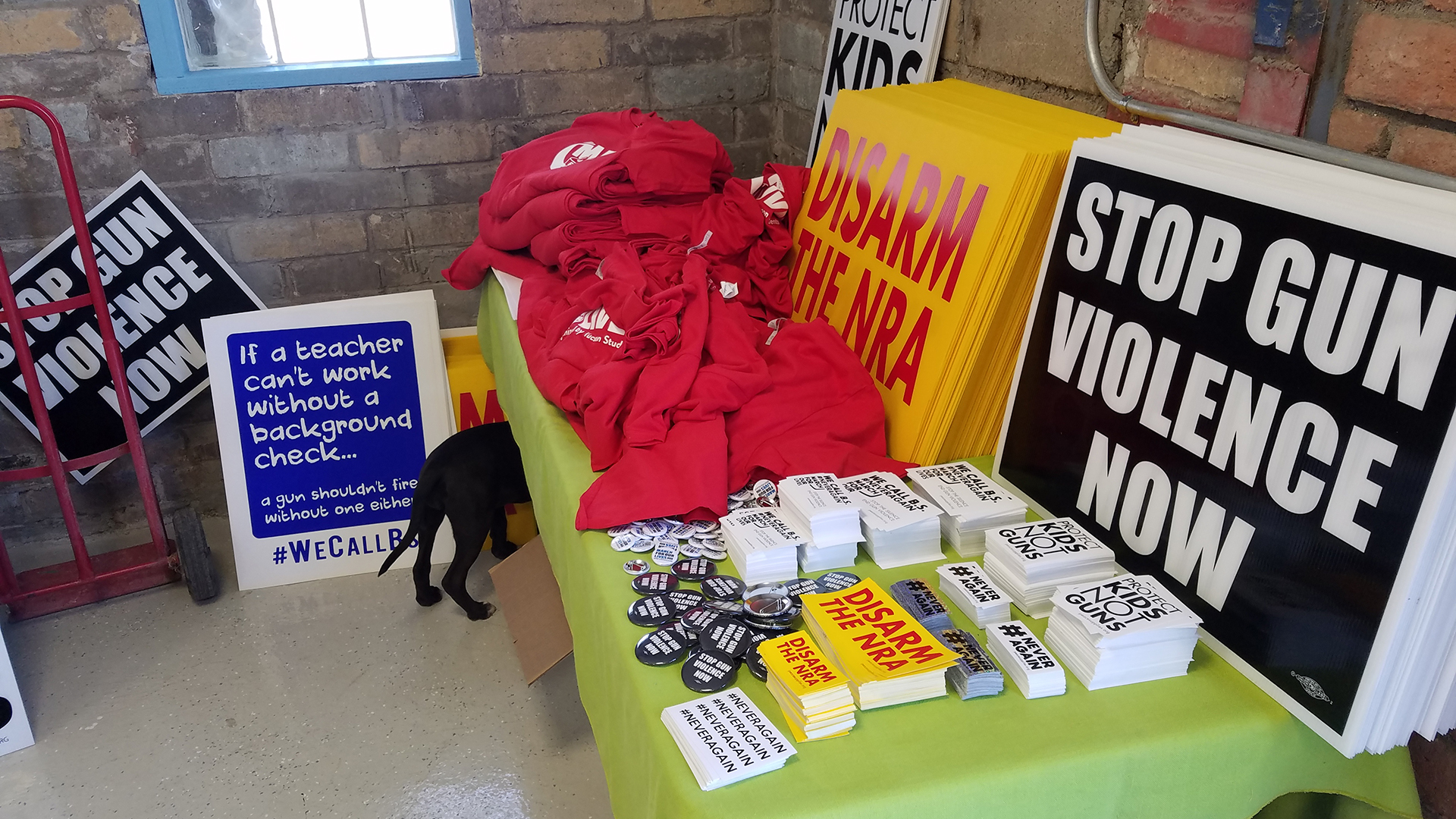 Shadow the shop dog investigates what is under a table covered in merchandise for the March for Our Lives rallies.

Zac Ziegler
Campaign finance data shows this shop has been a frequent vendor for state lawmakers representing the area: Olivia Cajero-Bedford, Victoria Steel, Pamela Power Hannley and many others.
It has also filled orders for a candidate for statewide office who calls Tucson home. Democrat Steve Farley's campaign for governor bought $1,200 worth of goods from the shop in the last quarter of 2017.
Campaign finance papers classified the order as T-shirts and parade expenses. Whatever the goods, employees likely were highly involved in making them.
"Because of our own economic situation and our commitment to using union labor, we're still more hands-on and doing things the low-tech, labor-intensive way."
"We're one of a very few union print shops left in Arizona," said Metzger. "We're the only union screenprint shop in Tucson and Southern Arizona."
Metzger thinks that union status gives him an edge since many Democrats pledge to use union shops.
A campaign strategist said shops that receive repeat business from a political party also may have a strong reputation with members of that party.
"Parties are often-times helpful in terms of steering candidates, not so much towards vendors as away from people who have done a bad job in the past or don't have a fair pricing structure," said Andy Barr, a consultant for Democratic campaigns.
The $1,200 orders with the Gloo Factory represent a small portion of all the expenses listed in the fourth-quarter 2017 campaign finance reports.
Candidates paid out more than $800,000 in the three-month span. Nearly half of that money went to consultants.
Republican strategist Chuck Coughlin said campaigns often spend early days getting on the ballot and building their fundraising framework.
The big spending comes around the time ballots begin arriving in voter mailboxes.
"You want to have your signs up," he said. "You want to have a flurry of activity that a voter in the district or wherever you're running would see as a result of that. You have to budget yourself to prepare for that 45-day campaign."
While much of the money spent in the race so far has gone to consultants, none has gone to Coughlin or Barr, specifically.
To present, charges for items such as signs, mailers, t-shirts and ads have totaled $34,000.
Metzger said his shop's orders from campaigns are starting to pick up at the Gloo Factory, and those orders have grown in recent years.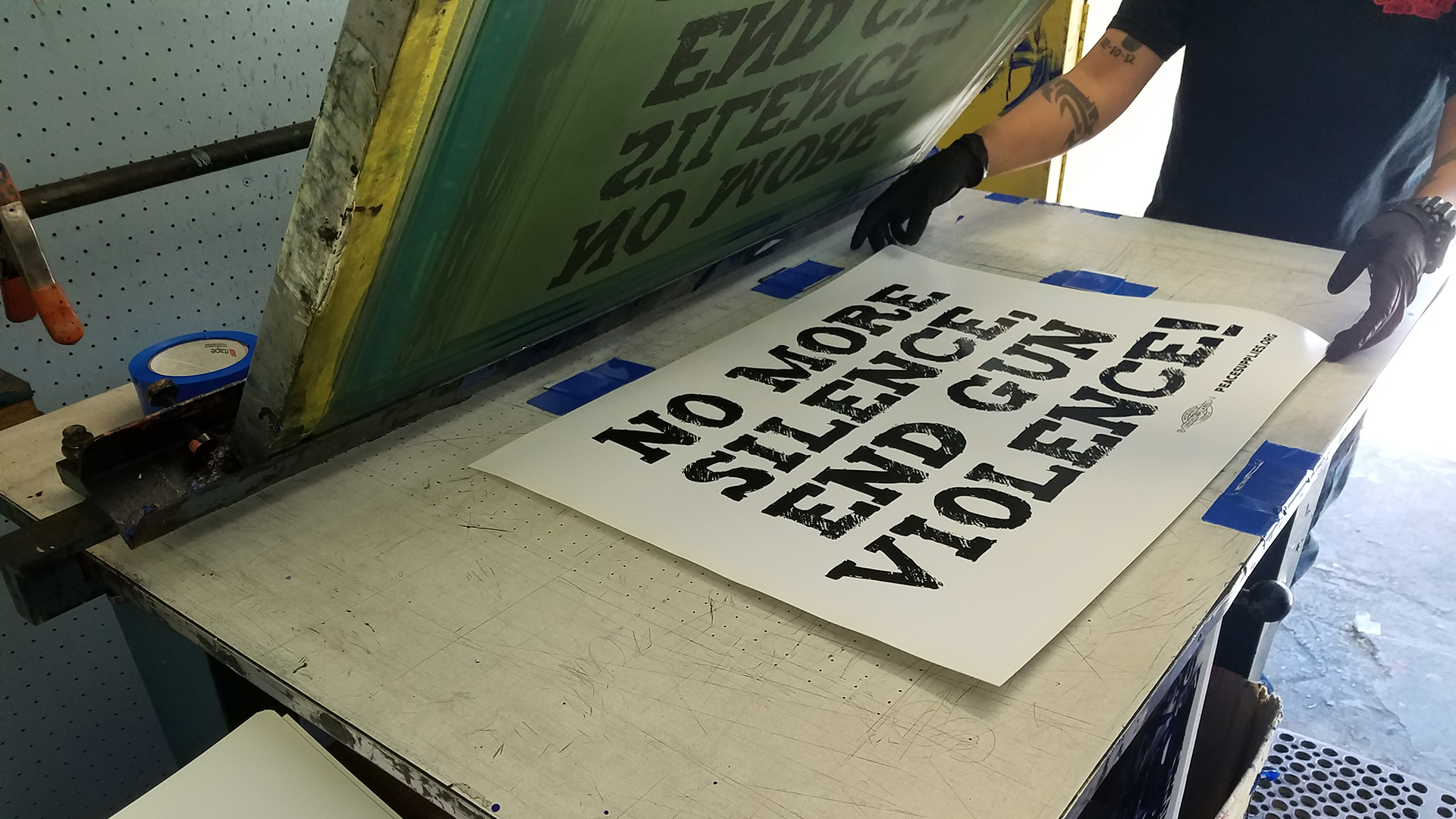 Staff at the Gloo Factory screen print a sign for a rally.

Zac Ziegler
"Our business has quadrupled in size in the last three years," he said. "Now we have eight full-time employees and we're able to turn this work around really fast."
And while business picks up, there is evidence around the Gloo Factory of work done outside of election season: a logo for a Tucson Mexican food restaurant and T-shirts for Cyclovia.
"We love working for small businesses in Tucson, and we do commercial work too. It's essential," said Metzger.
The campaigns just help keep the doors open in between those non-political orders.

Money and Politics
is a five part investigative series on what campaign finance reports tell us about the race for governor in Arizona.
See more from this series
.
MORE:
Arizona
,
Business
,
Pima County
,
Economy
,
Election 2018
,
Elections - Arizona
,
Government
,
News
,
Politics
,
Tucson
,
U.S.