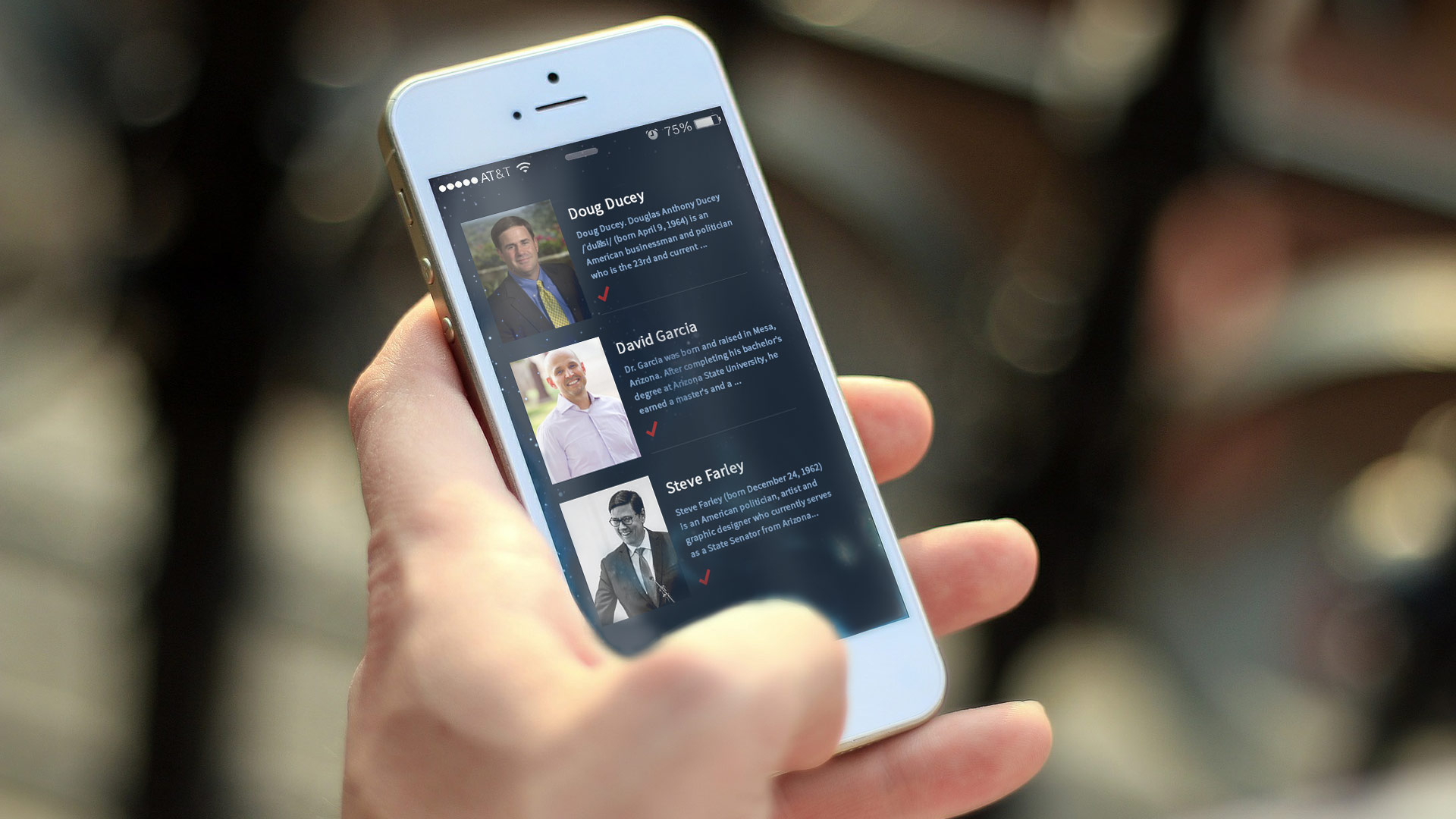 Social media can play a role in bridging the gap for candidates who lag behind in fundraising.
AZPM Staff
This week, Arizona Public Media is taking a deep dive into the information included in the campaign finance reports for the top-fundraising candidates in the race for governor, and what money means for voters in an election for the state's highest office.
Part V: Out-of-State Donations, Education and Campaigns in the Digital Age
When election season rolls around, the influence of out-of-state money is a common accusation. For the three gubernatorial candidates who raised more than $100,000 in 2017, outside money is part of the equation.
The donations to Republican Doug Ducey and Democrats Steve Farley and David Garcia come from across the country. But there were some hotspots.
Residents of the Washington, D.C., area have given $15,000 to the three candidates. Most of that money went to Ducey.
Sacramento and the San Francisco Bay-area donors added $18,000 to the race. David Garcia was the biggest recipient of those dollars.
Steve Farley, picked up $25,000 from out of state donors but he did not have a hot spot. His financial haul also was less than half of the other two candidates.
How much did your ZIP code give? Click on the map below to find out how much each area gave to any of the three candidates.
Education is a top topic in politics. It consistently polls as a priority for most voters.
Education related dollars could be important during this year's gubernatorial election.
Garcia received nearly $17,000 from people who list their occupation as teacher or something else that indicates they are in education.
Farley, the other Democrat, has received about $3,600 from educators. Ducey has picked up about $500 from teachers and other educators.
It should be noted that the data only cover the end of 2017, so none of the education legislation currently being debated in the Legislature has influenced the donations.
The next round of campaign finance data will be released in April.
Educators said the results of campaign finance data is not a surprise.
"Teachers around the state, education-support professionals around the state don't feel supported in the last four years," said Joe Thomas, president of the Arizona Education Association.
Nationally, the trend for campaign contributions from education professionals skews to Democrats.
"That is public education. For-profit education interests favor Republican candidates," said Sheila Kromholz, executive director of the Center for Responsive Politics.
Arizona also follows that trend.
Employees of the Phoenix-based, for-profit Grand Canyon University gave more money to Ducey than to his Democratic opponents.
GCU employees gave Ducey $15,000. They gave $35 dollars to Garcia and nothing to Farley.
But the numbers flip when it comes to employees of the state's three public universities.
Farley raised $18,000, principally from University of Arizona employees. Public university employees gave Garcia $5,500 and Ducey $500.
Those contributions came from university employees, not the institutions, which are barred from giving money to candidates.
Money is important to campaigns, but it may not be everything.
How big are a candidate's donations?
Researchers at the University of Arizona looked at the connection between retweets on Twitter and election results across the country during the 2016 congressional campaign season.
"We found that the key to overcoming financial difficulty as a congressional candidate is to get retweeted often by popular users," said Yotam Shmargad, a professor at the UA School of Information.
Attention from users with social media currency goes a long way, he said.
"Candidates who can get those [endorsements] can close the gap by somewhere along the lines of two to three points, actually, for every one point on average, retweets or favorites their retweeters are getting," said Shmargad.
Two congressional candidates in 2016, one Republican and one Democrat, look to have won their races that way, according to the research.
But at the end of the day, Shmargad was clear about one thing.
"Money still very much matters, so the ideal is to try and close the financial gap."

Money and Politics
is a five part investigative series on what campaign finance reports tell us about the race for governor in Arizona.
See more from this series
.