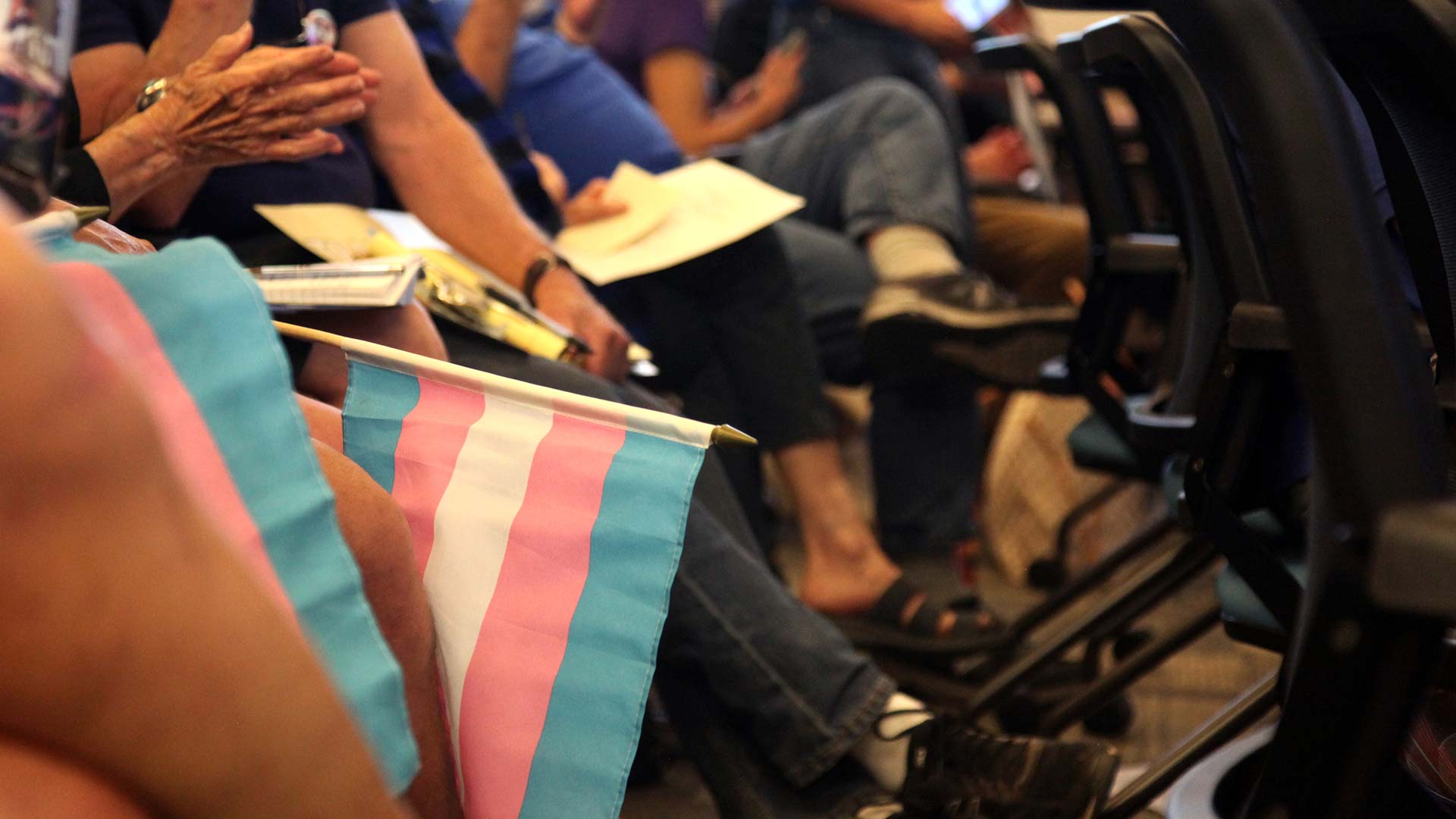 Transgender pride flags filled a Catalina Foothills School District Governing Board meeting on Tuesday, April 11, 2023.
Paola Rodriguez/Arizona Public Media
State Superintendent of Public Instruction Tom Horne is targeting school policies dealing with restrooms and transgender students.
In a press release, the Arizona Department of Education claims that parents have been contacting them, stating that they are upset that some schools are allowing transgender students to use bathrooms and locker rooms that align with their gender identity.
"I have been contacted by a number of parents who are outraged by the idea that biological boys can use restrooms, locker rooms, and shower facilities meant for girls, and they are considering removing their daughters from schools that allow this," Horne said in the press release. "In Arizona, they certainly have multiple school options from which to choose."
Horne says that schools should not be initiating policies that would allow that. However, according to the department, some schools are citing federal nondiscrimination laws like Title IX as a basis for their direction. He disagrees.
"Under the current Title IX, there is no language that compels schools to permit biological boys to use girls' bathrooms, locker rooms or shower areas. The Biden administration has proposed changes to Title IX that might allow for this, but this proposal has no force of law until it is ruled on by the courts, which has not occurred."
He went on to say that state law prohibits transgender girls from competing on girls' sports teams, which carries the same legal argument.
"Biological boys who expose themselves to girls could be violating indecent exposure laws and subject to arrest. Schools can provide separate facilities – even small ones that are open to either gender - that meet the needs of transgender students without compromising the dignity of others."
However, the Save Women's Sports Act is on hold after a federal judge placed an injunction on it, saying that it violates federal nondiscrimination laws. That case will not be heard until later this year.
"The issue will ultimately be decided by the United States Supreme Court. I am defending the state law that prohibits biological boys from participating in girls' sports and the basic legal argument for that action is similar to the one that addresses the use of bathrooms, locker rooms, and shower areas."
Arizona's Senate Democrats are calling this move "fear-mongering."
"This behavior will lead to further dangerous retaliation against public schools," the group tweeted.
Superintendent Horne has decided to stoke fear in students and parents as the new school year kicks off. This behavior will lead to further dangerous retaliation against public schools.

This fear-mongering is unnecessary and foolish. There are already protections in place to… https://t.co/eUrW2Zm9WJ

— Arizona Senate Democrats (@AZSenateDems) August 17, 2023