Karrin Taylor Robson
Karrinforarizona.com
On chilly January day in Florence, Arizona, Kari Lake boasted of the endorsement that helped her surge ahead of her competition: former President Donald Trump.
She also warned supporters at Trump's rally that, with seven months to go before the August 2 primary, the race wouldn't be easy.
"I'm telling you guys, I'm up against a behemoth," Lake told the crowd. "I'm up against the uni-party and swamp donors. And I'm told they're gonna pour hundreds of millions of dollars into the Arizona gubernatorial race because they don't want me in office."
That behemoth has a name: Karrin Taylor Robson.
Hundreds of millions may have been an exaggeration, but the developer and former Arizona university regent has helped set new records for spending in the gubernatorial race. Much of it's been Taylor Robson's own wealth – of the $16.5 million she's spent this election cycle, she's loaned herself $13.5 million.
The money's been well spent. Once polling in the single digits, Taylor Robson is now the last legitimate candidate standing against Lake in what's become a clear head-to-head race for the GOP nomination.
At this late stage in the race, Taylor Robson is picking up steam – and endorsements.
"Karrin is the real deal: pro-life, pro-gun and pro-wall, and she'll stand up to Joe Biden and the radical left," Gov. Doug Ducey said in a video statement for Taylor Robson.
It's not just Ducey. Last week, it was former New Jersey Gov. Chris Christie. Earlier this week, former Vice President Mike Pence gave his approval. And when her one-time opponent, former Congressman Matt Salmon, bowed out of the race, it was Taylor Robson who quickly earned his endorsement.
Those high-profile Republicans all share a common trait: A fondness for, if not outright political alliance with, Trump – at least, they once did. Now they're blazing a path against the former president, and not shying away from criticizing his preferred nominee, Lake.
In a prepared statement endorsing Taylor Robson, Christie too took jabs at Lake for "flip-flops" on amnesty for immigrants and abortion.
"This is all an act," Ducey said of Lake, who he referred to as "fake-Lake" in a recent appearance on CNN. "She's been putting on a show for some time now, and we'll see if the voters of Arizona buy it."
Those are common barbs against Lake, the one-time television anchor turned Republican gubernatorial candidate. The Phoenix metro region is dotted with signs reminding voters of her one-time praise and financial support of former President Barack Obama, highlighting an apparent, dramatic change in Lake's political beliefs since she left her job in the news.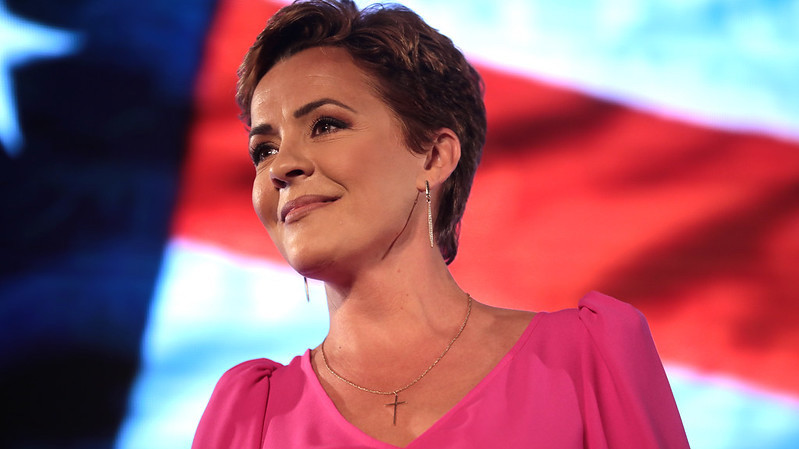 Kari Lake
Gage Skidmore
Much like Trump, however, some Republican voters care more about what a candidate promises to do now and in the future, rather than sweat what they said or did in the past. And Lake's history by no means impeded a strong start to her campaign – after announcing her candidacy in June 2021, it was a matter of months before Trump endorsed her thanks in part to her consistent, false claims of election fraud.
Lake has continued to echo Trump as recently as last month, when she attacked President Joe Biden in a televised debate.
"He lost the election and he shouldn't be in the White House. We had a corrupt election," Lake said when asked why she called Biden an "illegitimate" president. "I'd actually like to ask everybody on the stage if they would agree. We had a corrupt stolen election. Raise your hand."
It's a tactic designed to distinguish herself from Taylor Robson, who won't go as far as saying the election was stolen, but said in May it "wasn't fair" to Trump.
But, despite winning the approval of Trump and others in his orbit, the tactic has done little to grow Lake's base, said Chuck Coughlin, a political consultant.
"Lake's been in the race for several months now, and her number seems to be fairly stalled in the 30s, which would indicate the amount of support that the president and his endorsement got her from the very beginning," Coughlin said.
Trump's presence on the campaign trail, and his impact on the ballot, differs depending one the makeup of a given race, Coughlin added.
"It works very well, say, in our Senate race, when you have multiple candidates competing," he said. "[Trump] can pick and choose one of those candidates, which gives him a 10-point bump in the race."
That's been the case for Blake Masters, the acolyte of billionaire conservative investor Peter Thiel running for U.S. Senate in Arizona – there's a crowded field of Republicans hoping to challenge incumbent Democrat Mark Kelly.
But the once crowded field for governor has thinned. And all the while, Taylor Robson has spent millions of dollars marketing herself in a tsunami of TV-ads as a more reasonable sounding Republican. In a recent ad, she talked about her start in politics, "working for President Reagan… conservative, effective, and an optimist."
It's working, Coughlin said. And while recent endorsements will help, Coughlin added the credit for a Taylor Robson win – a win he's now expecting – should go to Taylor Robson herself.
"Lake seems to be continually narrating a campaign hoping that the Donald Trump coattails can bring her home," he said. "Karrin has a more sophisticated narrative, and she's capable of, I think, bringing this home on her own."