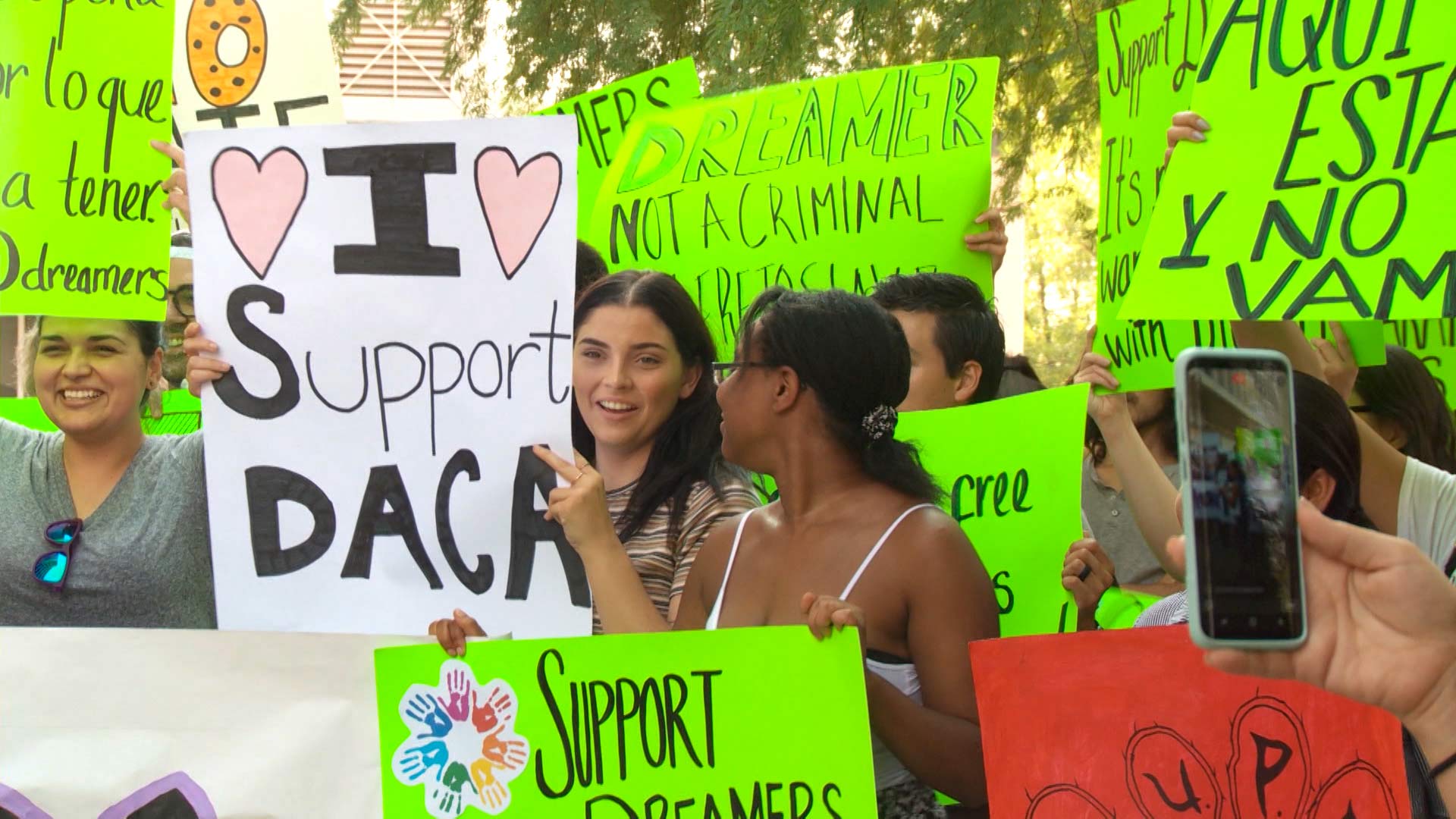 Demonstrators protest in favor of protections for Deferred Action for Childhood Arrivals recipients.
AZPM
Monday was the final day of a public comment period for a Department of Homeland Security proposal that seeks to re-establish the Deferred Action for Childhood Arrivals program, or DACA, the Obama-era program that allows some undocumented immigrants brought to the U.S. as children to apply for a work permit and temporary protection from deportation.
More than 800,000 undocumented immigrants have received temporary legal status from DACA since it was enacted in 2012, but the policy has been in near-constant legal limbo for years.
Former President Donald Trump moved to cancel DACA in 2017 but was blocked by the Supreme Court in 2020.
Most recently this year, new would-be recipients were barred from applying after a federal judge in Texas ruled the Obama administration did not have the legal authority to enact the program because it was not presented for public comment.
The Biden administration is appealing that ruling, but in the meantime, hopes to make the protections a formal policy through the rule change.
In a 203-word document submitted in September, the Department of Homeland Security proposed to codify DACA protections but still require recipients to apply and re-apply every two years.
It also proposes to allow applicants to apply for work authorization separately from deportation protection.
During the 60-day period, more than 9,000 people submitted comments ranging from support of DACA to complaints about the uptick in migrant apprehensions along the southwest border.
Jose Patiño, a DACA recipient in Phoenix who works for the Mesa-based advocacy network Aliento, said he submitted a public comment for the first time. In it, he said the program has "made it possible to live without fear, pursue a career and buy a home."
"It was very powerful for me because it's like, only here in the U.S. can an undocumented person submit to the government asking them to do something, it feels like only here can you do that," he said. "But at the same time, yet, I'm still not part of the country."
Patiño says that's because he's watched DACA bounced between court decisions for years.
Now, whether through this rule change or a Congressional action, he hopes to see more opportunity not just for immigrants who are eligible for DACA, but also for other young, undocumented people who were barred from applying over the last presidency.

Fronteras Desk
is a
KJZZ
project covering important stories in an expanse stretching from Northern Arizona deep into northwestern Mexico.