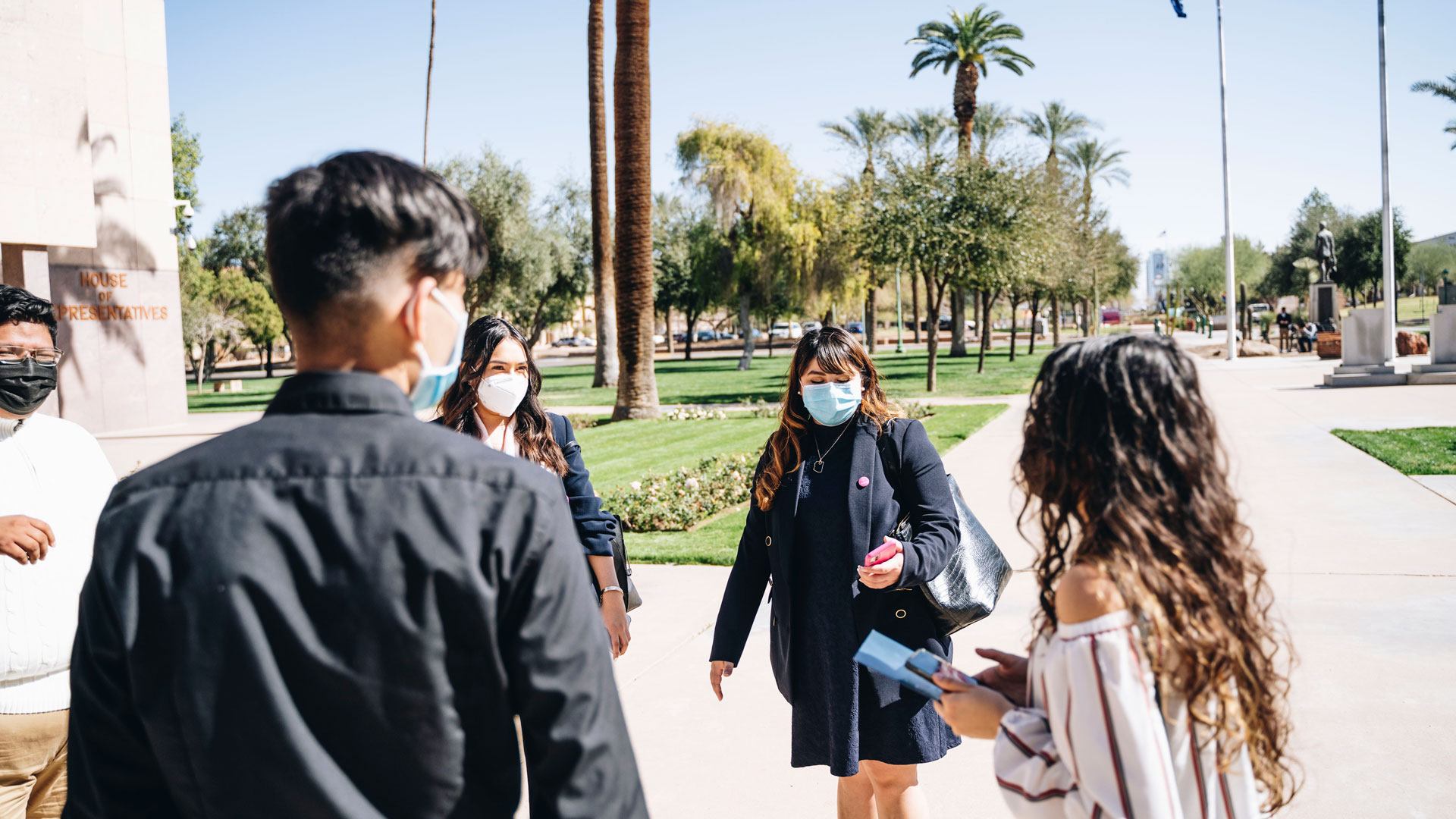 Daniela Chavira and other undocumented students and DACA recipients meet at the Arizona Capitol to speak with representatives.
Diego Lozano/Aliento
It's been more than a week since a federal judge in Texas handed down a ruling that blocked new applications to the Deferred Action for Childhood Arrivals program, or DACA. The Obama-era policy gives some 700,000 undocumented immigrants brought to the U.S. as children protection from deportation and a work permit.
Daniela Chavira became eligible for DACA in 2017, just as the Trump administration moved to end the program and barred first-time applicants like her. But a new hope came this year, when U.S. Citizenship and Immigration Services began accepting applications once again in January. Chavira submitted right away, entering a months-long processing lag the agency said was the result of capacity issues and pandemic backlogs.
When a friend texted to tell her about the Texas decision this month, she realized her application was one of tens of thousands on hold indefinitely.
"To have it rescinded when I was first eligible in 2017, to this again, once it was so close, it was just right there, have it ripped away from me, I was just, so sad," she said. "DACA feels like a subscription that just suddenly terminates."
The ruling comes as Congressional Democrats consider using the budget reconciliation process to forge an immigration package that could give farmworkers, so-called Dreamers like Chavira and others a pathway to citizenship.
It's the latest citizenship bill that aims to give Dreamers legal status. More than a dozen different versions have failed in Congress over the last two decades.
In a press call this week, mayors from a handful of cities across the U.S. called on the Biden administration and Congress to speed up reform. Tucson Mayor Regina Romero says a package like the one in Congress now would benefit essential workers, like those working in agriculture in farming hubs like Yuma.
"It's a failure of our government, not to move forward in passing comprehensive immigration reform," she said.
Romero was one of more than 80 mayors nationwide who signed a letter to President Joe Biden and Congressional Leaders asking for support on the package. She was the only one from Arizona.