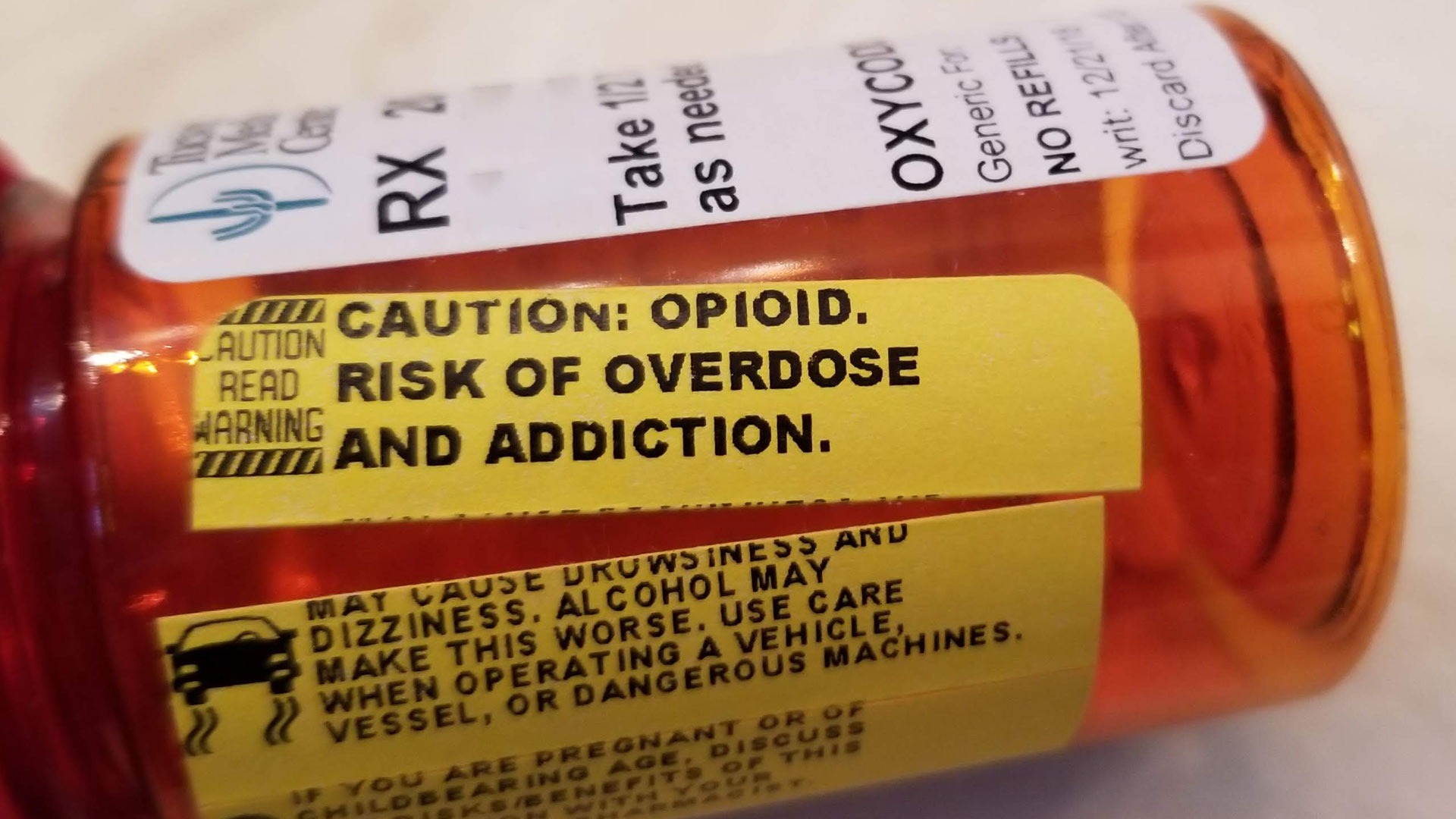 A warning label for opioid addiction on an oxycodone bottle.
AC Swedbergh/AZPM
In 2020, 446 people in Pima County died from overdoses, according to the Pima County Health Department. That was a 32% increase from 2019 and 70% of the deaths involved opioids.
Pima County wasn't alone with those types of numbers in Arizona.
"We are seeing overall numbers increase at a rate we haven't seen in quite a while, to be honest," said Haley Coles, Executive Director of Sonoran Prevention Works.
Coles said pandemic stresses and the related sagging economy were contributing factors to the increasing numbers.
"We know that when people's social environments are uprooted that absolutely leads to more chaotic and risky substance use. One of the things that we encourage folks to do to be safe is if they are going to be using to not use by themselves. And especially in the early days of the pandemic that was really difficult for a lot of people," said Coles.
The Tucson Police Department's Substance Use Resources Team gets help to people with substance misuse disorder. It offers them a chance at rehab instead of a trip to jail. Officers also give them information and Naloxone, an anti-overdose drug, if they want.
The team now sees two to three non-fatal overdoses a week. And those are the ones they hear about, often non-fatal overdoses go unreported.
"Now more than ever, it seems as if we are dealing with a lot more individuals who are homeless who are finding themselves on the streets when they didn't anticipate that happening to them," said Sgt. Erika Straka with TPD's Substance Use Resources Team.
Officers also find themselves giving out more Naloxone than in the past. Sonoran Prevention Works is also giving out more of the life-saving drug.
"We really wanted to encourage peer distribution, so we didn't have to have 10 people coming to us for an overdose prevention kit. We could give one person 10 kits and that person could go to each of those folks," said Coles.
During the pandemic, Sonoran Prevention Works also began a mail-order system for the distribution of Naloxone. The system allowed them to distribute the drug without personal contact. Adding to the difficulty of the fight against opioids is a new synthetic form of Oxycontin laced with fentanyl that has hit the streets. It has become more common than heroin.
"They aren't measuring how much fentanyl they are putting into each dose. They're haphazardly creating these so you could get a pill that's got nothing but fentanyl or you could get a pill that doesn't have a lot of fentanyl in it. So, it is scary to think that a person using this, they may or may not be getting a lethal amount of fentanyl in that dose that they're using," said Straka.
Nearly half of the overdose deaths in Pima County last year involved fentanyl, according to the health department. Between 2014 and the end of last year that marked a 4040% increase.
In Pima County last year, 20–39-year-olds showed the largest increase in overdose deaths per age group.

In 2020, overdose deaths among Black and African Americans in Pima County increased by 71% and among Native Americans, the increase was 73%.
In many places, life has started to return to something like normal, but overdose deaths are still rising.
More than 125 overdose deaths have already been reported in Pima County putting 2021 on pace to surpass 2020.
The number of fentanyl deaths in the county during the first three months of the year is more than double the same time frame in 2019.