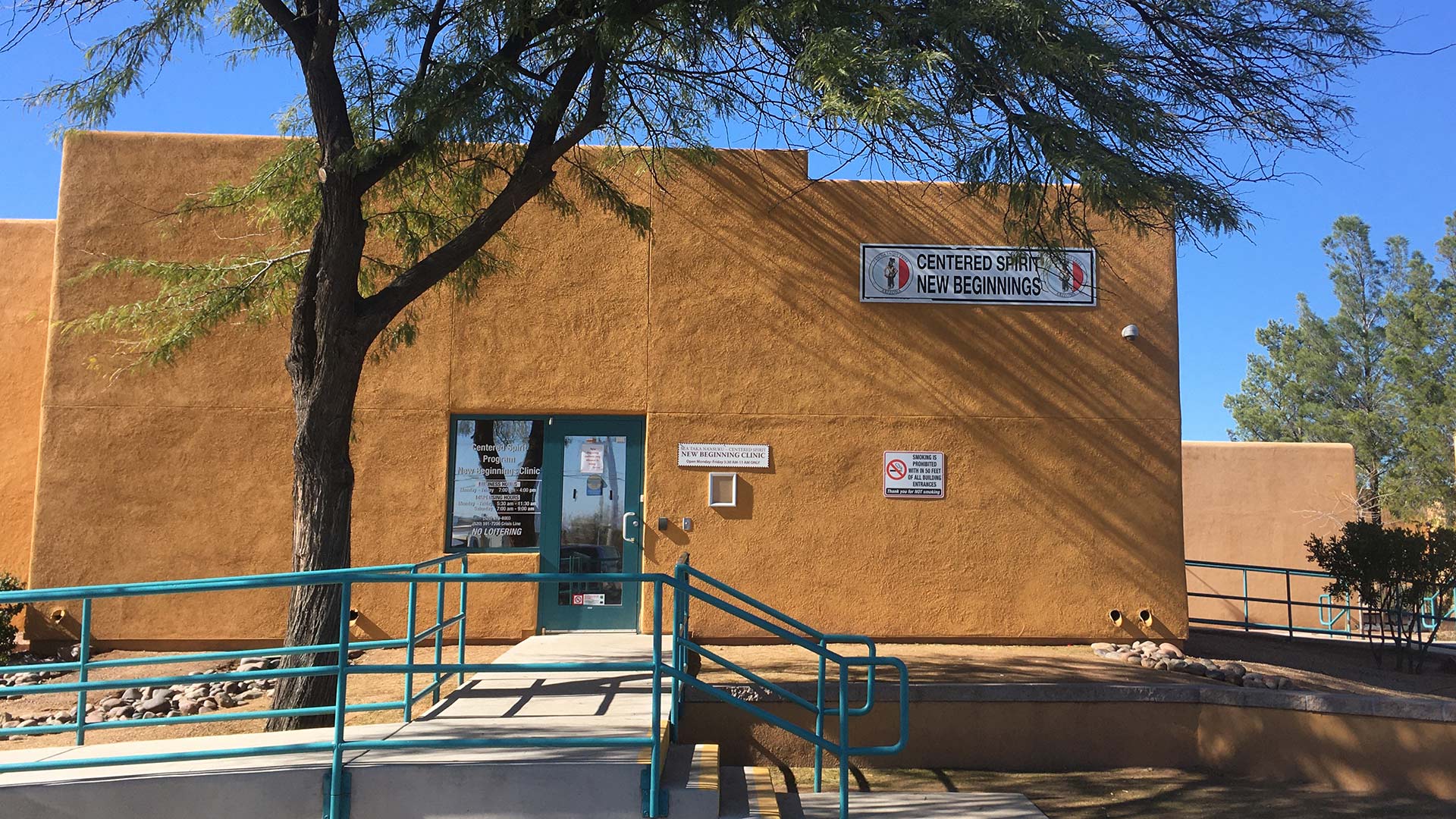 The New Beginnings Clinic on the Pascua Yaqui Tribe's reservation is the only medication-assisted treatment facility on tribal lands in Arizona as of February 2020.
The New Beginnings Clinic on the Pascua Yaqui Tribe's reservation is one of 60 facilities in Arizona offering medication-assisted treatment, but it is the only one on tribal land.
American Indians and Alaskan Natives had the second-highest rate of opioid overdose deaths in Arizona, according to the Inter Tribal Council of Arizona, and across the United States as of 2017. For some people in Arizona, geography and stigma can act as barriers to medication-assisted treatment for substance and alcohol abuse.
This is also true for Indigenous communities on tribal lands, said Lisa Moreno, a case manage at the New Beginnings Clinic.
The clinic is treating opioid addiction with small, highly controlled doses of opioid medications like methadone and suboxone to wean a patient off an abused opioid. It's an outpatient medication-assisted facility created in May 2000, according to staff at Centered Spirit, a separate behavioral health clinic on the reservation.
She said some community members see this form of treatment as a continuation of a person's opioid use, not medication.
"Culturally, it's not accepted. It's something looked at like a drug replacing a drug. It's man-made. It's not something pure," Moreno said. "It's not from the earth, and it's something that probably won't fall into the custom or culture in general."
To overcome this stigma, she said the clinic educates the community about what opioids and opiates are. The Center for Disease Control defines opioids as the umbrella that covers all variations of natural and synthetic opioids, and opiates are only the naturally derived opioids. All opiates are opioids, but not all opioids are opiates.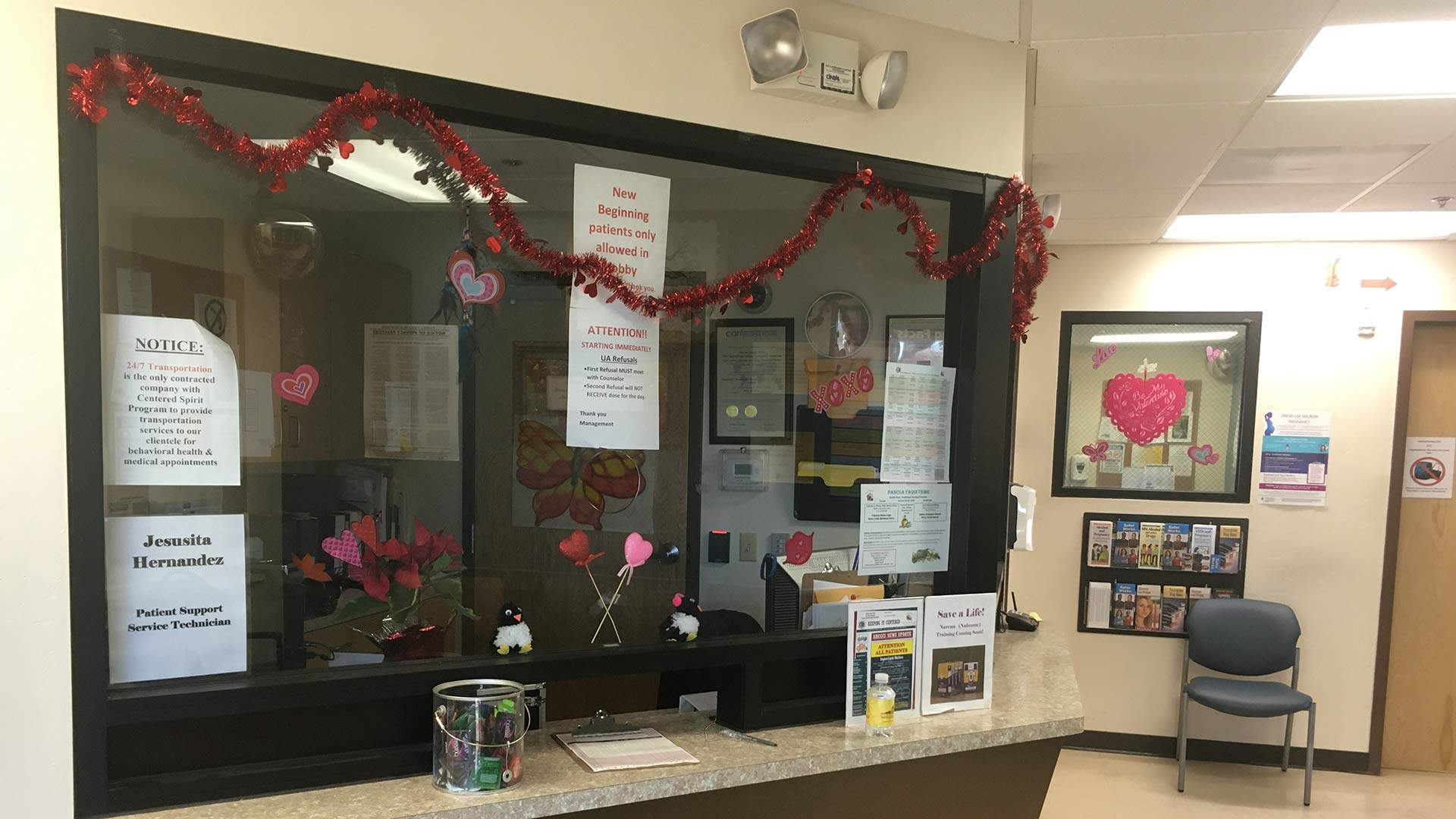 The New Beginnings Clinic on the Pascua Yaqui Tribe's reservation is the only medication-assisted treatment facility on tribal lands in Arizona as of February 2020.
Emma Gibson/AZPM
Facilities with medication-assisted treatment must also provide behavioral health services to help treat substance abuse. André Mixon is one of the people who provides these services at the clinic. He's a behavioral clinician with a license in clinical social work.
He emphasized that stigma is a part of recovery everywhere, but small communities have unique challenges.
"Imagine working and living within your family, and they remember all the little shortcomings you had as a child, and now you're an adult that's functioning and people still want to cast those previous behaviors on you," Mixon said. "I think that's the best way to kind of explain the stigma that still goes along with it. People still just want to refer to you as an addict."
Moreno said over the clinic's 20-year history, it's been open and closed to non-tribal members, but now it's open to whoever wants treatment. She said there are currently 146 patients seeking help for substance or alcohol abuse.
She said the employees at the clinic also emphasize to the community how addictive opioids are. One reason they are so addictive is because once someone takes an opioid, the brain releases endorphins, making them feel good. If they're taking an opioid for pain, along with the pleasure comes relief. According to the Mayo Clinic , when the side effects wear off this is when a user may seek another opioid, repeating the cycle again and again.
When a person requests treatment at the clinic Moreno said its goal is to decrease the patient's dose of the controlled opioid medication until the patient is off of it.
"There's been people that have been in here since the program started — 20 years — and they've tapered off and they've done well," Moreno said.
She said for some this process has taken two years. Everyone is different.
Mixon and others on staff lead support groups on weekdays that discuss things like trauma, relapse prevention and anxiety — all topics that intersect with substance and alcohol abuse.
He said that one of these support services connected to the clinic is the peer-support program. He helped start the branch focusing on substance abuse after the tribe received a grant from the Substance Abuse and Mental Health Services Administration in 2017.
"[The] Peer-support model is basically allowing individuals who live in recovery themselves to use their story as an intervention," Mixon said. "Their presence at a facility shows that there is hope for recovery."
The Pascua Yaqui Tribe initially hired two people trained in peer support to share their stories of living in recovery with those wanting to overcome their addiction, and it's regularly expanded. John Madril is one of the original peer supporters who focuses on opioids and substance abuse.

Madril said peer support is not counseling. He said he talks about his life and what he would do in a certain situation. He does not give advice, and he knows that what worked for him may not work for the person he's talking to.

"It's actually instilling hope where there is despair, meaning that when some people are in a bad way — sad — we're there to actually be there for them, to understand that we're all human beings, and we can get through this together," said Madril.
Madril also hosts healing and talking circles: traditional practices used to foster peacemaking in some Indigenous cultures. He says it's a respectful space where people can talk uninterrupted.
Through behavioral health services and peer support, Madril said he provides tools for people to redefine how they see themselves. Madril said he's not "John the addict."
"I'm not an addict. My name is John, first. I am not what people define me as, and that's something people are starting to recognize," said Madril. "'Talk about yourself in a good light, because you are not what you've done. That's your past.'"