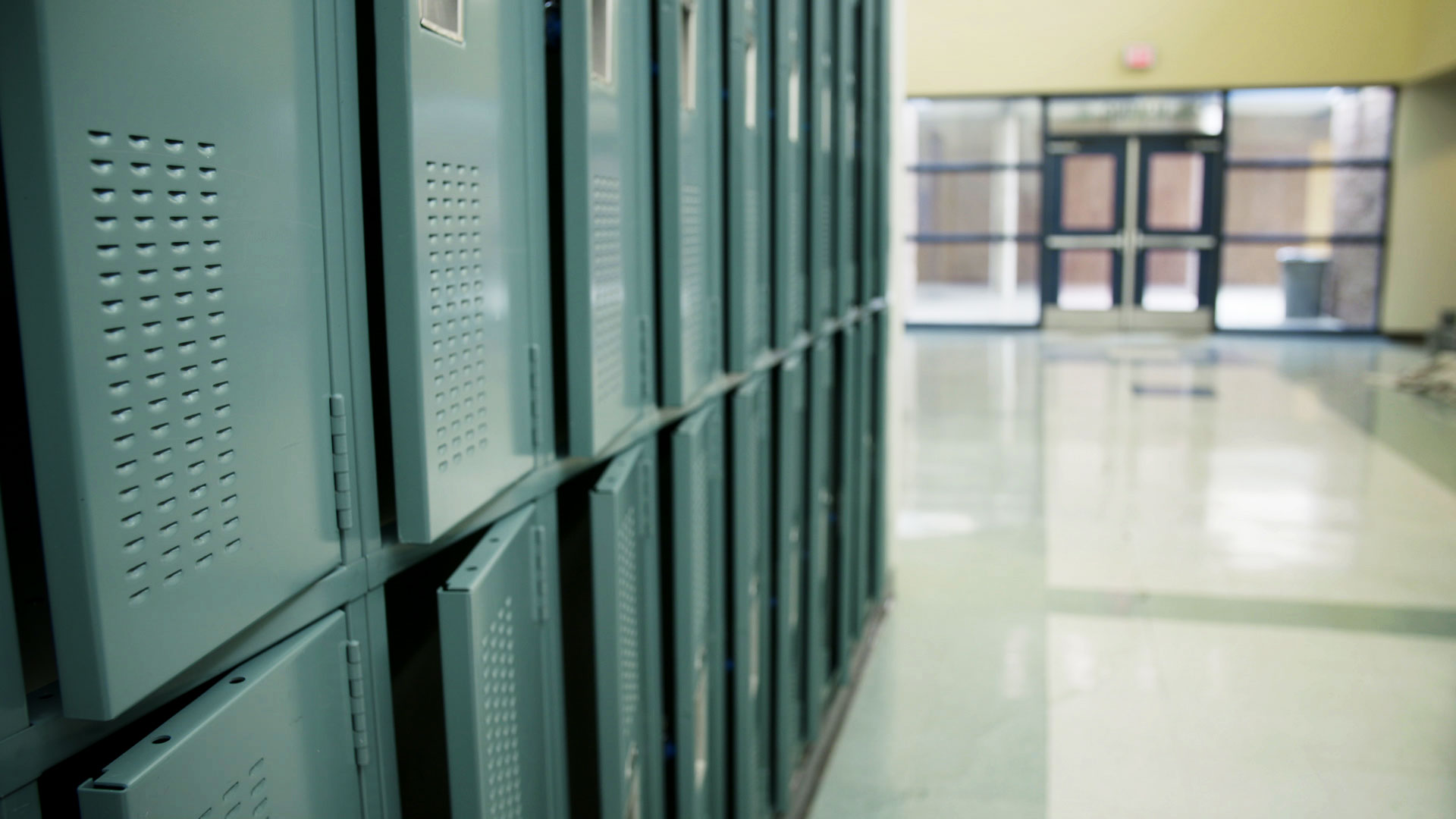 File image of a row of lockers in a school.
AZPM Staff
Since classes went mostly online in March, the quality of the education that students were to receive came into question. But whether online or in person, it was assumed that a fully qualified adult would be in charge of teaching. That might not be the case.
The story that emerged this week, both in Arizona and nationally, was that many teachers, wary of the pandemic, have chosen not to come back this year. That left schools scrambling for qualified adults to keep classes going.
According to the Arizona Republic, a recent report revealed that over 700 Arizona teachers left their positions this year. This in a state already facing a teacher shortage prior to the pandemic.
Arizona is not the only state with a pandemic-related teacher shortage, according to the Associated Press. Indiana, Utah, Kansas, New Hampshire, Pennsylvania and Texas face the same issue.
Substitute teachers and student teachers are filling the open positions, though they may not have the traditional qualifications that teachers bring to the table.
---
Cases of COVID-19 at the University of Arizona have risen so dramatically that university officials and local leaders had no choice but to address the problem. On Monday, the UA and the Pima County Health Department asked students living near the university to shelter in place.
Though this is just a request, Robbins said it is also the last chance for students to voluntarily comply.
The administration has warned students that engaging in activities that threaten public health, like partying, could result in disciplinary action. On Monday, Robbins said that some students had already been suspended or expelled for breaking the rules, but would not reveal the exact number.
Beyond warnings from the university, the county has stepped in to ask off-campus student housing complexes, especially the high rise apartments just to the west of campus, to step up their own response to the pandemic.
To better understand what this year means for students and the education system, the New York Times Magazine spoke with five teachers and parents to confront the worry that this might be a lost year for students.
---
Phoenix Union school district to remain online through December
AP
PHOENIX — The largest high school district in Arizona has announced it will remain closed to in-person instruction until next year, continuing online learning through the district's second term, which ends in December. The Phoenix Union High School District originally had plans to start in-person learning next month but health data still shows substantial COVID-19 spread in many of the schools' regions.
District Superintendent Chad Gestson said Monday in a YouTube video aimed at parents that the district is relying on state health benchmarks, which signal when the spread has slowed enough to return to in-person instruction, in making the decision to remain closed.
---
Ex-Arizona charter school principal sentenced in fraud case
AP
PHOENIX — The former principal of a Goodyear charter school has been sentenced to nearly four years in prison and ordered to pay more than $2.5 million in restitution in a fraud case. State prosecutors say Harold Cadiz was sentenced for his role in enrolling fake students to obtain funding from the Arizona Department of Education, the U.S. Department of Education and the U.S. Department of Agriculture.

Cadiz worked at the now-closed Bradley Academy of Excellence, a K-8 charter school. Prosecutors say Cadiz reported hundreds of fake student profiles to the state education department to fraudulently get additional funding for the financially failing school. The fake students were enrolled in the U.S. Department of Agriculture's school lunch program during the 2016-18 school years.

---
UA, Pima County asks off-campus students to shelter in place
AZPM
The University of Arizona and the Pima County Health Department are asking students who live in Greek houses and high-rise apartments around the campus to shelter in place for 14 days.
"Obviously, we don't want to impede their going to classes that are essential and meeting in person or get medical care or get food," said Dr. Theresa Cullen, head of the Pima County Health Department.
The shelter-in-place request is just that: a request. But county officials said that change to mandatory quarantines if the numbers don't begin to improve.
The university does not have the legal ability to require privately run dorms or Greek houses to comply with the request or mandatory COVID-19 testing, but county officials said they do. Officials with the university, the city of Tucson, and Pima County meet each day to discuss the situation and ways to slow the spike in campus related to COVID-19 cases.
---
UA announces early end to furloughs
Arizona Daily Star
University of Arizona president Robert Robbins announced via email Thursday that the university's furlough program would end earlier than previously anticipated. The UA is set to announce the official stop date in the coming weeks.
Members of the Coalition for Academic Justice at the UA consider it a victory, according to the Arizona Daily Star. The coalition has been critical of the university's handling of the COVID-19 pandemic.
---
Pima County directs apartment complexes near UA to close pools, gyms
AZPM
The Pima County Department of Health issued an order closing all pools, gyms, recreation rooms and spas at apartment complexes near the university that house more than 10 people.
The order was issued in conjunction with a request from the county and university that students who live off-campus or in Greek houses shelter in place for two weeks.
The shelter-in-place request and closure order are limited to an area close to the university. It is bounded by Campbell Avenue, Sixth Avenue, Helen Street and 10th Street.
Earlier this month, COVID-19 cases began surging on the University of Arizona campus, with most of the cases coming from students who live off campus. University officials are pleading with those students to stop holding large parties and abide by mask and physical distancing guidelines.
---
UA surpasses ASU in recent case numbers
Arizona Republic
The University of Arizona saw a harp increase in COVID-19 cases. Between Sept. 14 and Sept. 16, it identified 678 new cases of COVID-19. Arizona State University reported 112 new cases during the same time period.
The UA's increasing case numbers caused the university to request that students living near campus shelter in place for two weeks.
---
ASU president alleges some bars violating COVID-19 protocols
AP
PHOENIX — Arizona State University President Michael Crow alleges several restaurant-bars near the school's Tempe campus have violated the safety protocols businesses must abide by to operate amidst the COVID-19 pandemic.
The Arizona Republic reported Sunday that Crow sent a letter to Arizona Department of Health Services Director Dr. Cara Christ and the head of the state Department of Liquor Licenses and Control about the alleged violations by some Mill Avenue eating and drinking establishments.
Meanwhile, Arizona health officials on Sunday reported 384 more confirmed coronavirus cases and seven additional deaths amid continued slowing in the coronavirus outbreak in the state. The additional cases increased the statewide total to 208,512 and the known death toll to 5,322.
---
ASU student media dismisses two staffers over controversial tweets
Arizona Republic
An opinion columnist for the State Press, Arizona State University's student newspaper, was let go on Thursday. Her dismissal came after she tweeted a message that appeared to support violence against law enforcement.
A manager at Blaze Radio, who is also an ASU employee, was also dismissed on Thursday, reportedly due to a tweet she made that appeared insensitive to victims of police brutality.
---
Scholars offering free online Chicano Studies classes
AP
PHOENIX — A group of Chicano Studies professors has launched a program to offer free Chicano Studies classes amid the pandemic. MeXicanos 2070 this week began holding virtual courses through their program called Colegio Chicano del Pueblo and so far have enrolled more than 75 students.
Prescott College's Ernesto Todd Mireles says the classes will run eight weeks and cover issues around Chicano politics and Chicano history. He says the classes are rolling and students will have an option later to earn college credit for the courses. The curriculum's goal is to build a 32-credit program equivalent to a minor in an academic field.
---
NCAA seeks to dismiss college athletes' federal lawsuit
AP
EUGENE, Ore. — The NCAA is seeking to dismiss a lawsuit filed by two college athletes in federal court. The lawsuit seeks to prevent the association from limiting the amount of money athletes can make off their names, images and likenesses. It was filed by Arizona State swimmer Grant House and Oregon women's basketball player Sedona Prince. The Oregonian reports that attorneys for the NCAA filed their motion to dismiss the suit on Friday.
The legal fight comes as the NCAA is changing its rules to allow college athletes to earn money for things such as social media endorsements, sponsorship deals and personal appearances.