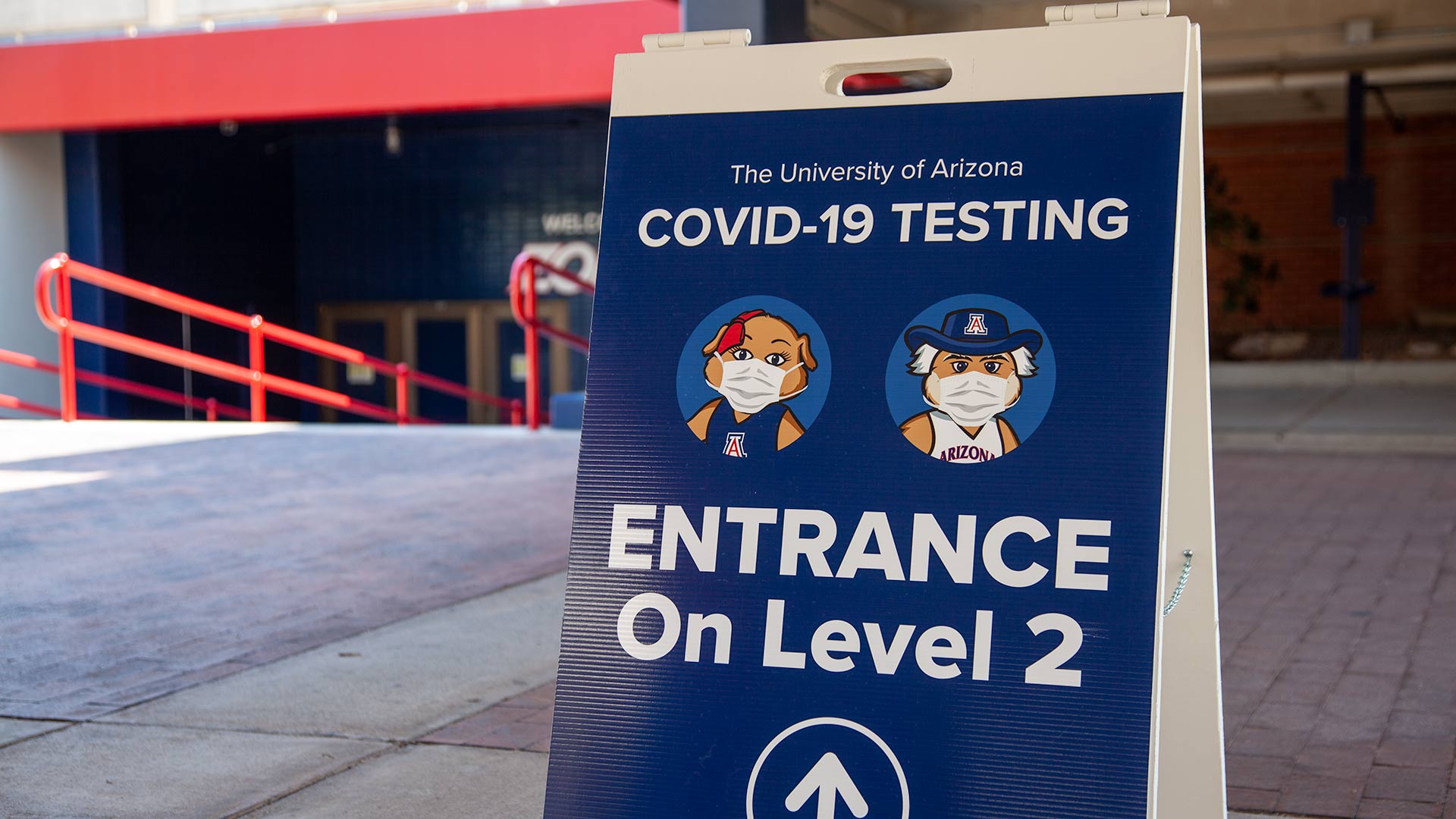 A sign on the campus of the University of Arizona directs visitors to a COVID-19 testing site, August 2020.
AC Swedbergh/AZPM
More than 100 cases of COVID-19 are now confirmed on the University of Arizona campus. Those numbers are bringing changes to the university.
Private security guards will begin to patrol the campus to break up large gatherings and enforce mask-wearing requirements.
"Obviously, we don't want to use our armed police officers to breakup those kinds of gatherings," said University of Arizona President Robert Robbins.
Members of CAJUA, a group of faculty, graduate, and professional students that opposes the university's plan for classes, tweeted that the campus is becoming "more and more militarized every day."
Robbins said it is up to students to determine if the campus will be able to fully reopen. He said students must abide by the mask and physical distancing rules put in place to slow the spread of COVID-19 on campus.
University officials said they are taking a hard-line stance when it comes to enforcing the rules, telling students they will face disciplinary measures, including expulsion, if they don't follow the rules.
On-campus testing has found cases of the virus in four dorms and a sorority house. But the problems are not limited to campus.
Off campus, where the university has less reach, there are reports of large gatherings and parties. Robbins said the university is now working with the Tucson Police Department.
"To respond to reports of gatherings that violate city ordinance and undermine health and safety guideline," he said.
Students who hold large, off-campus parties can face discipline from the university. UA has also set up a hotline for neighbors to report bad behavior and a team to meet with students who hold off-campus parties.
"We knew that because the students that live off campus don't have to follow the rules that the students that live on campus do ... and it's only taken us a week or 10 days to see what we knew was coming," Robbins said.
The university president said he would like to see universal testing for everyone who comes on campus, but he said right now that is not feasible. He did say, however, that could become a reality as testing capacity grows and becomes less expensive. Robbins said he could envision that happening in January.