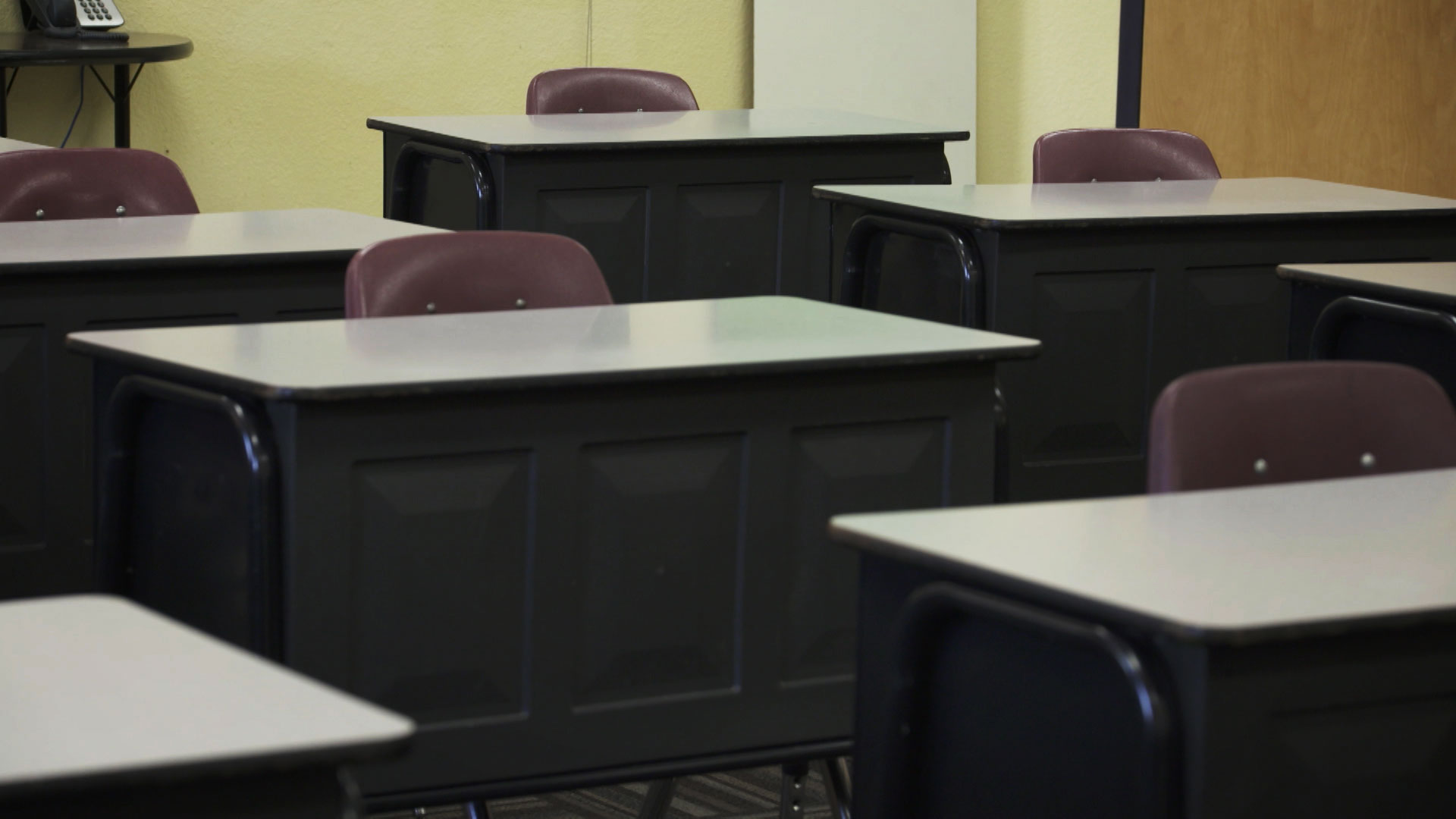 A row of empty desks inside a classroom at Mesquite Elementary on August 10, 2020. Students began the school year with at-home learning.
Robert Lindberg/AZPM Staff
In early September, Pima County first met the criteria to reopen schools for hybrid learning. While some larger districts are moving forward slowly with their reopening plans, Sahuarita Unified School District has already begun hybrid classes for elementary school students.
Due to rising case rates, Pima County no longer fully meets the criteria set for reopening schools, according to data from the Arizona Department of Health Services.
As of Sept. 24, the department still listed Pima County as approved for hybrid learning.
During a Sept. 24 press conference, the Arizona Department of Health Services Director Dr. Cara Christ said that counties experiencing case increases will likely be reclassified soon.
While some students head back to school, at least part time, at-home learning has given parents greater access into how their kids behave in class than ever before. Between frustrating technology, not being around friends, and just generally being very young, tears are not uncommon in virtual classes. They were not uncommon in traditional schools either. The Los Angeles Times dug into how parents being present for the tears changes things.
Meanwhile, the University of Arizona's attempts to lower case rates among its students have been met with mixed results. Last week, he UA and the Pima County Health Department asked students to shelter in place.
There is no way to know how many students headed the order. What we do know is that the number of positive case numbers this week, with the exception of Monday, were significantly lower than last week. Though, the number of tests performed was also lower this week.
---
Some Tucson schools begin hybrid classes
Arizona Daily Star
The Sahuarita Unified School District began hybrid classes last week. Safety precautions like temperature checks, distanced desks and hand sanitizer were in place, the Arizona Daily Star reports.
Classes began with elementary school students, though middle and high schools are also expected to return soon. Approximately 70% of Sahuarita elementary students returned for hybrid classes, with the rest remaining in fully online classes.
---
Local districts decide whether or not to alert families to COVID-19 cases
Arizona Daily Star
As schools in Pima County begin to open for hybrid learning, district must decide whether or not to alert families when a COVID-19 case is identified. The districts differ in their approaches.
The Tucson Unified School District will not notify families unless the case leads to a school closure, the Arizona Daily Star Reports. Other districts adopted the policy of only notifying those who sent a significant amount of time in close proximity to a person with COVID-19. Two districts have committed to informing everyone who was on campus with a person who tests positive.
---
Ex-Goodyear charter school executive gets jail in fraud case
AP
PHOENIX — The former vice principal of a Goodyear charter school has been sentenced to four months in jail and five years of probation in a fraud case.
State prosecutors say Joann Vega was sentenced Wednesday for her role in enrolling fake students to obtain funding from the Arizona Department of Education, the U.S. Department of Education and the U.S. Department of Agriculture. On Sept. 14, former principal Harold Cadiz was sentenced to nearly four years in prison.
Cadiz and Vega worked at the now-closed Bradley Academy of Excellence, a K-8 charter school. Prosecutors say the two reported hundreds of fake student profiles to the state education department to fraudulently get $2.5 million in additional funding for the financially failing school.
---
State to invest additional $14 million in universities for COVID-19 efforts
AZPM
Gov. Doug Ducey praised the efforts of Arizona's three state universities on Thursday during a press conference highlighting their research and efforts toward controlling the COVID-19 pandemic.
Ducey began by quickly running through various metrics tracking the spread of the pandemic, pointing to major drops in the state's percent positivity and hospital beds in use from their heights in July.
Joined by President Robert Robbins of the University of Arizona, President Michael Crow of Arizona State University and President Rita Cheng of Northern Arizona University, Ducey said the state will spend an additional $14 million on their collective efforts toward controlling the spread and developing research to help the state and nation respond. That includes $8 million for additional testing and surveillance at universities, and $6 million for ASU to help it continue developing its "point in need" test.
---
Students punished by UA and police for bad COVID behavior
AZPM
The University of Arizona and Pima County asked students, last week, to abide by a 14-day shelter in place request. On the first weekend of the request, not all students complied.
"I think it was Thursday night or Friday, a large party with over 300 attendees was discovered and dispersed," said University of Arizona President Robert Robbins.
In addition to that party, the universities community action or CART team responded to more than a dozen other parties.
The good news, according to Robbins, is that over the weekend no students had to be put in the isolation dorm and more than 100 were released bringing the population to 324 as of Monday.
---
COVID-19 testing down at the University of Arizona
AZPM
The University of Arizona tested 3,910 students and staff members this week for COVID-19. That is below the goal of 6,000 tests per week the university President Robert Robbins wants.
Tests only broke the 1,000-test threshold one day according to data published by the university on Thursday night.
"We suspect the numbers are down due to the county's shelter in place recommendation. We have the capacity, but not the business," wrote Holly Jensen, University of Arizona Vice President for Communications, in an email.
Testing at the university peaked on Sept. 10 at 1,991. The number of cases and the percent positive both dropped at the university this week.
See a graph of COVID-19 cases at the UA here.
---
Pima County COVID-19 spike is due to UA, Garcia says
AZPM
Pima County Medical Director Dr. Francisco Garcia says a recent surge in COVID-19 cases in the county can be traced directly to the University of Arizona and its immediate vicinity. Garcia spoke Friday with AZPM's Steve Jess.
Listen to the interview here.
---
Football will be played in the PAC-12 this fall after all
AZPM
The Pac-12 conference has reversed its decision to cancel its college football season. The reversal comes a week after the Big-10 Conference made the same decision.
Conference teams will play an abbreviated seven-game season beginning Nov. 6 and the conference championship game will be played Dec. 18.But no fans will be allowed to attend games held on conference campuses. The full schedule of games is expected to be released in the next few days.
In August, both Pac-12 and Big Ten medical advisers called for the season to be canceled following the emergence of reports linking potential serious cardiac side effects from the virus, as well as worries that athletes would be not able to travel safely.
The decision affects the University of Arizona and Arizona State University both of which play in the conference.
---
ASU shortens semester, to go virtual-only after Thanksgiving
AP
PHOENIX — The coronavirus pandemic is prompting Arizona State University to shorten its fall semester, with any instruction during the one remaining week after the Thanksgiving break to be conducted virtually. Provost Mark Searle also said Friday in an email citing "current health circumstances" that the December commencement would be conducted virtually.
The fall semester will end Dec. 4, with the previously scheduled Dec. 7-12 week for final exams canceled and finals instead held the last day of class by Dec. 4.
State health officials on Saturday reported 610 additional COVID-19 cases and 16 deaths, increasing the statewide totals to 213,551 cases and 5,467 deaths.
---
Schools South Of The Border: Some Sonoran Students, Families Struggle For Education Amid The Pandemic
Fronteras Desk
Thirty million million students in Mexico go to school now by switching on the TV to watch classes being broadcast throughout the country.
Upbeat teachers speak directly to the camera from brightly lit TV studios as they present lessons on math, civics, music and other subjects with perky assistants, some of whom act out the role of students, since the real ones are on the other side of the screen.
In Mexico, all elementary and middle school classes started being broadcast on TV and radio on Aug. 24. The idea was to make distance learning more accessible to families who don't have internet access.
But that hasn't meant easy access to education for everyone