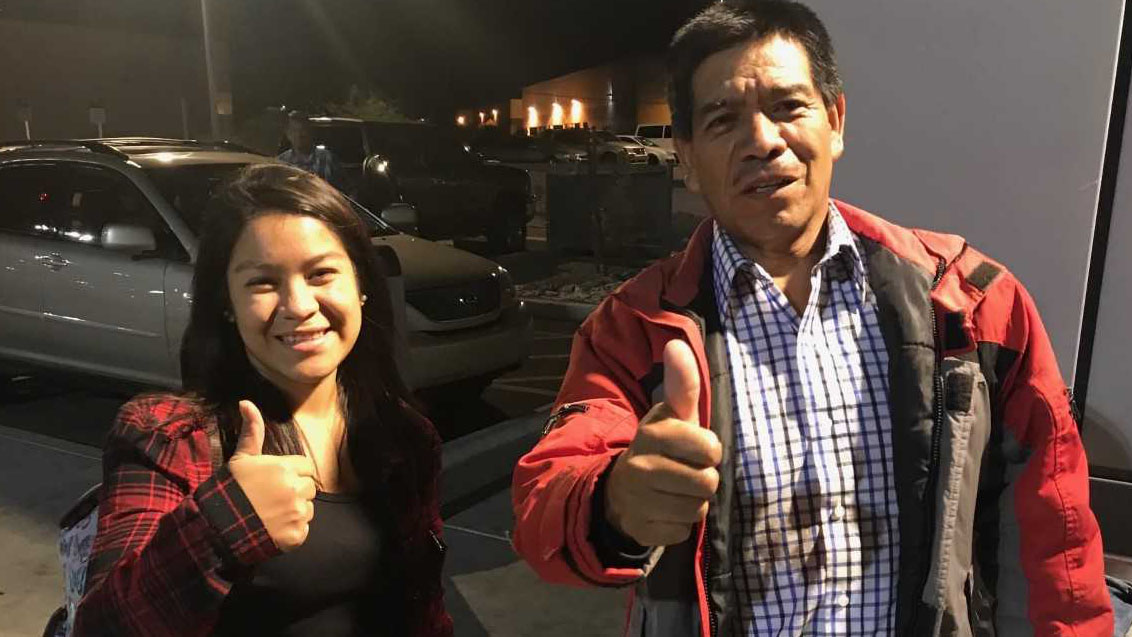 Jesse Tomas and her father Guermo after they were reunited in Tucson.
Nancy Montoya
Seventeen-year-old Jesse Tomas from Guatemala may be spending her final days in the United States awaiting deportation, according to the judge evaluating her immigration case.
After an initial meeting with Immigration and Customs Enforcement Thursday, Jesse said she and her father Tomas were told that they will likely be deported back to Guatemala. They have no documents to prove they are in fear for their lives if they return to their country.
The teenager had endured threats of rape and assaults from gang members who wanted her father to pay them for her safety. She and her father fled to the U.S. to seek asylum. They left behind Jesse's two younger brothers and her mother in a rural village.
The two traveled through Mexico and made their way to Nogales, where they legally asked for asylum. Then they temporarily stayed at a shelter in Tucson.
U.S. Immigration officials cleared them to travel to West Palm Beach, Florida, where they have friends, to await the asylum hearing.
U.S. Attorney General Jeff Sessions announced in early July that fear of gang and domestic violence will no longer be accepted by U.S. immigration as reasons for granting asylum.
"My father is under a lot of pressure" Jesse said. There was no one to represent them at the hearing and she said understanding the proceeding was almost impossible.
Jesse said a translator told them that an ICE agent would be by to see them in a day or two and advised them to go home and wait. Her father left early in the morning to get food and had not returned 12 hours later, she said.
She fears he may have already been picked up by immigration officials. She said by phone that she plans to lock the door of the small bedroom they rented from another Guatemalan family and wait.