High school students in Tucson.
AZPM
While many point to teacher salaries as the best way to address Arizona's teacher recruitment and retainment problem, one group is putting a special emphasis on another factor: data.
The National Council on Teacher Quality said Arizona, and other states, aren't doing enough to collect and connect data — in particular, data on teacher preparation programs.
"Unfortunately, we found that Arizona has significant work to be done," said Elizabeth Ross, managing director of state policy at the D.C.-based National Council on Teacher Quality (NCTQ).
The report looks at a few factors regarding teacher supply and demand. It asks if a state collects and maintains public data about its teacher preparation programs, whether and to what extent that data is matched to school district hiring needs, and if the state offers guidance on high-need certification areas.
For Arizona, the answer to those questions is "no," according to the report.
"It's really hard for states and districts to ensure that every child has access to effective teachers, over time, without putting in place systems that will provide them and the public with the necessary data that they need," Ross said.
Without that data, she said, there are big gaps in the information needed to guide state-level policy decisions, and districts are deprived of a "powerful lever" to incentivize certification in certain subjects. It also becomes an issue of educational equity, she added, as a deficit of well-prepared teachers tends to impact low-income and students of color the most.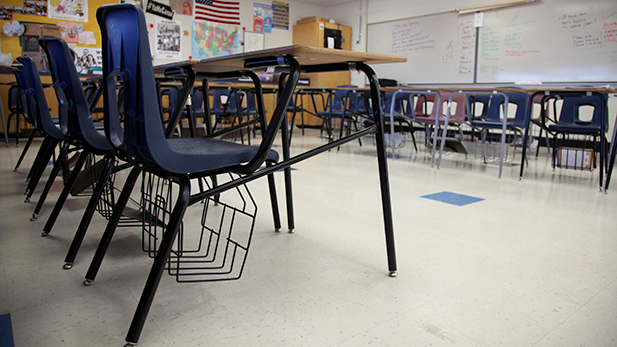 Fernanda Echavarri, AZPM
Arizona finds itself in the midst of a critical teacher shortage, with one survey suggesting the state started the new year with around 2,000 teacher vacancies.
A shorthand response to the issue points to the fact that the state consistently ranks among the lowest in teacher pay. Ross said painting a broad-strokes picture of the teacher shortage is problematic.
"We think that all states are done a disservice when the conversations around teacher shortages happen at the broad level rather at the more precise level."
Analyst Dan Hunting said that tracks with some of the findings by Arizona State University's Morrison Institute for Public Policy, which released a report last year on Arizona's challenges attracting and keeping teachers.
"Part of the issue with teacher attraction and retention is that we don't always know very accurately what's going on — as far as where the openings are, as far as where the problems are, as far as salary, as far as what specific types of openings are occurring," Hunting said.
"The teacher shortage is not uniform. … There are some areas where we have very critical shortages, and others where it's not so bad" — Dan Hunting, Morrison Institute for Public Policy
Hunting said "grow-your-own" models are promising, bridging programs at the state and local levels to train local teachers to stay in the state and return to their communities. That brings the conversation back to teacher preparation institutions.
The state's three public universities and Grand Canyon University constitute the major programs to produce teachers, according to Hunting, and statistics suggest the number of graduates coming from the three public universities is not keeping pace with the growth of school-age children in the state.
So why is an appropriate data system not in place?
"That's a surprisingly expensive thing to do — to really track everybody," and the Arizona Department of Education has struggled to get the funding to build a "robust" data system, Hunting said.