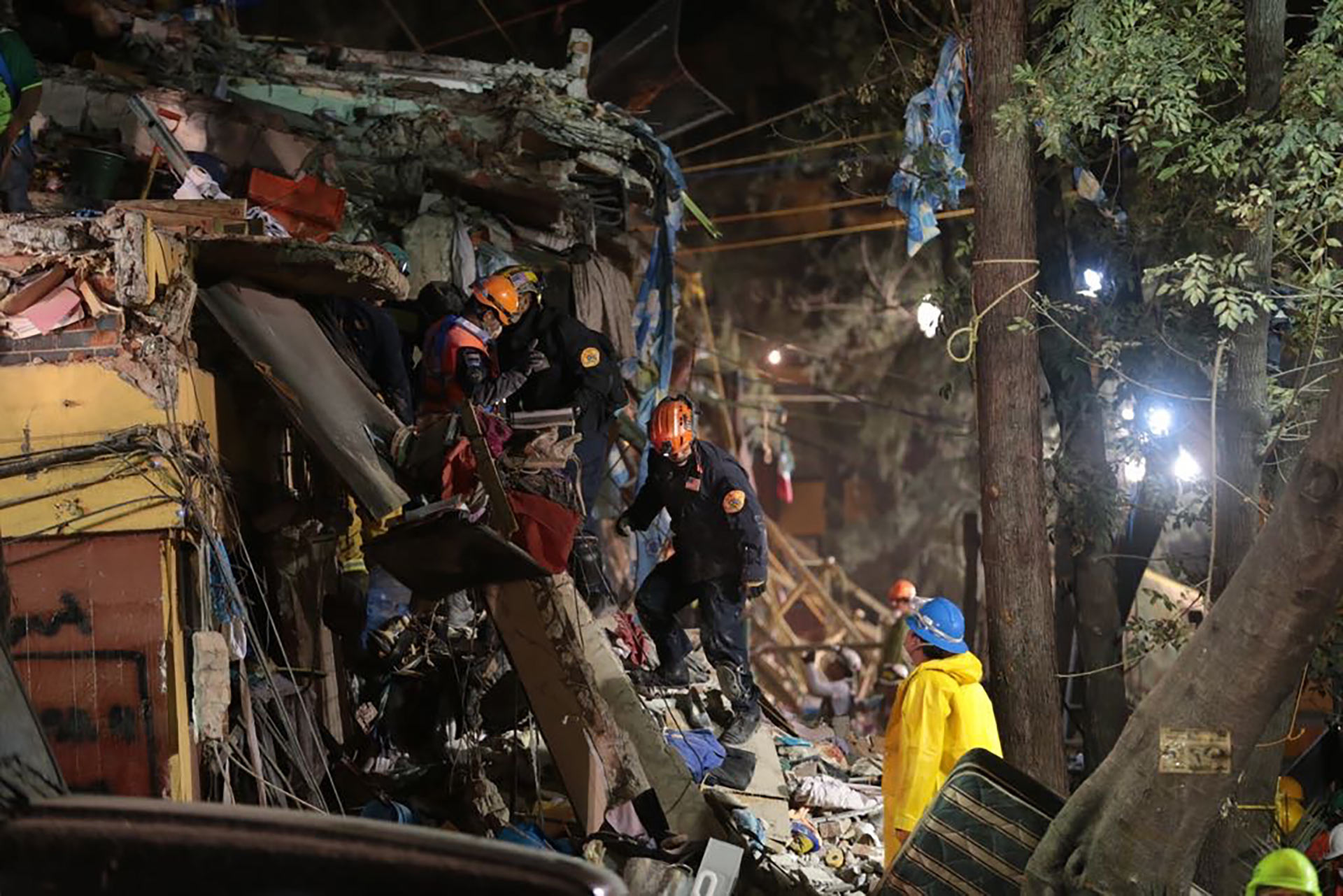 U.S. rescuers from the Disaster Assistance Response Team (DART) climb a collapsed building in Mexico City after the earthquake of Sept. 19, 2017.
Courtesy Mexican Secretary of Foreign Affairs via Fronteras Desk
MEXICO CITY — The death toll from Mexico's Sept. 19 earthquake has risen to more than 360 people, 220 in Mexico City alone.
The day after the earthquake rocked Mexico, the U.S. government deployed a disaster response team of 67 people and five dogs.
Twenty-three countries sent help after the quake, including the United States. Last weekend, after more than a week of assistance, the U.S. rescue team returned home.
The U.S. experts looked for survivors in collapsed buildings in Mexico City while conducting inspections of other damaged structures.
Many of the rescuers came from the Los Angeles County Fire Department. Among them was Dipesh Patel, a doctor who migrated from Kenya.
Patel became a U.S. citizen and rescuer after helping the American embassy in Nairobi following a bombing.
"Seeing the hope in the eyes and faces of the local people (in Mexico) — many of whom came to us, offered us assistance, food, water — and were truly thankful for our presence, and I remember in that moment seeing myself knowing what they're going through, and knowing what it meant to be able to have hope," Patel recalled in a statement shared by the U.S. Embassy in Mexico.
The U.S. government also contributed 79 tons of food, water and supplies, as well as $100,000 to the Mexican Red Cross. The rescuers donated some of their gear.
"Societies can be descrambled or stand up, and there was no doubt in my mind, at any moment, during our activities, that the Mexican people have come together," Patel said.
The Mexican government congratulated the rescue team from the United States, while thanking the Trump administration.
"I hope the Mexican people will continue to realize that we are here to support one another, and that our ability to support each other in times of needs will make us a better, stronger world," Patel said.