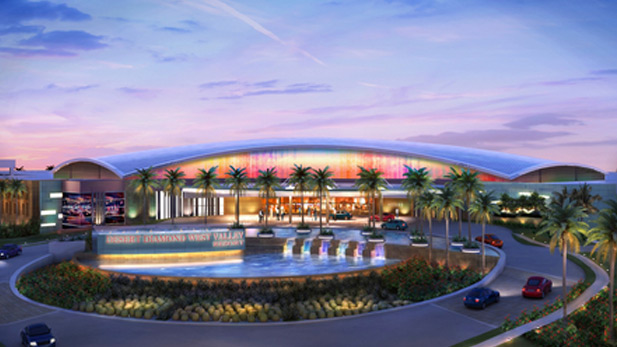 Proposed Tohono O'odham casino in Glendale.

westvalleyopportunity.com
This story was updated with information from the Tohono O'odham Nation and the Gila River Indian Community. 4:10 p.m.
Listen:
The U.S. 9th Circuit Court of Appeals ruled the Tohono O'odham are not violating an Indian Gaming Pact with Arizona by building a casino in Glendale.
The ruling allows for Class III gaming, which includes table card games and slot machines.
The state and some Maricopa County Indian tribes argued the Tohono O'odham casino in Glendale was a violation of the pact because the land it is on is not originally part of the tribe's property.
The Court ruled because the land was taken into trust as part of a settlement of land claim, opening a casino does not violate the pact.
"It just reaffirmed what we already knew, that we complied with the National Indian Gaming Regulatory Act. That we complied with the compact," said Edward Manuel, the chairman of the Tohono O'odham Nation.
The president of the Salt River Pima-Maricopa Indian Community, Delbert Ray, released a statement after the ruling. He called the decision "deeply disappointing."
Manuel Johnson, the spokesman for the Gila River Indian Community also issued a statement. He too called the ruling "disappointing" and said it, "reinforces the urgency for Congressional action."
Senators Jeff Flake and John McCain both oppose the casino.
The facility opened late last year, but had limited gaming.

Tohono O'odham officials said there is no timetable for adding the slot machines or card games.
None of the tribes or the state has indicated whether or not they will appeal to the U.S. Supreme Court
Read the 9th Circuit's Ruling on the Tohono O'odham casino
View at Google Docs | Download File