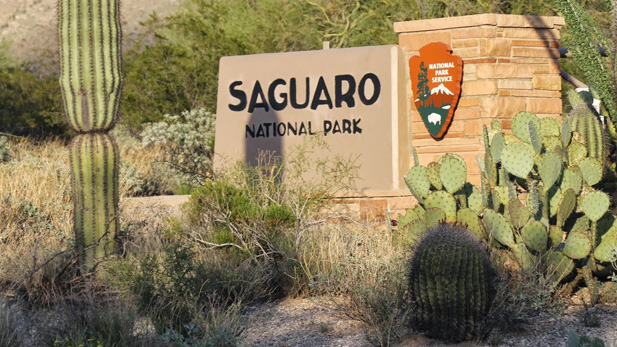 Saguaro National Park East entrance.

AZPM Staff
Listen:
By Zac Baker, AZPM Intern
Two traveling trainers from a group called Leave No Trace Center for Outdoor Ethics will be at Saguaro National Park this weekend educating people in treating the land so it can be enjoyed for years to come.
The educators' time in Tucson is one stop on a tour through the Southwest to help spread good outdoor practices. Tour locations are chosen by the Colorado-based nonprofit for specific reasons.
"They're essentially parks or places that are being loved to death, and so Saguaro is experiencing a lot of visitors and a lot of impacts," said Courtney Bierschbach, one of the trainers. "We're here to work with the community to try to take care of some of those impacts."
Bierschbach said love can bring the parks to the point of "irreversible impact," but that the events this weekend should help people know how to undo and prevent further damage.
Topping the list for park officials and Bierschbach are litter, hikers deviating from marked trails and a buffelgrass infestation.
"Those are definitely all ones through education, and a little bit of buffelgrass pulling, we can definitely improve," Bierschbach said.
Her husband and fellow traveling trainer, Nick, said that buffelgrass is a particularly dangerous hazard and should be removed to prevent wildfires. He said the training also emphasizes fire safety.
The main event is an eight-mile hike through Saguaro National Park East starting at 8 a.m. Saturday. The group will be removing buffelgrass along the trail. Participants should meet at the Loma Alta Trail Head with plenty of water, a lunch and appropriate clothing, and are asked to RSVP at 520 733-5187.
The Leave No Trace trainers will also be at Saguaro National Park West Sunday morning from 9 to 11 to talk with the public.