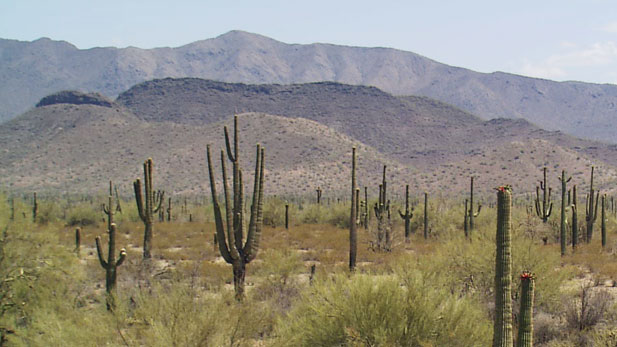 Saguaros flourish in the Sonoran Desert
By Maya Springhawk Robnet, Arizona Science Desk
Volcanic activity may help saguaro cacti survive in their infancy by changing the temperature for a span of up to two years, a Canadian researcher has found.
Taly Drezner, a professor of biogeography at York University in Toronto, researched the ages of saguaros in Kofa National Wildlife Refuge near Yuma and found many of them began growing about 125 years ago, in a period of high volcanic activity.
The finding is an example of the effects that even slight variations in climate can have on a single species, demonstrating climate change at work.
Most saguaros do not survive their first two years, so the change in temperature caused by the particulates and gases in the atmosphere from the volcanoes may have served as protection, Drezner said. She correlated the cacti beginnings with a period of high volcanic activity, starting with an eruption in Indonesia in 1883 and extending into the early 1900s.
"The effects of a volcano may last only one or two years but, in fact, that's exactly the critical window for saguaros," she said. "Those effects fade, the plant is likely already past the critical stage and can probably now survive with more adverse conditions."
Almost all the saguaros in Kofa are about the same age - 123 years old, give or take - and all can be linked to this series of volcanic eruptions, Drezner said.