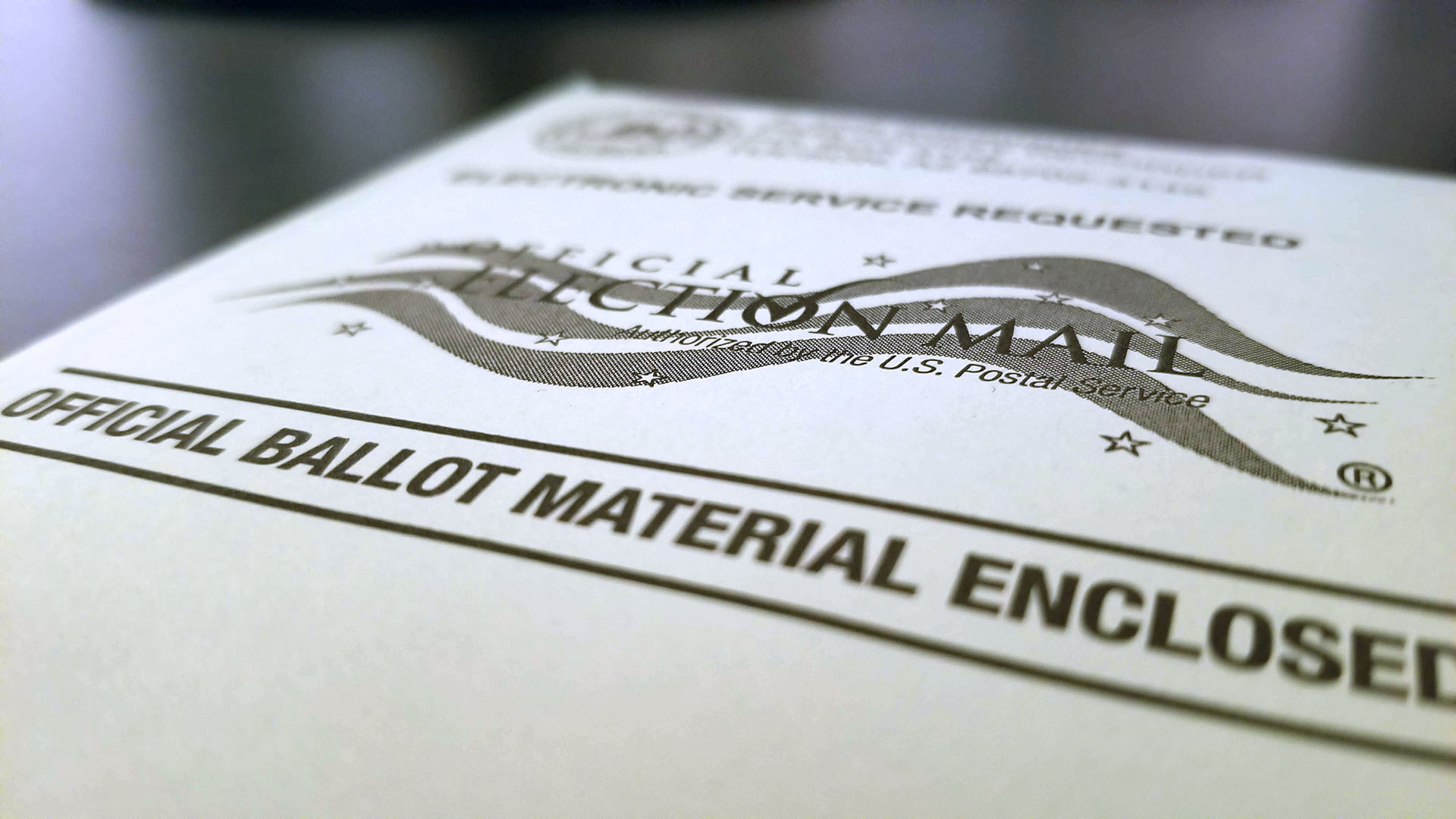 A Pima County vote-by-mail envelope.
AZPM
Eighty-eight percent of Arizona voters cast an early ballot, most of them by mail, in the August primary this year. There were no cries of fraud or a rigged election because Arizona has spent three decades perfecting the vote-by-mail process.
The day after the primary, President Donald Trump criticized mail-in voting in many states.
"Absentee voting, great. But this mail-in voting where they mail, indiscriminately, millions and millions of ballots to people. You're never going to know who won the election. You can't have that," Trump said.
Sitting next to Trump when he made those comments was Gov. Doug Ducey. He quickly defended mail-in voting.
"In Arizona, we're going to do it right. It will be free and fair. It will be difficult if not impossible to cheat and it will be easy to vote," Ducey said.
In 1991, the Legislature allowed Arizona voters to request an absentee ballot for any reason. Before the change in the law, a voter requesting an absentee ballot had to prove they could not make it to the polls on election day.
In 1997, state lawmakers made a simple change in Arizona election law. The word "absentee" was replaced by "early."
In 2007, Pima County Recorder F. Ann Rodriguez led an effort by county recorders to get the Legislature to create the Permanent Early Voting List.
"Our constituents were saying: 'How come I have to do this every year, request a ballot by mail? You can see in my history I always vote this way.' And they were correct, so we went to the Legislature saying: 'Look, people want this method. Let them have the option of choosing to do it or not to do it,'" Rodriguez said.
Since Arizona changed its early voting laws, making it easier to cast an early ballot, the practice has become more popular. Most of the early ballots cast are done so by mail.
"Voters in Arizona know that it's a system that works, and they have chosen in increasing numbers have chosen to exercise that option for more than a couple decades here," said Secretary of State Katie Hobbs.
In the 2012 general election, 61% of Arizona voters cast an early ballot according to the Secretary of State's office. By 2018, that number grew to 79%.
Arizona voters vote by mail in large numbers due to convenience. Ballots are sent out 30 days before the election, and confidence that the system is not likely to be the subject of large-scale fraud.
In Pima County, the election staff is trained by a forensic handwriting analyst to check signatures on returned ballots.
"We check every single signature. There are citizens out there who can attest, I don't have to do it, that they've gotten a phone call from me," said Rodriguez.
If a signature does not match the one on file, the election staff contacts the voter to verify it is the legal voter who signed the form. No ballot is counted until the signature is verified.
Some people worry that once they put their ballot is in the mail there is no way to know what happens to it. In Arizona, every county has a ballot-tracking system.

In Pima County, voters can go online to check that their ballot was received and when the signature was verified.
"There's footage on my website of this whole process so people can rest assured that their ballot is being taken care of," said Rodriguez.
Rodriguez said she also regularly meets with officials at the U.S. Postal Service to make sure everything runs smoothly when ballots are moving through their facilities.
Early ballots in Pima County go in the mail Oct. 7.