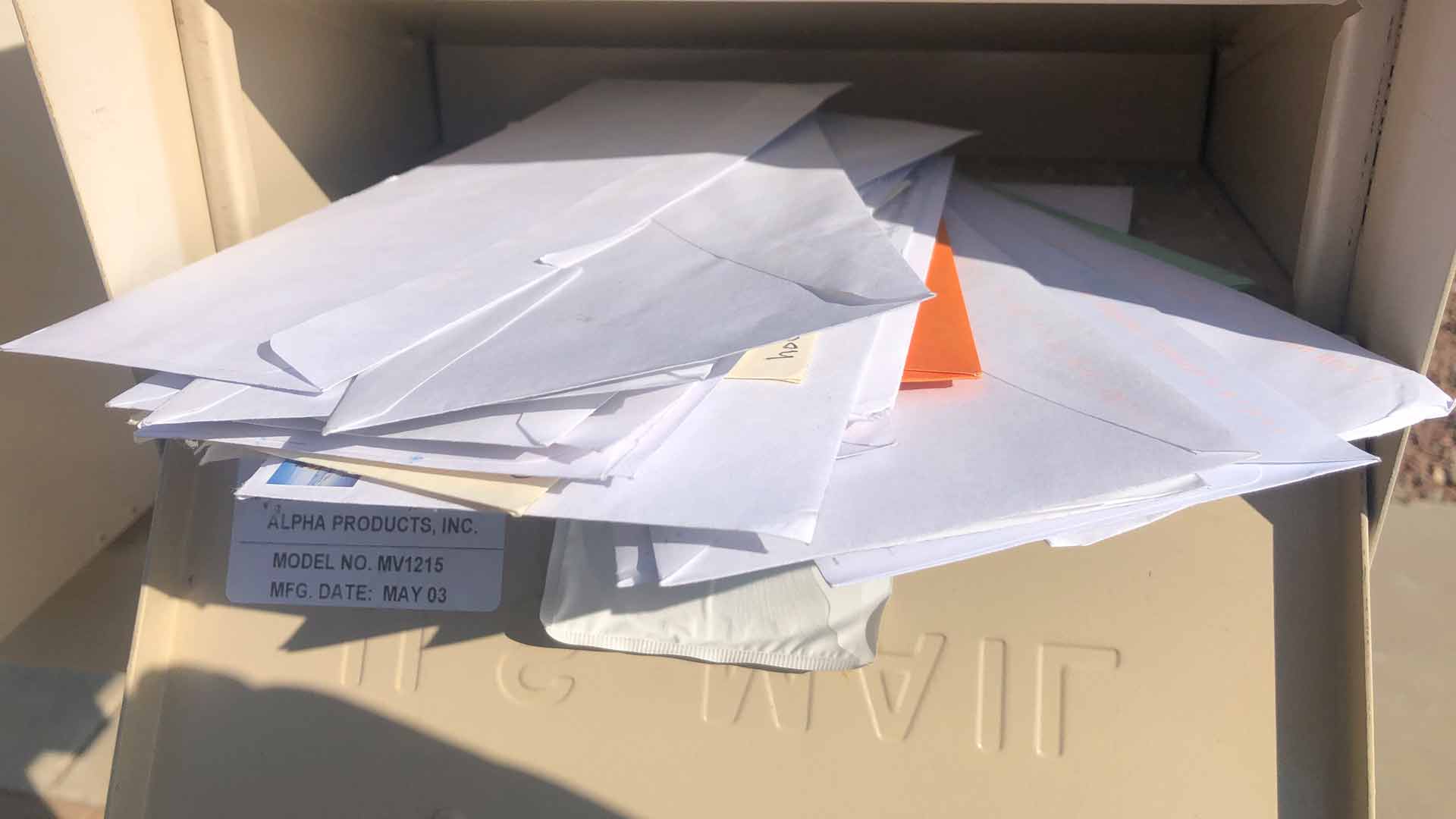 Letters mailed from around the country to Tucson. September 2020
Christopher Conover/AZPM
"Neither snow, nor rain, nor heat, nor gloom of night stays these couriers from their appointed rounds." That message--the unofficial motto of the U.S. Postal Service--is being called into question this year as the election nears and more people consider voting by mail due to the pandemic.
In Arizona, 80% of voters cast their ballots by mail, so questions about the ability of the postal service to handle election mail are critical.
To find out how long the mail takes, I asked friends and family across Tucson and around the country to mail a letter to my house. Twenty-one envelopes were put in the mail from homes, offices, post offices, and blue boxes on street corners.
The eight letters from the Tucson metro area covered Oro Valley, Marana, Central Tucson, and the west and south sides of the area. Each of the letters took three days to reach my house, including the two I mailed from my own house.
Dave Lewis, the president of SnailWorks which tracks mail for corporation and non-profits, said that's normal.
"We're seeing three to four, three to five sometimes, more typically I would say three to four days is what we are seeing," Lewis said.
The U.S. Postal Service declined the opportunity for a recorded interview but directed AZPM to a website that give goals for mail delivery between zip codes.
The USPS expectation for mail going across Tucson, according to the website, is four days. Our experiment found it took three days.
Tucson's mail is sent to Phoenix for processing and then returned to southern Arizona for delivery. So how long does it take a letter from the Phoenix metro area to get to Tucson since it skips the step of being transported to Phoenix? According to our experiment, three days, once again in line with postal service goals.
In recent months, the postal service has come under scrutiny after it was revealed that high speed sorting machines were taken offline and mailboxes were removed. Lewis said mail delivery has slowed recently.
"We've seen a little deterioration in service in the last few months. And when I say a little, it's that a fair amount of mail is running one day late," said Lewis.
The postal service is aware of public concerns surrounding a higher volume of election mail. It recently posted a video on its website trying to reassure voters.
Mail from the rest of the country coming to Tucson took four or five days to get here, which is within the goals of the postal service. A letter sent from a post office in the City of New York took six days and a letter sent from western New York took seven days. Both of those letters traveled over a Sunday.
Then there was the letter from my mom in South Florida mailed on Sept. 1. It still has not arrived.
"Things still get lost in the mail. I really don't think that rate has changed much really over the years," said Lewis.
While the pandemic and the idea that more people will vote by mail this year has raised concerns across the country about mail service, Arizona has used mail-in ballots for decades and election officials are confident in the process.
"It's a system that works and we have continued to build the infrastructure so that any scaled-up voting by mail in this election is not going to cause any issues or problems," said Arizona Secretary of State Katie Hobbs.
Arizona election officials recommend that voters drop their mail-in ballots in the mail at least seven days before the election. Voters can also drop mail-in ballots at any early voting site in their county or any polling place on Election Day.
Arizona voters can also see when their ballots arrived, are verified, and ready to be counted through their county election websites.
In Arizona, ballots must be received, not postmarked, by Election Day. To ensure it arrives on time, election officials recommend you put it in the mail no later than Oct. 27.