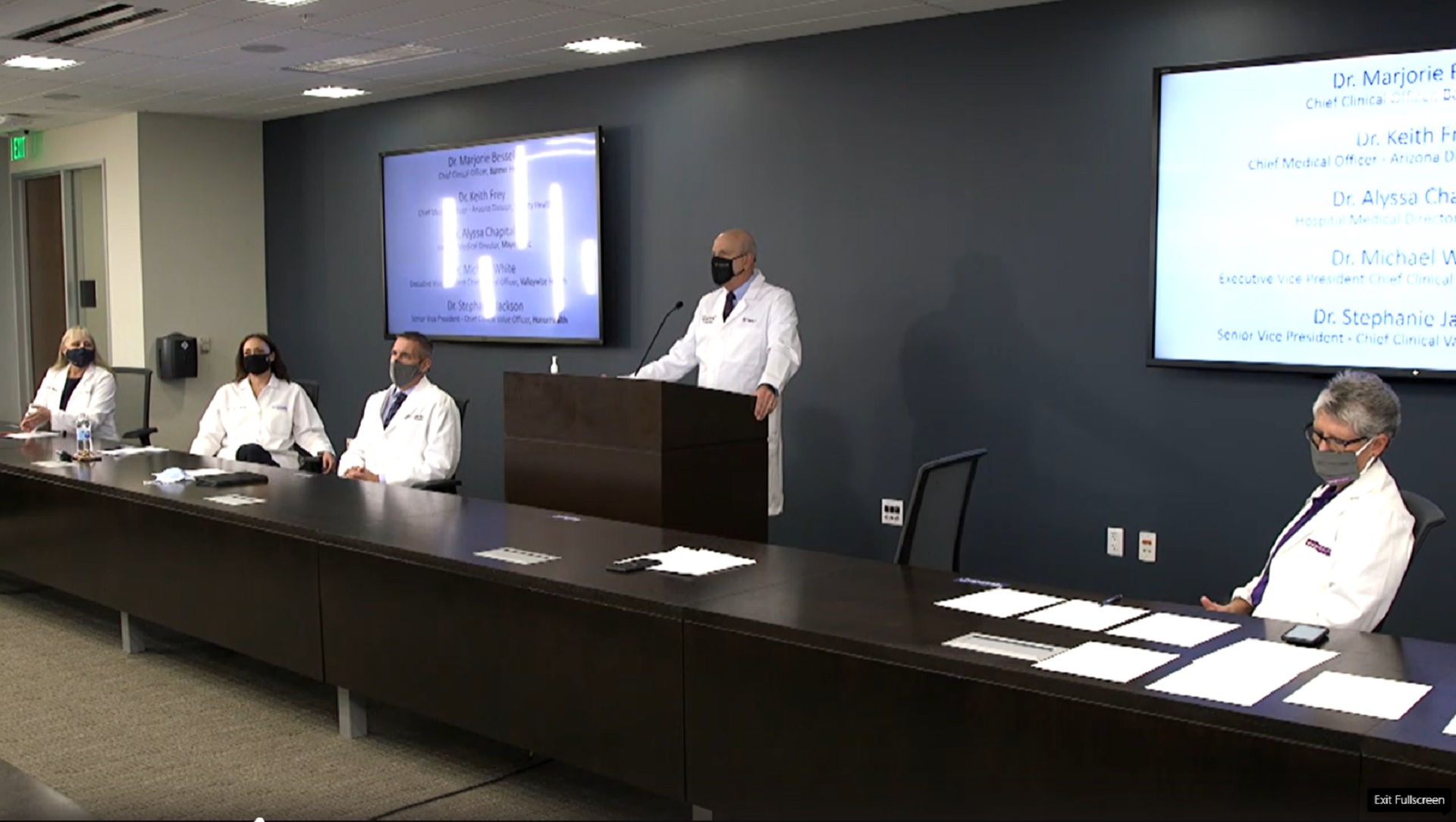 Clinical officials of five Arizona Health care organizations conduct a virtual news conference on the state of the COVID-19 pandemic January 13, 2021 in Phoenix. Pictured are (left to right) Dr. Marjorie Bessel, Chief Clinical Officer, Banner Health; Dr. Alyssa Chapital, Hospital Medical Director, Mayo Clinic; Dr. Michael White, Executive Vice President, Chief Clinical Officer, Valleywise Health; Dr. Keith Frey, Chief Medical Officer - Arizona Division, Dignity Health; and Dr. Stephanie Jackson, Senior Vice President, Chief Clinical Value Officer, HonorHealth.
Banner Health/screenshot
Health care leaders from across Arizona continue to contradict Governor Doug Ducey's approach to fighting the coronavirus pandemic - including his statement this week that schools should return to in-person learning.

Clinical officials from Banner Health, Dignity Health, the Mayo Clinic, Valleywise Health and Honor Health held a rare joint news conference Wednesdy to stress the need to keep holding the line against the spread of COVID-19.

Dr. Michael White, Chief Clinical Officer with Valleywise Health, also took exception to Gov. Doug Ducey's call for schools to reopen for in-person learning. "We understand that learning and bringing our children together is very important, but at this time with uncontrolled spread of the virus, we need to do things that we know will reduce the chance that the virus will spread and that is not gathering with people that we don't live with at this particular point," White said.
Gov. Ducey said during his state of the state address Monday that students have "lost out on childhood experiences that can't be duplicated on a computer screen". He said the state should not "fund empty seats."

A Ducey aide later said the governor only meant that schools shouldn't get funding for students that have dis-enrolled, and that Ducey was not threatening to cancel state funding for districts that continued to use remote learning.

The clinical officials also said they are preparing for yet another wave of COVID-19 cases, as infections transmitted during New Year's Eve gatherings begin to appear.
Dr. Keith Frey, Chief Medical Officer with the Arizona division of Dignity Health, says facilities are already seeing one wave of cases from holiday celebrations, and they're anticipating another. "Over the next week or two we'll see what happened coming out of the new year's eve gatherings that we hope didn't occur as much as the holiday both the Christmas and Hanukkah time and we're right in the middle of finishing up that piece of the surge," Frey said.
All of the doctors stressed the need for people to wear masks and avoid gatherings, to keep the present health care crisis from getting worse. Gov. Ducey has steadfastly resisted those calls, claiming that states with tougher restrictions are experiencing the same problems as Arizona. Health officials recently labeled the state as "the hot spot of the world" for the coronavirus based on its rate of infection.