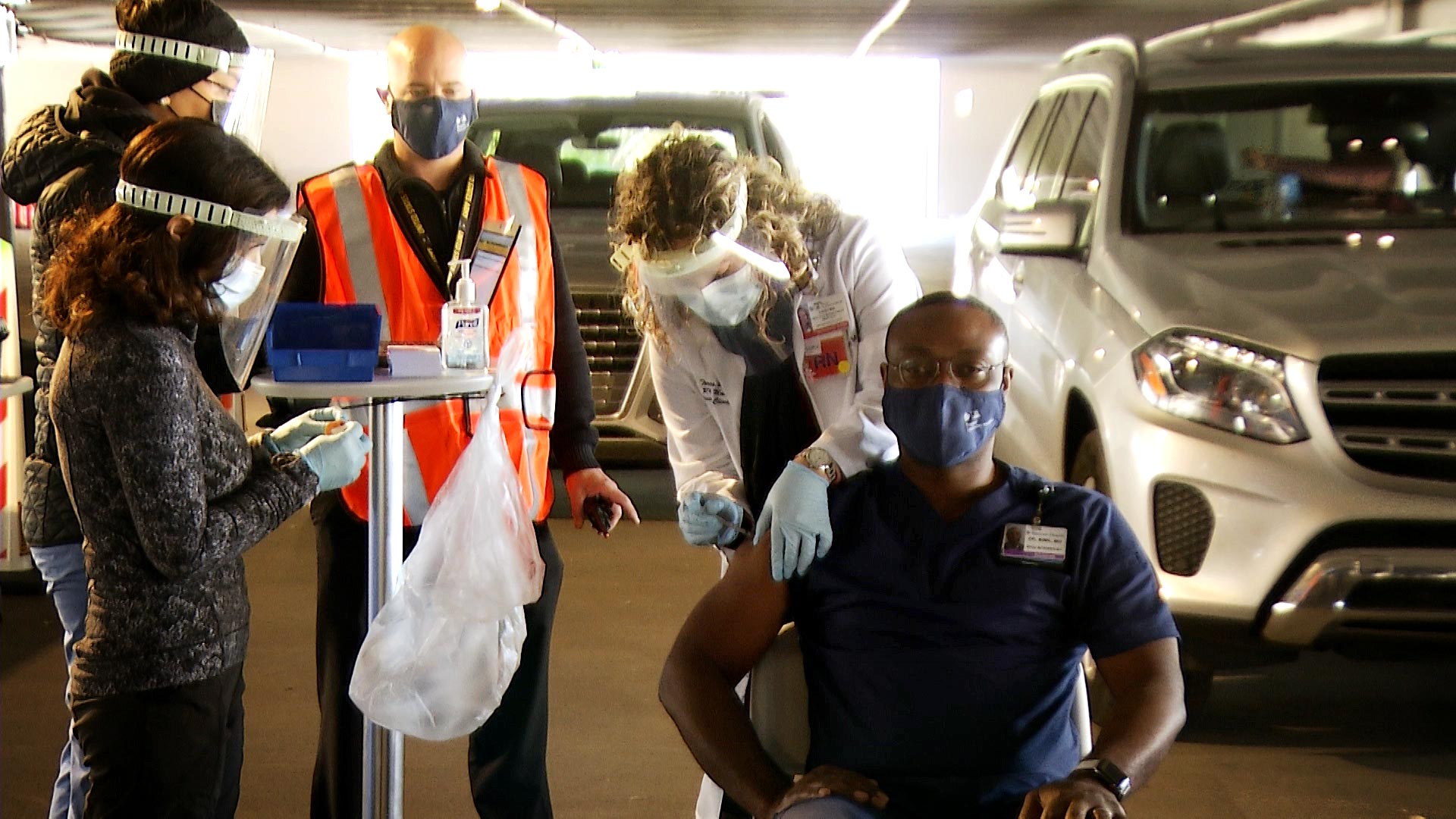 Dr. Christian Bime, medical director of the ICU at Banner - UMC Tucson, receives a dose of the COVID-19 vaccine on Dec. 17, 2020.
Tony DiRusso/AZPM Staff
Pima County plans to vaccinate approximately 700,000 residents against COVID-19 before the end of June.
Since the end of December, Pima County has been in Phase 1A which allows health care workers to be first in line for the COVID-19 vaccine. The county plans to move to Phase 1B on Friday, Jan 15.
Phase 1B will allow educators, including staff, at area schools, the University of Arizona, and Pima Community College to receive the vaccine. Protective workers, like law enforcement officers, and essential workers will also be eligible to get the vaccine as will people over the age of 75.
"Among those three groups we hit 150,000 people," said Dr. Theresa Cullen, Pima County Health Director.
Despite their ambitious plan, county officials say it is not all up to them.
"The crux of what the main issue is here, not just in Pima County, not just in the state of Arizona but across the country. It is a huge problem on the supply side. It is a problem however that we have very limited control over. And we can either wait for that problem to resolve and then develop a plan or develop a plan now and hopefully provide compelling evidence both to the feds and to the state that we should be the first ones in the line to receive that vaccination when it starts being released," said Dr. Francisco Garcia, Pima County Chief Medical Officer.
Pima County is supposed to get 12,000 doses of the COVID-19 vaccine every week for the next three weeks. That number could change, however, depending on the availability of the vaccine. It is that uncertainty that has caused Pima County to refrain from opening Phase 1B up to people over 65 as the federal government has recommended.
"The reason for that is we look at our mortality and our hospitalization data and we have a clear demarcation at 75 and up. Not to say that 65 to 75 don't suffer from this disease and have mortality associated with it but our highest mortality and our highest hospitalization is in that 75 and up group," said Cullen.
Pima County plans to open up four additional mass vaccination sites in the coming days, bringing the total in the county to six.

This week Governor Doug Ducey trumpeted the opening of a mass vaccination facility at State Farm Stadium in Glendale. That facility is open 24 hours a day and can handle up to 4,800 people each day. Cullen said despite that, there is no reason for people to go north to get the vaccine.
"We will have more than that capacity available in the county when we open up the rest of our points of distribution," she said.
As part of Phase 1B, the county is also looking at getting vaccinations into the jail.
"We know that about a third of the detainee population has substantial, chronic medical issues that places them at increased risk. At this point we are in conversation with them (the Pima County Sheriff's Department) to how best and how quickly to cover that population," said Garcia.
As of Wednesday, Pima County had given about 30,000 first doses of the vaccine and close to 6,000 second doses. That means that about 3% of the county has started the vaccination process.
Scientists say herd immunity will occur when 70% of the population has been fully vaccinated.
Pima County is one of the top in the state when it comes to vaccine distribution by population. But officials say they can do better.
None of us are happy with what we've done, and the point of this immunization acceleration plan is to get us to at least be able to say we have the capacity to do the delivery. In terms of getting the vaccine itself, there is probably not a day that does go by that we're not talking with the state saying 'hey, we're down here in Pima County. Please make sure we've got an adequate supply and now, oh by the way you can't come to us and say you don't have the distribution capacity to do it' because we have the infrastructure now," said Cullen.
County officials did not say when they hope to move to Phase 1C and beyond