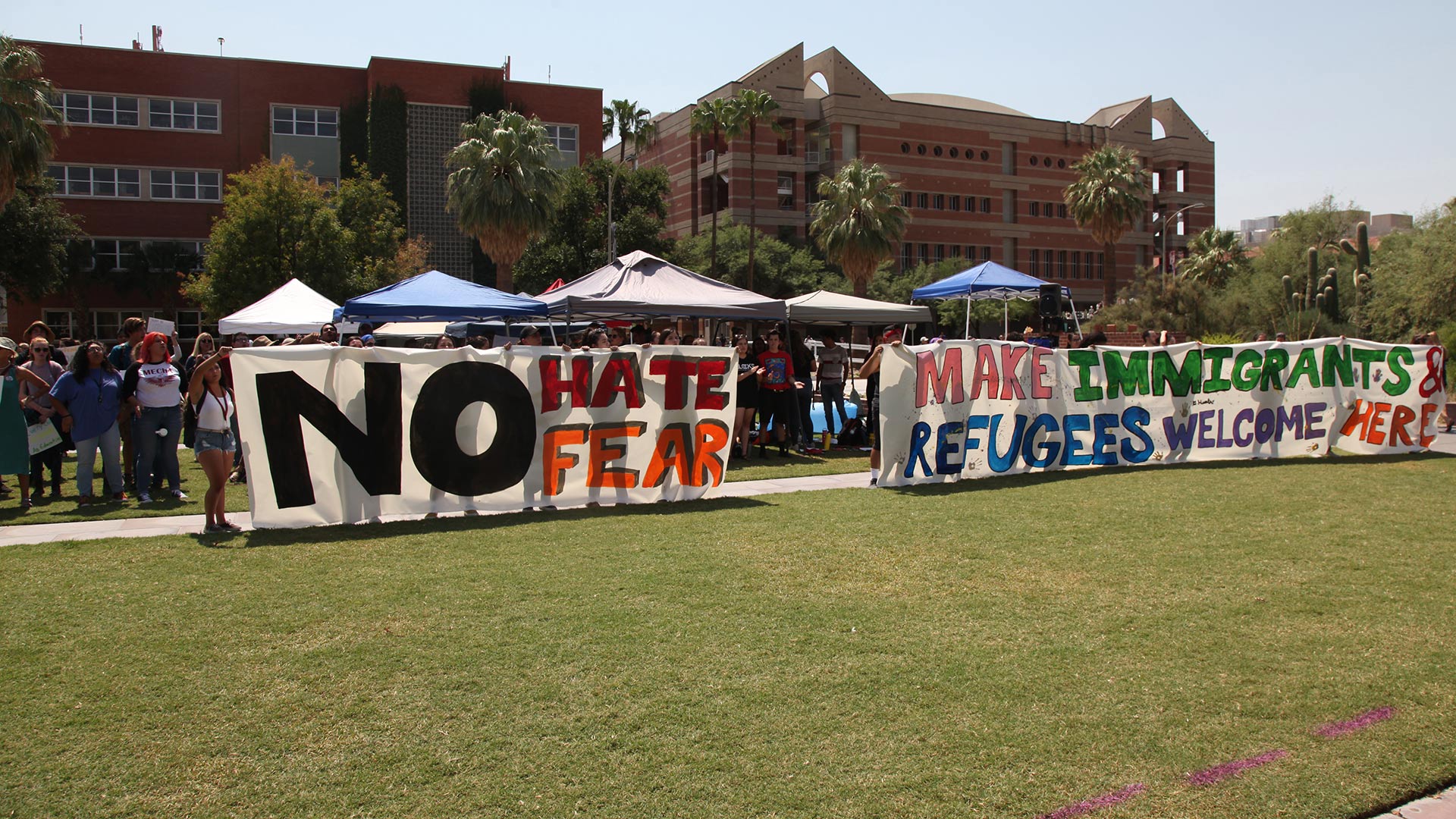 DACA students and supporters gather in 2017 after the president announced the end of the program that allowed "Dreamers" to stay in the country.
Zac Ziegler/AZPM
A crowd gathered on the University of Arizona campus Tuesday to show their opposition to the announcement that the Deferred Action for Childhood Arrivals program would come to an end.
They chanted "No Hate. No Fear. Immigrants are welcome here." Many in the crowd were DACA recipients who attend the UA.
Many of the attendees are a part of the Immigrant Student Resource Center. By coincidence, the group had this space reserved for a welcome back students for the semester. The tone of the event changed with Tuesday morning's announcement.
"With everything that's happening, this is just a space for folks who were impacted and allies to come and find resources, find other people who know what they're going through and have a space that's welcoming," said Ana Mendoza a ISRC member and DACA recipient.
"This is a space that we thought we needed to have for students and community members to express their frustrations not only that institutions but also policymakers," said Mira Patel, also a DACA recipient.
The two students are among the group of young people who were brought into the United States as children and now lack legal status.
Another DACA student said the response from young people such as herself comes from the fact that they stand to lose out on the chance to thrive in America.
"Having this has given me the opportunity to continue to thrive and show the world that although this does hurt us and it does impact our future immensely, we're not going to give up," said Perla Rojas, who came to the U.S. from Mexico 16 years ago.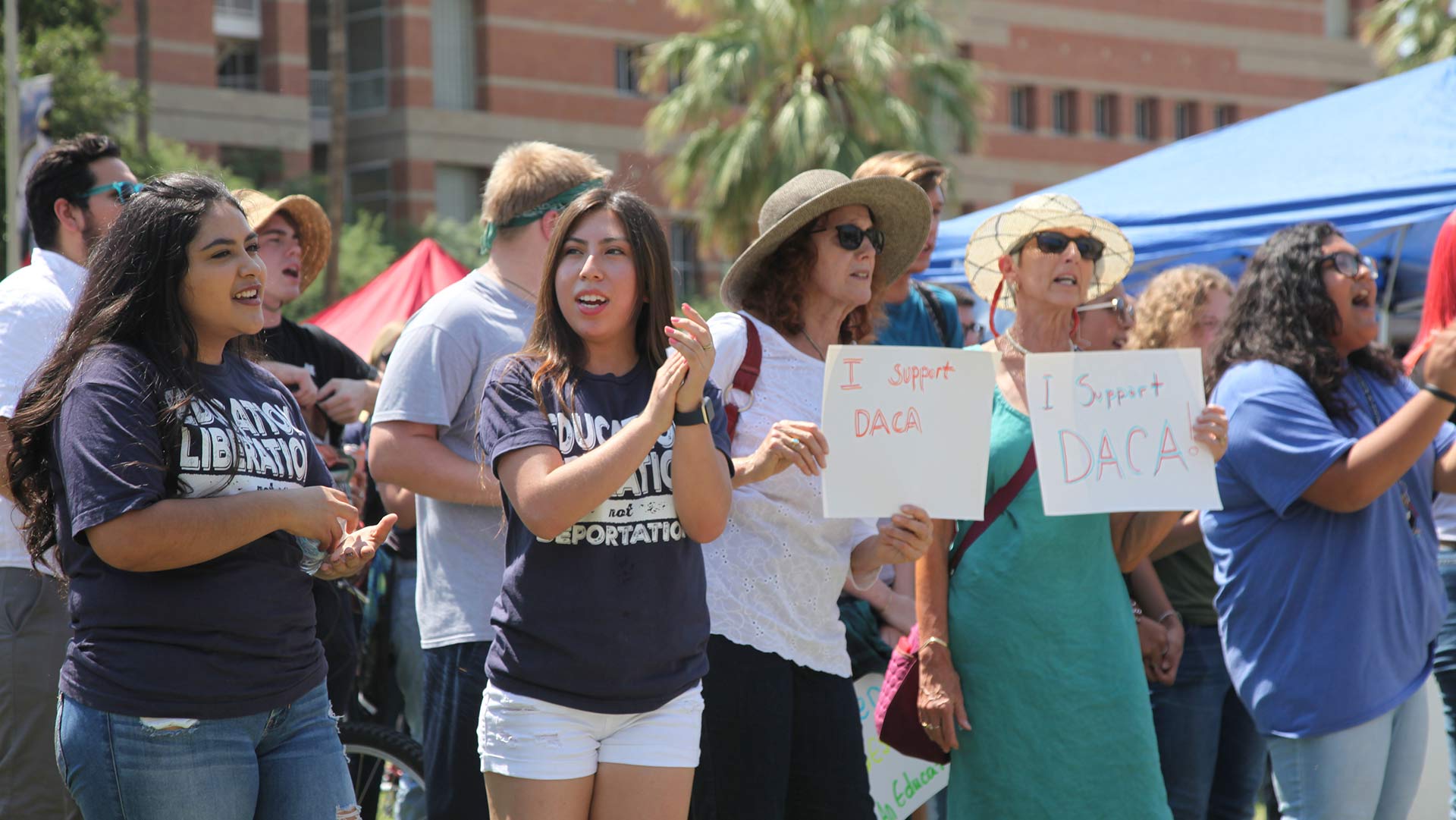 Perla Rojas (left) and Ana Mendoza (center) were among the DACA recipients who gathered on the University of Arizona mall Tuesday afternoon.
Zac Ziegler
President Donald Trump's decision means that once their permits to be in the country runs out, their legal status heads into limbo. They can reapply, but all three expressed uncertainty that they can rely on their ability to renew or even that they'll be allowed to stay in the country until their permits expire.
The students said they will now have to remain focused on their education.
"So that I can have a better future and that my parents sacrifices will be worth it. And knowing that I'm in an institution that isn't necessarily welcome me or fight for me doesn't help," said Patel, who came to the U.S. 10 years ago from the United Kingdom.
"The University of Arizona is urging Congress to deliver an expedient legislative solution that provides all DACA students with certainty in fulfilling all of their educational potential," said UA President Robert Robbins in a statement issued Tuesday. "In concert with our governing board, the Arizona Board of Regents, we are providing all of the support possible to DACA students as permitted by law."
"The Arizona Board of Regents is committed to making a university education more affordable while promoting success for all aspiring students," said Board of Regents Chair Eileen Klein in a statement. "The board will continue to work with Arizona's congressional delegation to encourage new laws to allow Arizona DACA students legal certainty regarding their immigration status so that these students can continue their education uninterrupted and without fear."
These three students hope a congressional solution will arrive quickly so that the they can put a chapter that has consumed years of their life to an end.
"I think it's important to understand that the fight didn't begin today," said Mendoza, a freshman who came to the U.S. from Mexico 17 years ago. "The fight's been going on for many years, and this is just another blow to the immigrant community."
"What this means for my future is uncertainty," said Rojas. "This has been around for a lot of years and we're still going to keep fighting."
And while today's announcement is seen by them as a setback, it won't stop their efforts to push for legal status.
"We are going to keep on pushing, and fight even harder tomorrow," said Patel. "Push our institutions and our policymakers to make change that help us and we're not going to go down just because of the news that happened."
They said they will keep fighting with the hopes that they can finish their education, and stay in the country where they have spent much of their lives.
MORE:
Arizona
,
Border
,
Pima County
,
Education
,
Government
,
Immigration
,
Mexico
,
News
,
Politics
,
Tucson
,
University of Arizona
,
Higher Education
,
U.S.