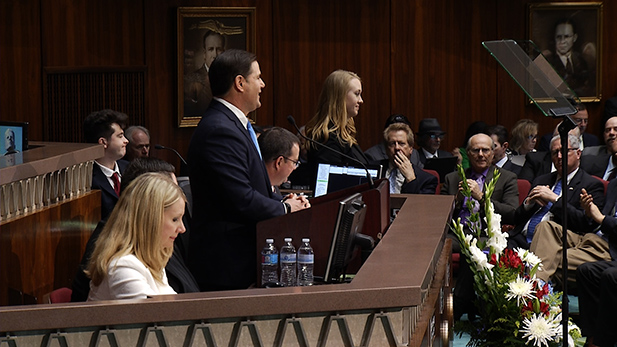 Arizona Gov. Doug Ducey delivers his 2017 State of the State address in Phoenix.

Arizona Public Media
Mirroring commitments made during the annual State of the State address, Arizona Gov. Doug Ducey made education the centerpiece of his budget, released on Friday.
The proposal for 2017-18 totals $9.79 billion, or about 1.4 percent more than this fiscal year's spending package. It shows the state ending this fiscal year with a $119 million surplus and next fiscal year with a $17 million surplus.
The budget fleshed out some of the promises made in the governor's address, in particular teacher pay. It calls for spending $204 million for across-the-board raises for teachers, starting with small raises next year and ramping up to 2 percent in five years and every year thereafter. That would mean about $1,000 a year more for a teacher at the average pay of $45,000.
An additional $328 million was allocated for K-12 and higher education over three years.
Other features of the budget include a signing bonus of $1,000 for teachers who commit to low-income districts, the expansion of a loan forgiveness program for STEM fields and a recommendation for full-day kindergarten funding.
Also, the budget proposes to implement, for the first time, results-based funding, by which schools with students that perform well on the AzMerit exam will receive additional money. The governor said the program particularly benefits low-income schools, as such schools would receive a higher proportion of funds through the program, provided such an incentive leads to higher student performance on a standardized test.
In a statement accompanying the release, Ducey made reference to a lawsuit in which school districts sued the state for funding owed for inflation. He also mentioned the controversial Proposition 123, which effectively settled the suit, saying both issues were "behind us."