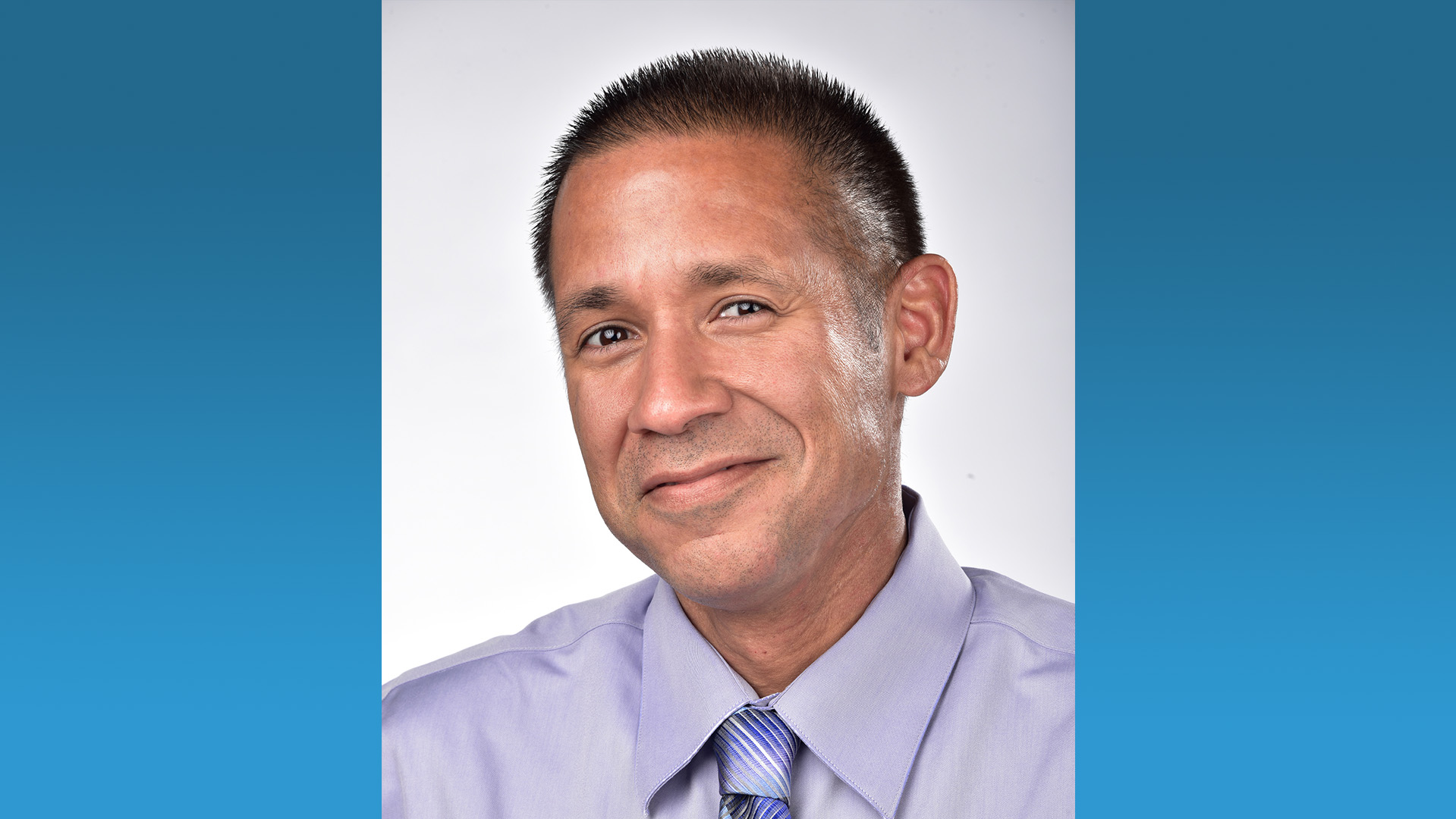 TUSD Interim Superintendent Gabriel Trujillo.
TUSD
The Tucson Unified School District voted unanimously Tuesday to appoint Gabriel Trujillo as interim superintendent and set in motion the search for a permanent replacement.
Trujillo, the district's assistant superintendent of curriculum and instruction, starts immediately, and the appointment lasts until June 30 with the option to extend.
He will temporarily replace former Superintendent H.T. Sanchez, who resigned last month under board majority pressure and took a $200,000 buyout of his five-year contract, which was set to expire next year.
Trujillo's appointment came after the Board of Governors previously fell short of consensus on an interim superintendent, the latest clash on the divided board.
Trujillo met with news media Wednesday afternoon and said his goals are to make sure the district staffing for next school year is set, and to finalize a budget recommendation for the school board to consider.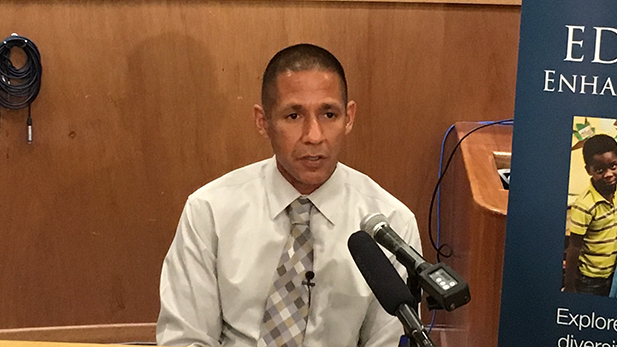 TUSD Interim Superintendent Gabriel Trujillo at a meeting with media on Wednesday, March 29.
"My sole goal right now is to be a responsible steward of the district while the governing board conducts its permanent search process," Trujillo said.
He said he submitted his name as a candidate for the permanent position, but his focus will be on fulfilling the interim job.
"If that process is so labor-intensive that it takes away from these duties that are my primary focus, you know that answer would have to be a no," he said, leaving the option open. "But it is very early right now to give a definitive answer."
Trujillo said he plans to hold forums with employees at locations throughout the district and public forums for the community to meet him and share concerns or ask questions. He called it a "listening tour."
"I think it's about just a lot of listening and seeing what our community thinks and feels about education in our city, and the level of education and quality that their kids are receiving in our school," he said.
District spokesperson Stefanie Boe said Trujillo's appointment is timely.
"This is the time of year when we're offering contracts to all of our teachers, hiring as many teachers as we can find … getting everything done that it takes to get ready for the next school year," she said. "This is really one of our biggest times of the year."
Before coming to Tucson, Trujillo served as principal of Trevor Brown High School in Phoenix and as an administrator for the Phoenix Union High School District.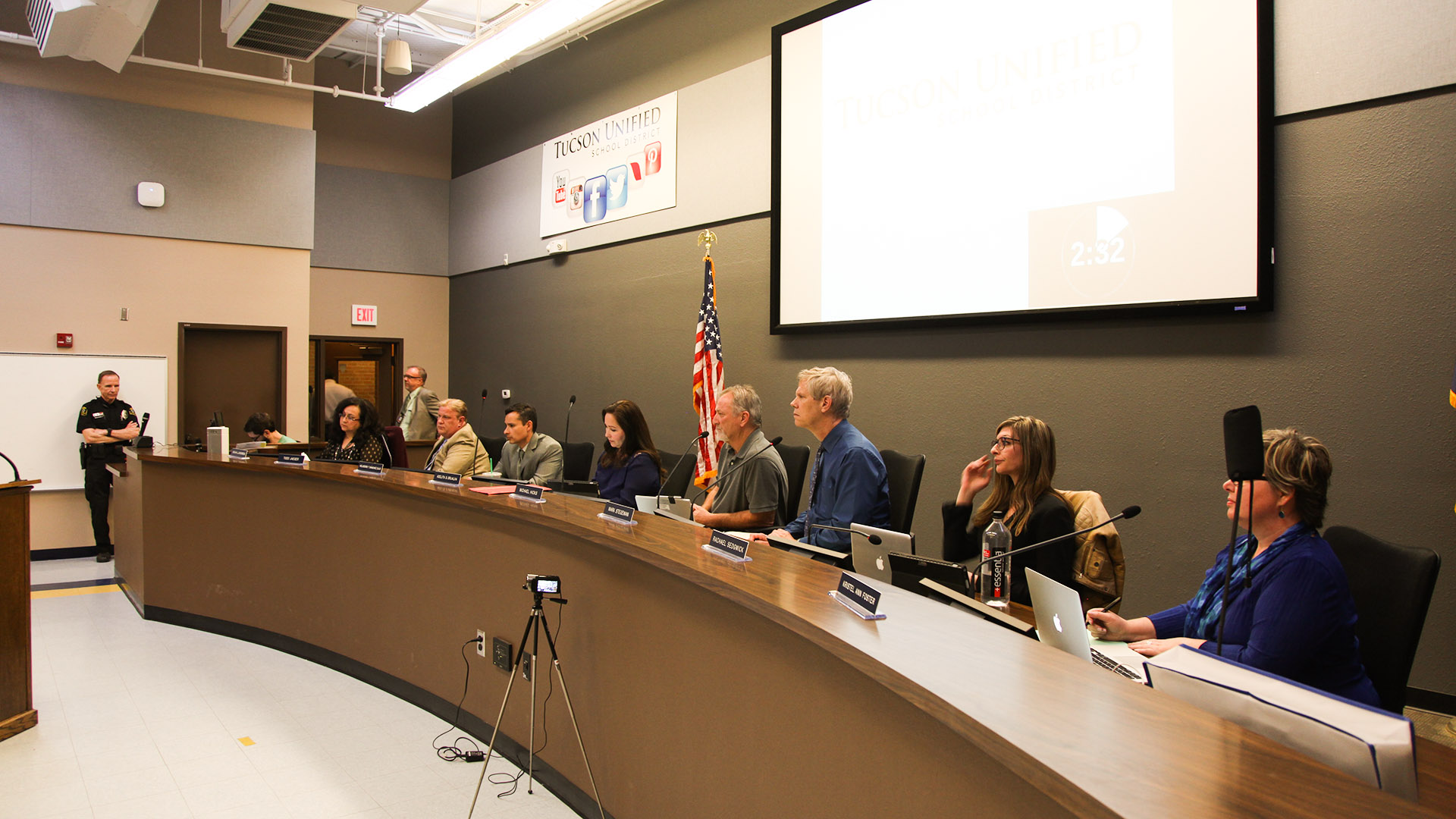 The Tucson Unified School District during a meeting discussing the employment of then-Superintendent H.T. Sanchez.
Nick O'Gara, AZPM
Trujillo was appointed by a 5-0 vote, one of few instances of unanimity on the board.
"What's important to me about this decision is Dr. Trujillo has been a part of a lot of the work that has happened this last year," board member Kristel Foster said. "He understands what was in place, what the goals were, the vision that this team had. And I'm very very happy with this decision."
"He is one of the only people in the district who is capable of taking on this role at this time," said board member Rachael Sedgwick. "Being in the district he is familiar with everything that is happening."
But the motion to start the process of a search for a permanent replacement was not unanimous.
At issue was the way in which the board conducts its search and where it sets its focus. Board members Mark Stegeman and Sedgwick stressed they want to get the process moving forward "sooner rather than later," and they cited the expense of external firms, which was the method the board used to find Sanchez.
The board voted 3-2 to authorize board president Michael Hicks to start information-gathering locally, "to explore the possibilities of finding a consultant, maybe a local consultant, or certainly at least an in-state consultant … to bring the results of those discussions or investigations back to the board," as Stegeman introduced it.
The motion was appended to require a formal procurement following statements from Foster and board member Adelita Grijalva.
Foster and Grijalva voiced concerns and questions about whether the board would be limiting its search by starting with a local consultant. Stegeman responded by saying such a process would not necessarily limit the search to only local candidates.
Sedgwick also suggested the board review some of the candidates who were considered for the interim appointment.