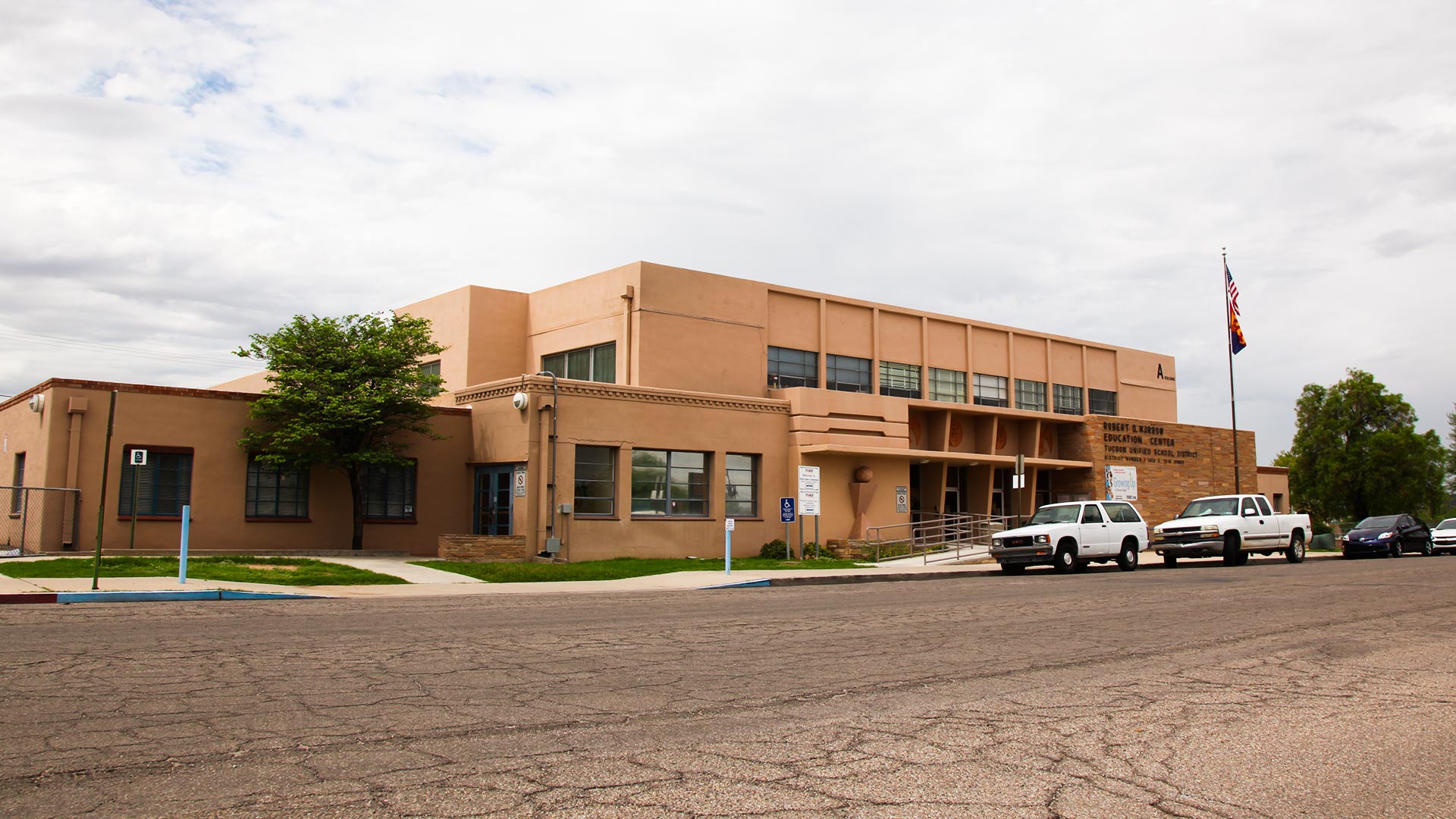 The Tucson Unified School District office, 1010 E. 10th St., Tucson.
Nick O'Gara, AZPM
The candidates to take the helm as superintendent at Tucson Unified School District have been whittled from 17 down to four finalists.
A press release Wednesday afternoon delivered the names and resumes of the candidates, anonymous since the initial announcement Tuesday evening. They are scheduled to be interviewed and attend public forums next week. Each candidate will have their own forum, one per day, starting at at 7 p.m.
Monday: Stephen Trejo, Catalina High School Auditorium
Tuesday: Maria Marin, Catalina High School Auditorium
Wednesday: Gabriel Trujillo, Catalina High School Auditorium
Thursday: Donna Hargens, Sahuaro High School Auditorium
The first three forums will be held at Catalina High School Auditorium, 3645 E. Pima Street, and the Thursday's will take place at Sahuaro High School Auditorium, 545 N. Camino Seco.
The announcement first came at the TUSD Governing Board meeting on Tuesday. The candidates were represented by the code letters B, G, P and W.
At the meeting, search consultant Nic Clement said the initial anonymity was a "professional courtesy," and he pledged a 24-hours-or-less timeframe to reveal names and resumes, which was met with the publication of the release before 4 p.m. Wednesday.
More than five months have passed since former TUSD Superintendent H.T. Sanchez resigned under pressure of a new board majority. Former Assistant Superintendent Gabriel Trujillo was appointed interim, and the governing board brought on former Flowing Wells Superintendent Clement to conduct the search.
Those attending the public forums can submit written questions. An email address to submit feedback will also be provided, Clement said.
Information gathered from the forums will be submitted to the board, which is scheduled to deliberate on selecting one finalist to start contract negotiations at an Aug. 22 meeting. It is possible that the board will settle on and announce a finalist that day.

Learn more about the candidates here.