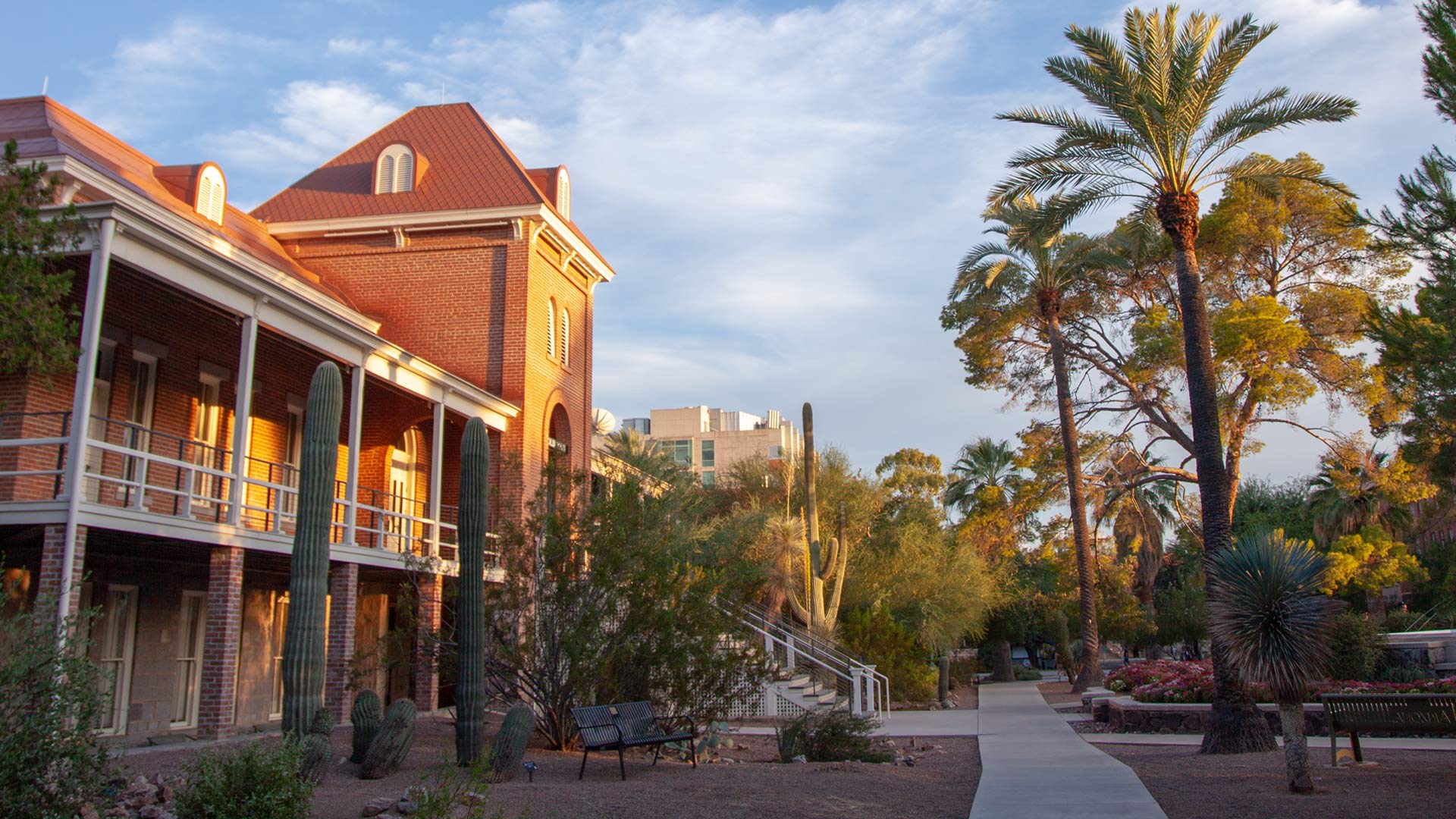 The west facade of Old Main on the campus of the University of Arizona. From August, 2019.
AC Swedbergh/AZPM
After last year's on-campus deadly shooting, the University of Arizona's top security officers are now preparing new safety measures for the 2023-2024 academic school year.
These changes come following months of criticism from community members, students, and faculty who called for institutional changes after two safety reports–one internal and one external –showed discrepancies in UA's campus safety procedures that eventually led to a "decentralized and fractured approach to managing the risk."
In response, back in March UA President Robert Robbins promised that recommendations from PAX Group LLC, the company contracted to examine campus security, would be implemented. Nearly five months later, the university has:
Created the Office of Public Safety and a Campus Safety Commission
University leadership has conducted safety walk-throughs
Locks on classroom doors
Updated campus Building Emergency Plans for 170+ buildings
Placed All-Hazards posters in classrooms
Updated UAlerts
Created a Crisis Communications Advisory Group
Victim Advocate and Mental Health Officer within the university's police department
Read the new Emergency Procedures Poster.

View at Google Docs
|

Download File
Among their updates, the university's Threat Assessment Management Team–a body made up of different campus safety stakeholders that work to address potentially violent situations–has faced an overhaul of its process and capabilities.
In the March PAX report, the findings shared that the Threat Assessment Management Team at the time, "does not consistently or centrally coordinate training, awareness, or reporting of safety and security concerns; nor does it have a clearly published or utilized reporting system for threats."
The report recommended several items that the team should implement, including:
Hire a coordinator
Develop an implementation plan for recommendations from a 2018 report
Establish a charter that will guide policies, processes, and guidelines
Include resources like a forensic psychologist available to contact subjects under review
The most notable change from the Threat Assessment Management Team is the establishment of a charter and the team's expansion. The university has officially hired a new director for the Threat Assessment Management Team starting next week and is in the process of looking for a coordinator, meaning there will be two full-time members as well as part-time to be dedicated to this area.
The Threat Assessment Management Team has also begun collaborations with Counseling and Psych Services as recommended by the PAX report.
When comparing those on the team in January to now, the team increased from 10 to 12 members and retains four of the members from early this year: Associate Dean of Students Chrissy Lieberman, Assistant Vice President of Human Resources Chanté Martin, Director of Counseling and Psych Services Aaron T. Barnes and the University of Arizona Police Department Sergeant Colin Keating.
Sergeant Keating was tasked with the job of addressing concerns from faculty and students in the Hydrology and Atmospheric Sciences Department during the period that suspected shooter Murad Dervish harassed them. One victim told AZPM that his assistance only worsened their reporting experience causing them to feel a greater sense of burden and doubt that help would be provided.
AZPM asked a spokesperson from the Office of Public Safety why Keating stayed on the Threat Assessment Management Team despite concerns from at least one victim regarding his response to their reports of harassment. The university said they could not discuss personnel matters.
But, interim Chief Safety Officer Steve Patterson contends that all the steps are being taken to implement better safety strategies.
"This campus is extremely safe," Patterson said. "Now, does that mean that potentially dangerous things don't arise here? Occasionally that does happen."
For him, the campus is as physically safe as possible.
"The campus previously was safe; we're just trying to make this campus a little bit safer, and really focus on the awareness within the campus community."
With the new academic year, UAPD's interim Police Chief Chris Olsen says campus safety is reliant on community engagement.
"UAPD is honestly a small part of safety," Olsen said. "We're tasked with the enforcement; we're tasked with safety. But truth be told, our community is our greatest force multiplier, all those eyes and ears."
Olsen acknowledged trust still needs to be rebuilt but that will only be accomplished with time.
"The work that we need to do each and every day is to demonstrate it," he said. "Once we demonstrate it time and time again, that trust will be earned. So that's our focus right now, ensuring that safety is here and our folks are working diligently every day, 24 hours a day, seven days a week to make sure that happens."