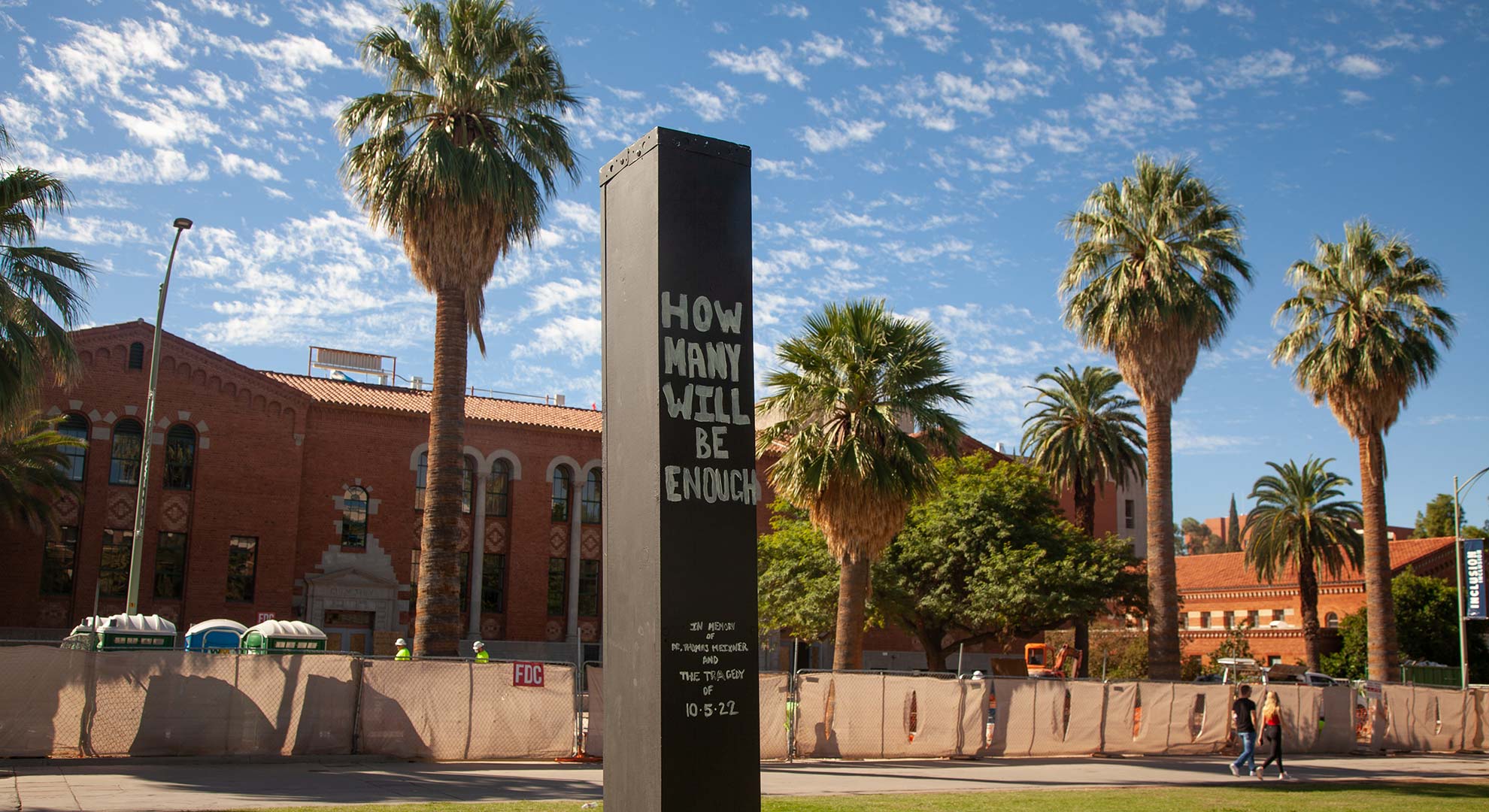 A black pilar that says "How many will be enough" stands in the middle of the University of Arizona Mall one week after the killing of Professor Thomas Meixner on campus. A few days prior university officials held a candlelight vigil where the pilar stands.
Paola Rodriguez/Arizona Public Media
This story has been updated to reflect that College of Science Dean Carmala Garzione was also in attendance of the Faculty Senate meeting as an invited guest.
The University of Arizona's contracted external, independent campus safety report was released Monday. The report investigates the actions and responses by different departments that led up to a deadly shooting last October.
On Oct. 5, 2022, UA Hydrology and Atmospheric Sciences Department Head Dr. Thomas Meixner was killed on-campus by alleged shooter Murad Dervish. Meixner, along with a student and other faculty, were subject to over a year's worth of alleged harassment and threats by Dervish. Reports of the threats were sent to university departments, like the Office of General Counsel, Dean of Students, and the University of Arizona Police Department. However, according to affected faculty and students, the lack of support, response, and direction forced victims to seek support in other forms, like self-defense precautions and personal legal remedies.
UA President Dr. Robert Robbins announced the university's contract with PAX Group, LLC on Oct. 10 to investigate current safety measures as well as responses to past incidents. In his email to the campus community, Robbins shared that the report would be sent to him within 75 days. According to Robbins, the report was released to him Friday evening– 165 days after his public announcement.
"We were going to do all the work necessary to make a comprehensive report," Phil Andrew, co-founder and principal of PAX Group LLC, said. "That simply took time."
In an email to the campus community Monday, Robbins said, "there was such a commitment to a comprehensive review, as well as an overwhelming desire from so many members of our community to share their thoughts with the experts, that their work did take longer than expected."
The security consultants received over 1,200 files and conducted 79 interview sessions with different university units and individuals. The organization also claims to have worked with members of the ad-hoc faculty committee, who created their own interim report before disbanding due to claims of "stonewalling" and fears of retaliation.
PAX's report outlines three main themes that were in need of improvement:
Understanding and managing threats,
Providing consistent, empathetic, and compassionate responses,
The decentralization and breakdown of communications
Read the PAX Group report.

View at Google Docs
|

Download File
The PAX report, which was released shortly after Meixner's family filed a $9 million dollar notice of claim against the Arizona Board of Regents, details 33 different recommendations that the company believes "should not become a checklist" but a guideline for a continued focus on safety.
When asked about concerns about conflicts of interest in regard to the university paying for the external report, Phil Andrew said at no time was their investigation "restricted, directed or even coordinated with the university."
Threat Assessment Management Team
The report says the university's Threat Assessment Management Team (TAMT), which was created after the deadly 2002 Nursing School shooting, was not running effectively at the time of the Meixner shooting.
According to the report, the "ineffective" TAMT process and "absence of a coordinated TAMT leadership team placed an undue burden on administrative functions" which led to a "decentralized and fractured approach to managing the risk."
"TAMT existed as a group with extremely dedicated members who were problem solvers but lacked a consistent, effective, and well-managed threat process," the report says.
PAX spelled out in detail that the university "does not consistently or centrally coordinate training, awareness, or reporting of safety and security concerns; nor does it have a clearly published or utilized reporting system for threats."
The finding mirrors a similar claim made in the interim faculty safety report which found that UA faces a "systemic risk oversight failure."
University of Arizona Police Department
In their final report, the external group claims that "there were multiple missed opportunities by [the University of Arizona Police Department] to engage, disrupt or arrest [Murad Dervish] prior to the incident."
They name three different moments when invention could have been key:
When Dervish was spotted on campus in violation of the February 2, 2022 expulsion,
When Dervish initially sent threatening emails/texts to HAS faculty,
When Dervish entered UAPD's police station on Sept. 27, 2022, eight days prior to the shooting, to run license plate numbers to see what came up on his new vehicle
Of the documentation that PAX received, there was only one occasion where UAPD sought information regarding Dervish in January 2022. But, "PAX did not receive documentation that demonstrates any attempts by UAPD to seek additional information or intelligence from law enforcement counterparts related to [Dervish] beyond that."
The report says that "UAPD tended to leave the decision on 'next steps' to faculty, staff, or students- most often, charges were not intended to be filed by these individuals out of fear of retaliation."
The document goes on to add that there was a "lack of coordination among UAPD and regional law enforcement agencies to gather information that would have presented a more complete picture of the seriousness of the threat and provided more substantial reasons for arrest."
Faculty Senate
Thirty minutes after Robbins began his news conference on the new report, the Faculty Senate met to talk about the dissolution of the committee which wrote the first report on the shooting.
Dr. Jenny Lee, the committee chair, pointed out similarities between the two reports. But she also said that the PAX report missed the larger mark dealing with the loss of trust on campus.
"By continuing to rely on security experts with law enforcement backgrounds and not addressing our unhealthy culture including, not dismissing internal stakeholders, we run the risk of a hyper-secured and surveilled workplace in which everyone is a suspect, and no one is any safer," Lee said.
The Meixner family has not spoken often in public since the shooting but during Monday's meeting, Meixner's widow Kathleen addressed the Faculty Senate and thanked them for their work.
"We are so appreciative of the diligent work, the countless hours to investigate what happened leading up to Tom's murder. We are so grateful for the recommendations because they give us hope that real change can occur," she said.
The members of the Faculty Senate were openly critical of Robbins and other members of the UA administration.
A number of officials were invited to the meeting to speak. College of Science Dean Carmala Garzione and Provost Dr. Liesl Folks spoke. Folks made a brief statement thanking the committee for their work. But she also acknowledged that the events leading up to the shooting were complicated.
"I'm sure those people were trying their best to move the issues towards resolution within the frameworks they are obliged to remain within for compliance and legal reasons. But that proved to be insufficient to prevent the deadly shooting that we ended up seeing," Folks said.
But that was not enough for the faculty members. Many of them said that trust is lost with the university administration and that a change in leadership is needed.
Other members, however, didn't go that far. Instead, the body approved a vote of no confidence for Robbins and the administration on the issue of handling the shooting in its aftermath. They also called on the administration to "demonstrate progress towards a comprehensive risk management system" and accountability within 30 days.
Robbins told reporters during his news conference that he was not invited to the meeting, but members of the Faculty Senate sent AZPM a copy of the invitation that was sent to Robbins' staff. The invitation was sent last Friday morning.
"Moving forward"
During Robbins' press conference, he stressed the importance of starting "discussions about how we can unite and move forward to make the campus safer" given that the university now has the PAX Group's findings.
"There were systemic issues across our university that should have been identified and corrected," Robbins said during the news conference. "I'm angry at myself that I did not do more to prevent this tragedy."
Robbins has previously taken responsibility for inactions from UA departments during a February Faculty Senate meeting. He reinforced those same sentiments during Monday's press conference. However, in February, Meixner's family told AZPM that they did not accept his responsibility since he was not aware of the threats before the shooting.
"The University of Arizona needs courageous leadership at this moment," Meixner's family said in a February statement. "We implore President Robbins and the UA administration to support the Faculty Senate in its work to ensure the safety and well-being of the Wildcat community. It would be the most meaningful way to honor Tom's legacy."
During Monday's meeting with reporters, Robbins shared that he met with the ad-hoc committee to apologize for UA's previous statement following the release of an interim safety report.
"I also want to recognize the important work of the faculty senate committee," Robbins said. "I apologized to them for being dismissive and critical of their important work and their contributions simply to make our campus safer."
In February, a UA spokesperson told AZPM that the ad-hoc committee's report "reached sweeping conclusions based in large part on misleading characterizations and the selective use of facts and quotations." As of the release of this, the university has not answered AZPM's questions about what may be incorrect in the faculty's report.
That response left a chilling effect on those who served on the committee. In their resignation letter, members said that due to the university's lack of response to questions about factual inaccuracies in their report, members were left feeling they "might face negative consequences."
During the news conference when asked about fears of retribution, Robbins said "the concern about retribution is direct and also indirect. By being dismissive and not fully taking their report for what it was, I think that's a form of if not retaliation, disrespect."
University officials said they plan to continue the relationship with PAX as the company's recommendations are implemented.
Christopher Conover and Zac Ziegler contributed to this report.