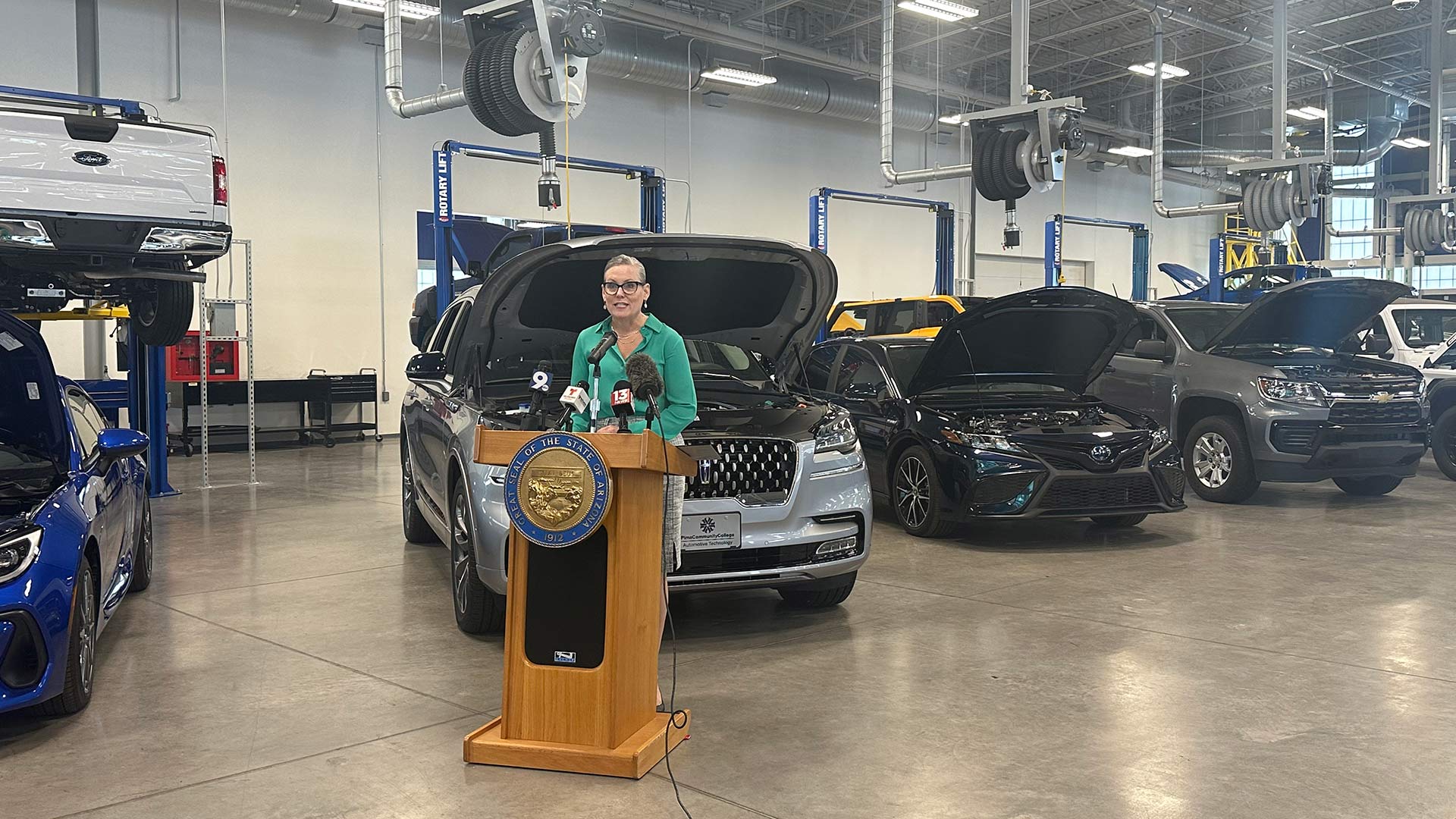 Governor Katie Hobbs is speaking at a press conference in the automotive technology innovation center at Pima Community College in Tucson on Monday, July 7, 2023.
Paola Rodriguez/AZPM News
Governor Katie Hobbs visited Pima Community College Monday morning where she announced that nearly $1.7 million was invested into Pima Community College's STEM workforce program.
Hobbs spent the day touring the automotive technology innovation center and Advanced Manufacturing building, which used some financial support from the state's STEM workforce funding to build it in 2021. Now, Hobbs has big hopes for this year's allocation.
"I'm confident that the STEM workforce funding in this year's budget will be put to a similar good use in creating training programs to meet industry demands and prepare Arizonans for careers in those fields," she said.
She also announced that for the first time since 2015 the school will receive $2 million to help cover operational costs.
"We're committed to continuing to invest in our community colleges, which are a critical piece of Arizonans being able to access better jobs, better pay, and a better quality of life."
Zion Harris is enrolled in PCC's Ford Asset Program. Launched last year, the program connects Ford and Lincoln dealerships with student technicians. This allows for Harris to get automotive experience both in and out of the classroom.
"Once we learn that in the first eight weeks and classroom, then we go into our work environment and we get paired with a mentor and work on cars," Harris said.
For him, he believes this type of funding will better connect youth to technical jobs. Hobbs hopes this will build better economic opportunities both state and city wide.
"Arizona has become an epicenter of emerging technologies like semiconductors, electric vehicles, batteries, renewable energy, aerospace and more," Hobbs said. "To keep the pace the state will need to have opportunities for post secondary education and training that prepares Arizonans for these jobs. When we accomplish this, we can attract and retain new businesses to our state."