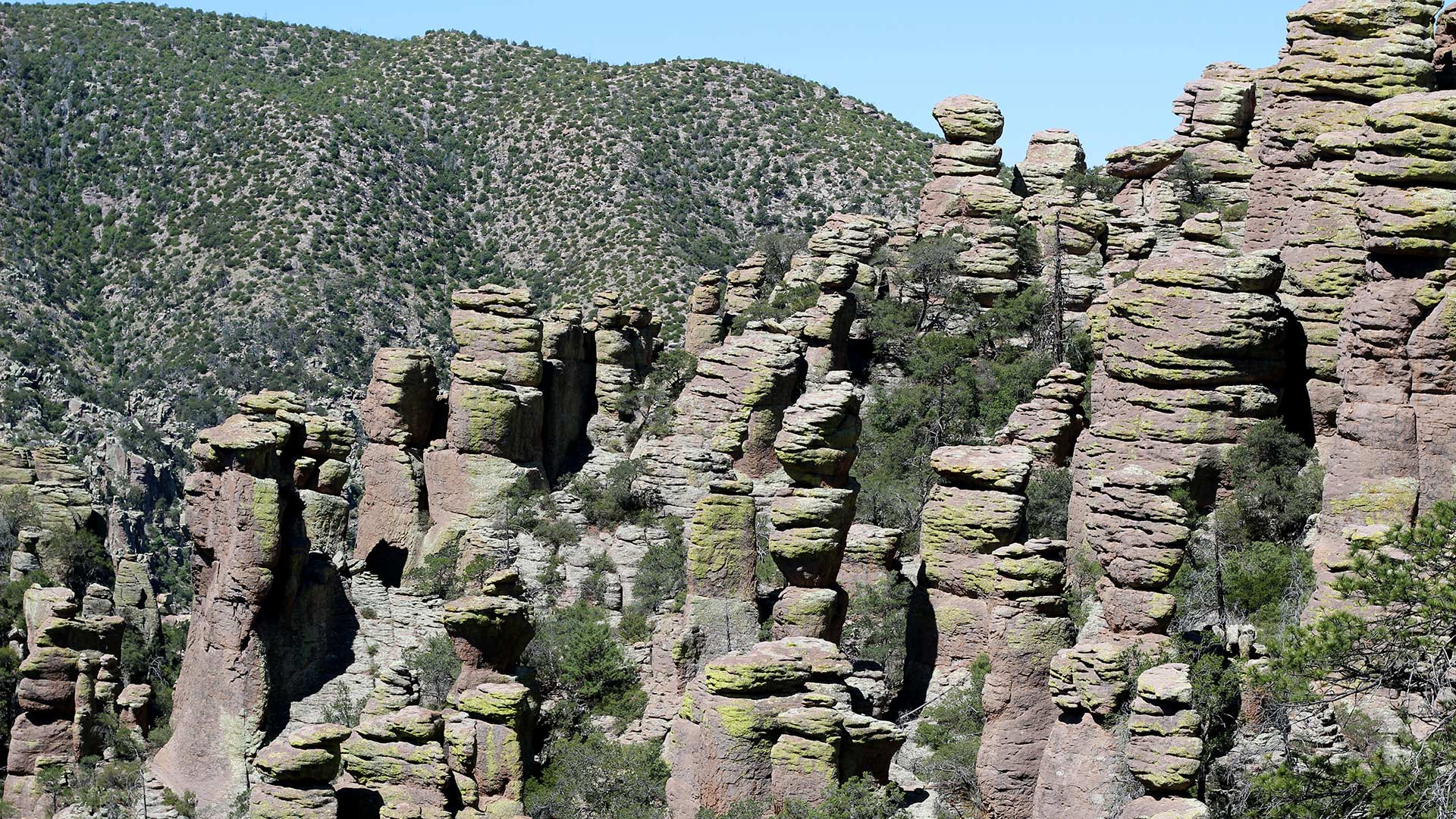 Established in 1924, the Chiricahua National Monument is up for redesignation to national park status. The monument could become Arizona's fourth national park.
Katya Mendoza, AZPM News
Chiricahua National Monument could become Arizona's latest National Park. The bipartisan measure was introduced by Senators Mark Kelly and Kyrsten Sinema and Representative Juan Ciscomani earlier last month.

"We're not going to agree on everything and that's clear and that's obvious for a lot of reasons. We are going to have and we do have disagreements in a variety of areas," said Rep. Ciscomani. "This, however, is one that we can find common ground in, also with Senator Kelly but also with Senator Sinema. You have a Democrat, an Independent, and a Republican working on something that makes sense for Southern Arizona."
This isn't the first time a redesignation of the monument to a national park has been proposed. Just last year, a bill was introduced by Senator Kelly and co-sponsored by Senator Sinema. Legislators have consistently touted a boost in economic prosperity through tourism.

"The idea here is to make a fourth national park in the state of Arizona. It's going to create jobs in the region, it's going to result in more tourists coming to the state and specifically to southeast Arizona, so this is a win for everybody," said Sen. Kelly.
Tiffany Powers, the head of interpretation, education, and visitor services said that the park sees anywhere between 65,000 to 85,000 visitors a year, maybe even upward to 150,000.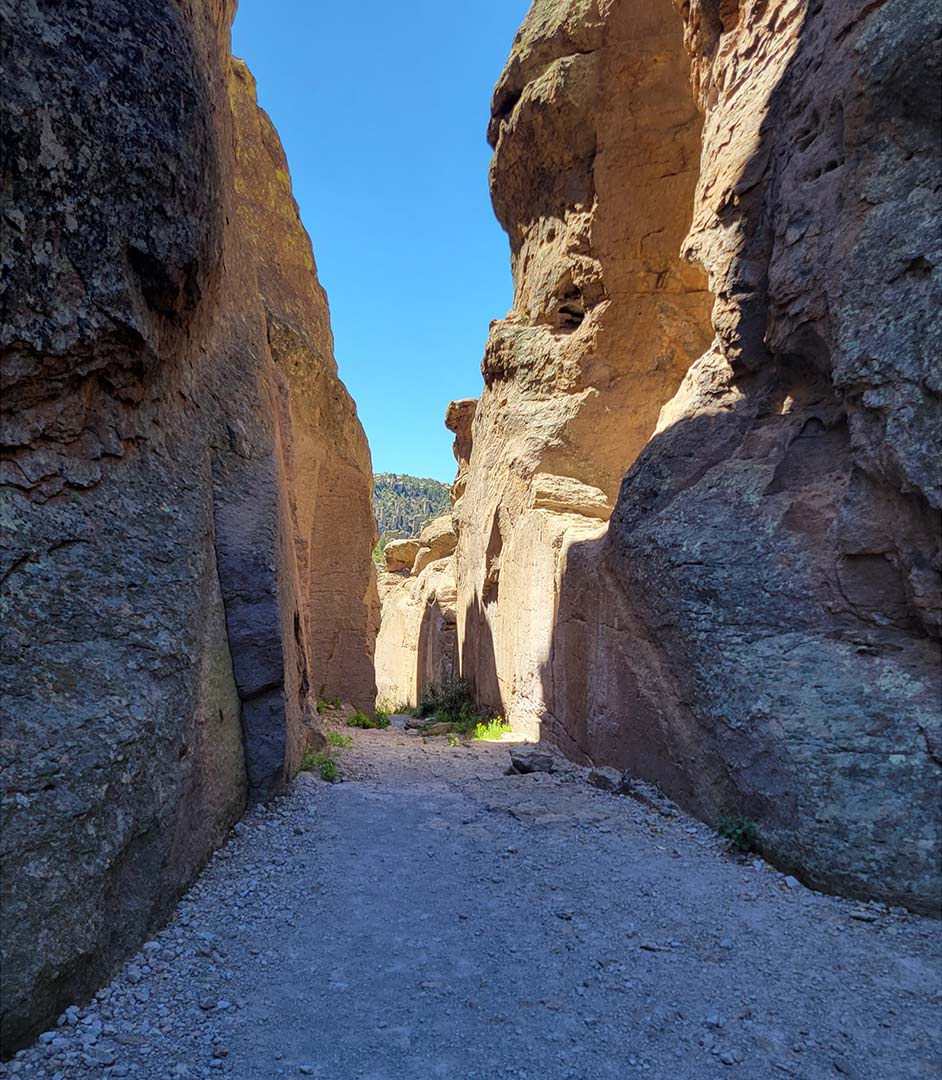 The area known as Wall Street in Chiricahua National Monument

Zac Ziegler
"We'll be doing some advanced statistical survey visitor studies to see how many visitors are actually coming in and with the potential national park status we would expect that to increase pretty dramatically," Powers said.
The busiest time to visit is he springtime, although Powers said that the Chiricahuas are a tucked-away hidden gem that many people are about to discover.
Lead mason Carl Stetter said obtaining national park status would offer more protections within the park service.
"When you're a monument it doesn't take an act of Congress to remove the monument's status but when you're a national park it does," Stetter said. "This is all designated wilderness so it emphasizes that point that this is a place that needs to be protected."
Chiricahua is known for its rhyolite rock pinnacles, better known as hoodoos. Its welded tufts or geological rock formations were formed over 27 million years ago, by a cataclysmic volcanic eruption at the center of the park. The 12-mile-wide Turkey Creek Caldera just south of the park was another result of the explosion.
Physical scientist for the southeast group of the National Park Service Jessica Garcia said the eruption was about one thousand times Mount St. Helens in 1980 and five to ten times Krakatoa in 1883.
Despite the precarious placement of the larger, more rounded rocks that are balanced on smaller necks, the hoodoos and pinnacles are actually more stable than some of the rock columns.
"They've been mechanically tested and are fairly sound," Garcia said.
The Chiricahuas are one of several sky islands in the region with extreme biodiversity that serves as a crossroads for four major ecosystems where the Sonoran and Chihuahuan deserts, the Sierra Madres ,and the Rocky Mountains converge.
The monument is also certified as a Class One Airshed that needs to be preserved not only for clean air but haze and visibility under the Clean Air Act.
Garcia said she helps monitor the air quality weekly, in addition to well and spring levels.
"Before this last great water year we were seeing some lower levels and discharge rates and we haven't fully recovered, but we've been blessed this last summer and winter with a lot of precipitation that infiltrated into the groundwater but overall there's been a general decline," Garcia said.
One of the more popular hikes that travelers can immerse themselves to see the incredible and irregular rock formations is the historic Echo Canyon Trail, which starts at an elevation of about 6800 feet.
The pinnacles are splattered with yellow and green lichens, or organisms made up of fungus and algae that resemble small plants
There are over 1000 plant species that grow within the boundaries of the monument, from point leaf manzanita, oak, juniper, and cypress trees, and ferns. Bursts of red and purple wildflowers are dispersed throughout the trails, as well as colorful red, white, and black kingsnakes and blue Mexican Jays.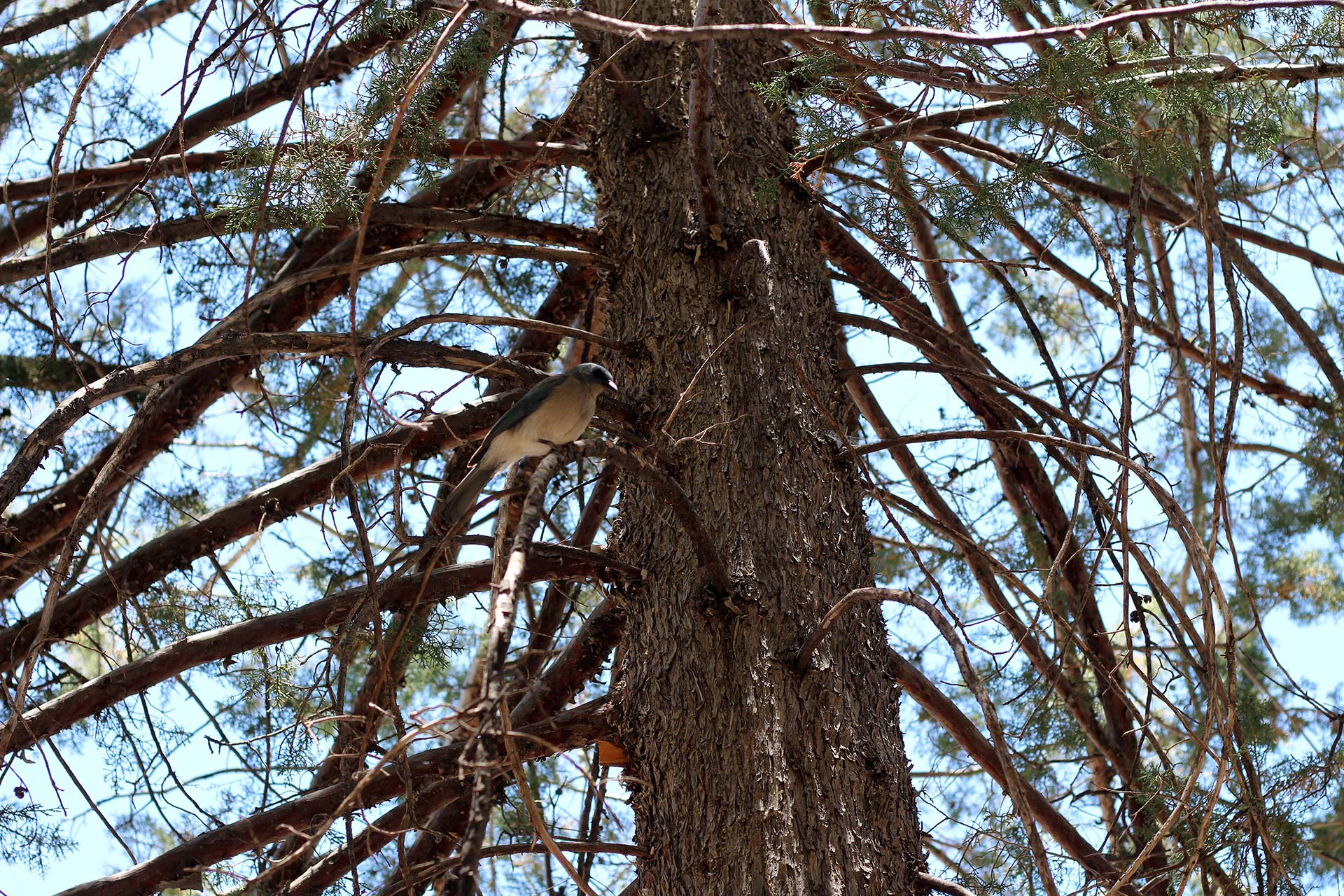 One of the most common residents in Chiricahua National Monument is the Mexican Jay. The birds are known to be communicative and social with visitors but are encouraged to be left alone.
Katya Mendoza, AZPM News
If hikers are lucky enough, they might see coatis, mountain lions, or the lone jaguar that roams throughout the mountains.
The park's human history is as rich as its geological history.
Many of the trails including the Echo-Canyon trail were created by the Civilian Conservation Corps during the 1930s thanks to the New Deal. Before that, Buffalo Soldiers were stationed near the Bonita Canyon campground during the Geronimo Campaign, an effort on behalf of the U.S. Government to capture the Chiricahua Apache medicine man and rebel, Geronimo.

The monument itself is a designated wilderness area, which requires NPS staff to adhere to criteria for trail maintenance in order to maintain the wild and even historical integrity, placing an emphasis on conservation.
As the monument looks forward, ongoing projects are consistent. Because of its history and location, NPS staff confer with about 14 tribal nations regarding plans for improvement within the monument's boundaries such as reenactments, trail management, species presence and absence tracking, erosion control, and others.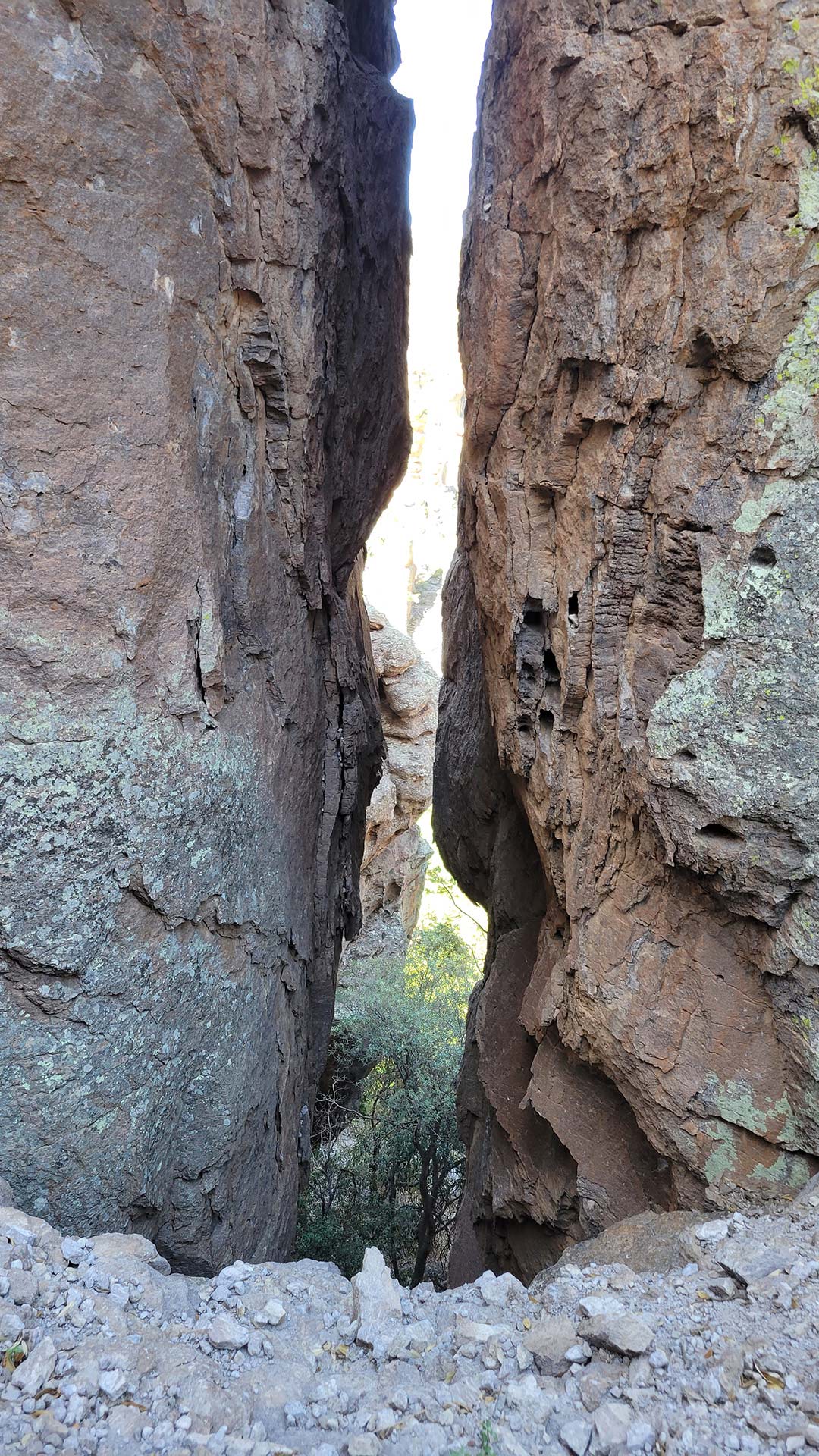 Zac Ziegler
MORE:
Arizona
,
Cochise County
,
Environment
,
Government
,
Mark Kelly
,
News
,
Public Lands
,
Kyrsten Sinema
,
The Buzz
,
Travel
,
U.S.