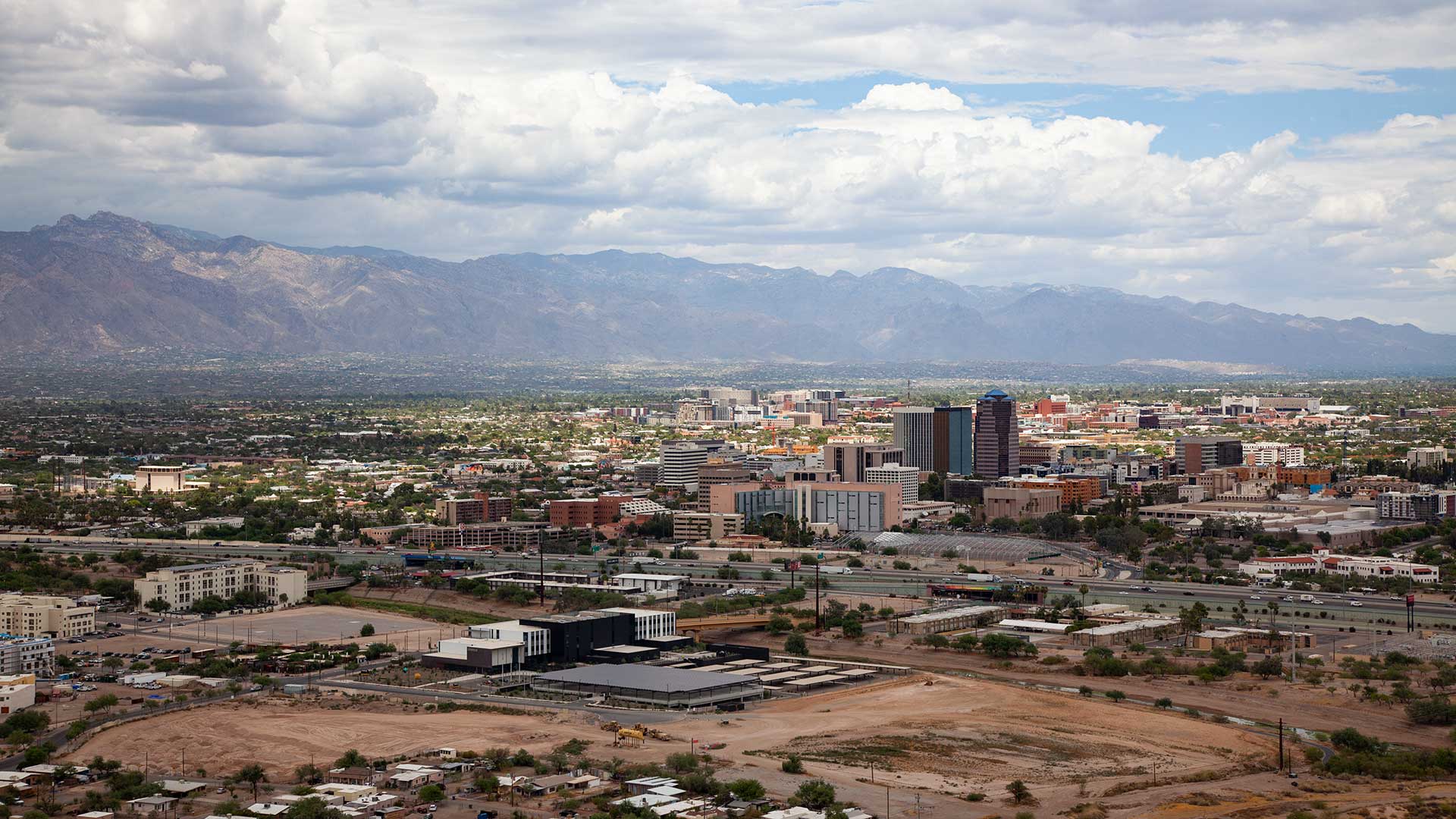 Central Tucson from Sentinel Peak.
Nick O'Gara/AZPM
Southern Arizona's economy has cooled, but remains strong. Strong enough that an economist who studies it continues to have little worry about recession.
"Tucson, I think, is going to continue to be resilient, even if the national economy falls into a modest downturn. I think Tucson will come through that in better shape. We may see significantly slowed job growth if the national economy falls into recession, but Tucson is well positioned to grow–especially if the national economy continues to grow," said George Hammond, director of the Economic and Business Research Center at the University of Arizona Eller College of Management.
Arizona's economy on the whole has been strong since the COVID-19 pandemic recession.
The most recent jobs report, which gave data for April, shows that the state's unemployment rate has been around 3.5% for months, a number last seen in 2007.
That pairs with a workforce that has never been larger. The number of Arizonans who have or want a job is now more than 3.6 million.
And those workers are earning more money, with an average pay of almost $58,000 a year, which would be an all-time high except for an anomalous report of that number in January of 2021.
All of those statistics continue to trend toward the positive.
There have been some numbers that show issues. Inflation has come down, but remains high. The lone Arizona data on the Consumer Price Index measures inflation in the Phoenix-metro area, and showed a peak rate of 13% in August 2022. Reports have dropped from then on, but remain well above normal at 7.4%.
A major factor in CPI increases is housing. With Arizona's population on the rise, home affordability has been dropping.
"Tucson has seen a huge drop in housing affordability just as most areas in the nation have. Tucson's housing affordability before the pandemic was around 70%, we're down to 35%," said Hammond.
Arizona's problems with inflation are not out of the national norm, though, according to Anthony Chan, a former Chief Economist at J.P. Morgan Chase who also worked as an economist for the U.S. Federal Reserve.
"It is a problem. The good news is that as inflation continues to come down and by the way, the peak inflation rate for the consumer price index, 9.1%. It's now 4.9% and heading lower."
Chan also said he sees other signs of an unhealthy economy in the U.S. One area he recently noted in his Substack newsletter The People's Economist is issues around poverty.
"One of the things that you are seeing now is a bigger disparity in economic growth. So you see more people using food banks even though the economy is not in a recession. Now we can easily say, 'oh, we should just raise taxes on those people that are well off,' but those people create jobs for the people that are not so well off. So you've got to balance it out, but it is interesting to see that even though we have prosperity, we have not had a recession, we are seeing some real pain at lower ends of the spectrum."
He also notes that recent wage growth is being outpaced by inflation, also adding to economic issues for many.
Chan echoed the views of many economists in saying that a recently-averted U.S. government debt default likely prevented a major economic downturn, but the agreement that averted the issue will have a more minor negative effect in the near future.
"As I looked at the agreement, and I read the 99 page agreement because what else can you do on a Saturday night? What I found was that it is going to reduce economic growth this year by my estimate about 0.3% and next year by about 0.5%. These are all factors that are going to hold back economic growth."