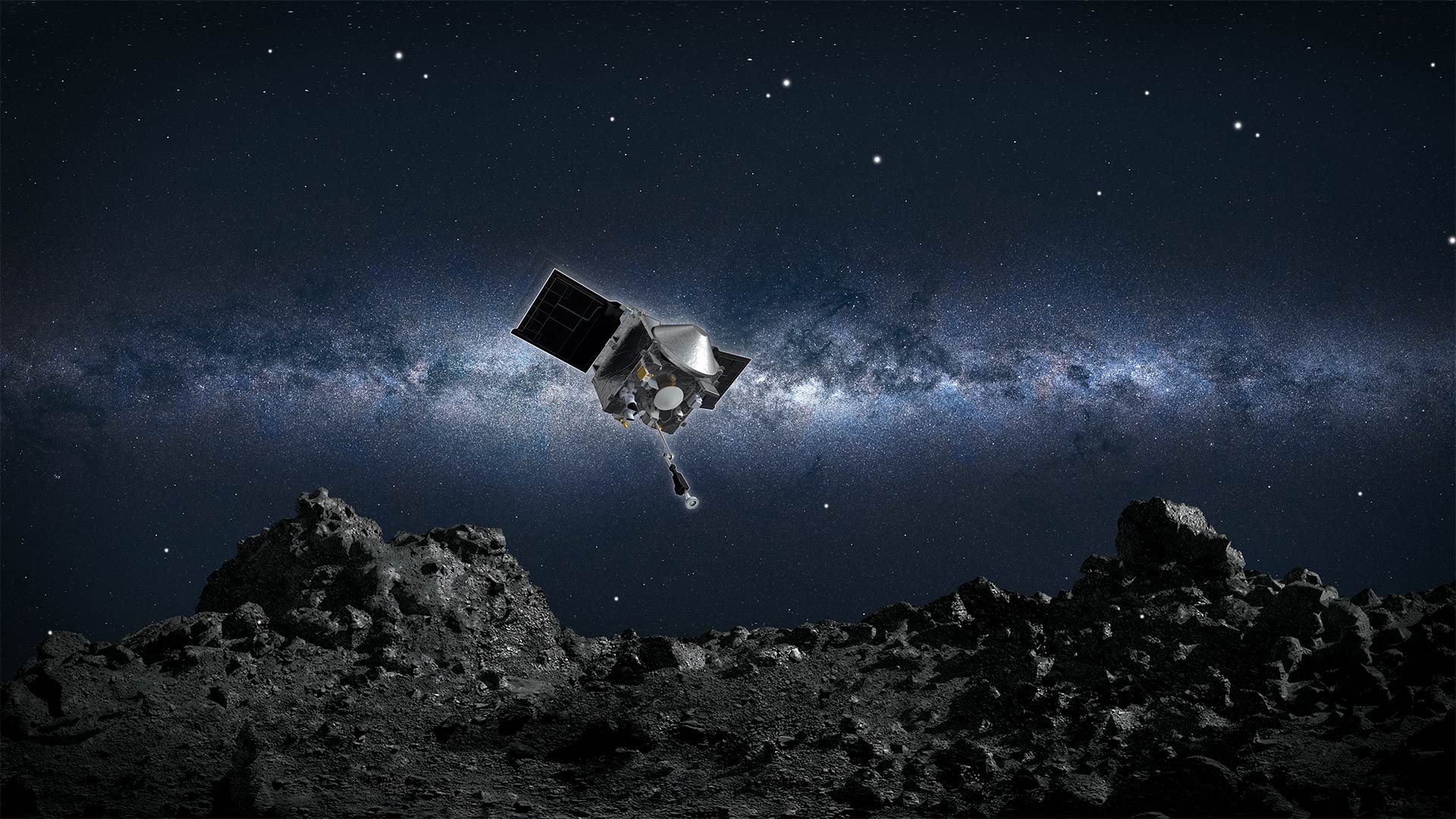 Artist's conception of NASA's OSIRIS-REx spacecraft collecting a sample from the asteroid Bennu.
NASA/Goddard/University of Arizona
The rocket carrying OSIRIS-REx lifted off on September 8, 2016, headed for the asteroid Bennu.
Its seven-year mission was to land on Bennu, which it successfully did on May 10, 2021, harvest a sample, and return it to Earth.
That mission comes to an end in a little more than three months, September 24, 2023, when it is intended to land on a salt flat at the Utah Test and Training Range.
"Now, we're switching to what I call the ground game," said Dante Lauretta Ph.D., The University Of Arizona Planetary Science Professor And Principal Investigator On Osiris Rex. "We've got to do multiple things. First of all, we got to get ready to receive that capsule."
There are also efforts to ensure that media from around the world can capture the historic moment for news and documentary coverage.
"Of course, the sample has to get to Houston, to NASA's Johnson Space Center. So we've been doing a lot of work building the curation lab, making sure it's ultra clean, getting all the hardware in place, and reviewing the procedure for disassembling the flight hardware," he said. "Then for me, the best part is the real science. This is a sample return mission. Our goal is to analyze that material and we're going after the whole history of the solar system."
Dr. Lauretta said that, if all goes well, he and the samples that were on OSIRIS-REx will be in Houston the next day, September 25. He hopes to have an early round of information out to the public later that week.
"The TAGSAM, which is the collector that touched the asteroid, there should be dust all over the surfaces because of the nature of the collection. We actually saw material leaking out of tanks after we contacted asteroid; it was kind of a crisis for us. Very quickly after our success we were in emergency mode to get that stowed and prevent any further loss of sample. That means there's stuff all over the inside of the canister, so one of the very first things we do once we've got it open is we're just going to swipe it. We're going to grab a bunch of that dust and we're going to get it into the electron microscope, to other instruments at NASA in Houston."
But that will not be the end of the investigation. The samples will be divided up, with the largest portion heading to the University of Arizona, where a lab in the Kuiper Materials Imaging & Characterization Facility is being set up to continue studying until Dr. Lauretta's project runs out of money. And even after that, the materials could be studied by other scientists for decades to come.
"Sample return missions are the gift that keeps on giving. We're still analyzing moon rocks that were brought back by the Apollo astronauts in the late 1960s and early 1970s.
The years of study ahead could contribute greatly to society, according to University of Arizona Astrophysics Professor Erika Hamden, Ph.D.
"It fulfills a basic human need to understand more about the world around us, and that's a basic part of being a person. You want to understand more and wonder about why things are the way that they are."
She also said that samples from space tend to be incredibly rare.
"We brought back moon rocks from Apollo. Sometimes meteorites land on the Earth that are from Mars. There have been a few other smaller missions that have gotten samples from space and brought them back, but I think there's a total of less than five instances."
Each of those instances has held important clues to how different planets and objects formed.
"When we connect that [new information] to planets that we're observing around other stars, and we don't really know how they formed exactly, what conditions are needed to form something like the Earth, and what happened in the early solar system that made it possible for the Earth to form and to be just the right to make life."