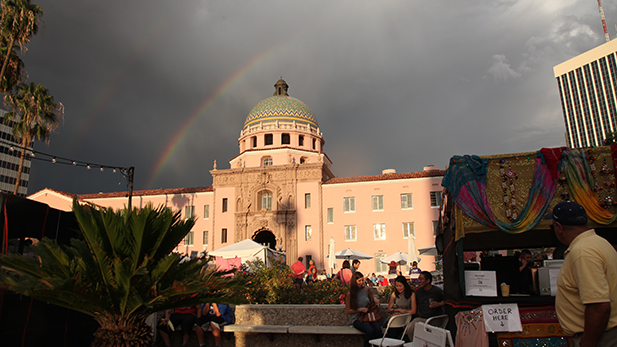 A rainbow crawls across the sky over Tucson Meet Yourself, 2016.

Nick O'Gara, AZPM
The National Endowment for the Arts has awarded the Southwest Folklife Alliance $50,000 to help plan this year's 50th Tucson Meet Yourself Folklife Festival.
"Projects such as this one with the Southwest Folklife Alliance strengthen arts and cultural ecosystems, provide equitable opportunities for arts participation and practice, and contribute to the health of our communities and our economy," NEA Chair Dr. Maria Rosario Jackson said in a press release.
The festival first started in 1974, after Dr. James Griffith, better known as "Big Jim," wanted to bring Southern Arizonans together to share their stories, culture and everyday life. Since then, the festival has become a city-wide event that brings food from all over the world and showcases more than 150 musicians, dancers and artists every year.
Tucson Meet Yourself director Maribel Alvarez says that in order for the festival to continue its legacy and cultural health, adaptation is key.
"It cannot just be the label that you use to get the sponsorship to get the shine," Alvarez said. "It has to be an authentic practice based on relationships, respect that you earn because you are sitting at your neighbor's table."
Alvarez says that is why special activities are being planned for this year's golden anniversary. New additions include small group discussions on the future of cultural resilience in the region, a pre-festival showcase of traditional dance, and craft and cooking demos that will pair traditional home cooks with renowned celebrity chefs.
"Like Big Jim Griffith used to say, if you invite 100 people to a lecture on cultural diversity, you can bet that not 150,000 people will come," Alvarez said. "But if you invite people to experience music, fun, art, and food, then you just barely [have] a chance to maybe get through to somebody."
The celebration will reflect the evolution of Tucson since the first festival. The theme will be "The Way We Were," inspired by the Barbra Streisand song that came out the same year the festival was founded.
The grant is just one part of the NEA's first round of fiscal year 2023 grants that total to nearly $29 million dollars.