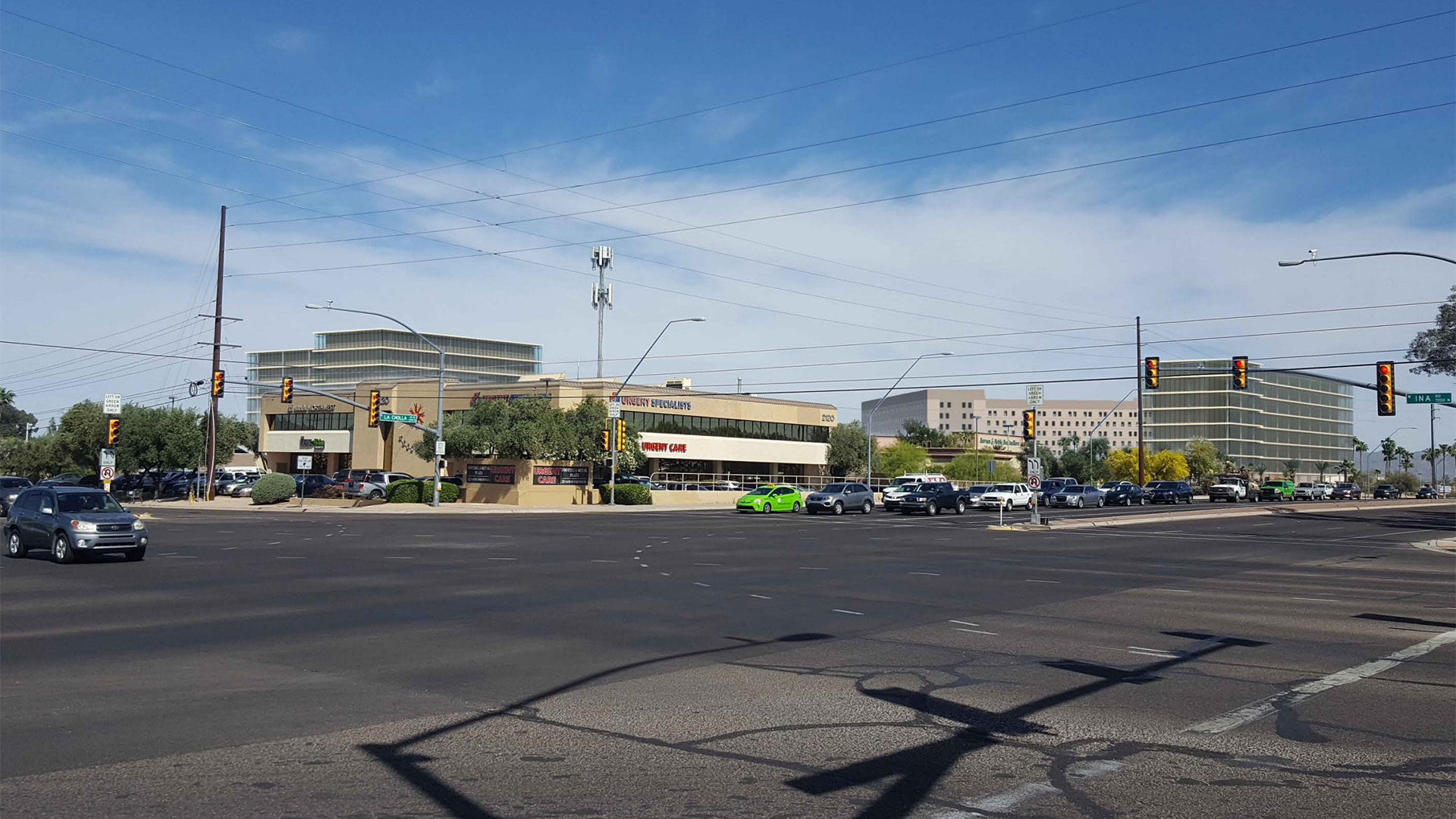 An artists rendering of what the new buildings at the Foothills Mall would look like.
FHM Partners
The weekend following Thanksgiving has traditionally been the start of the holiday shopping season, with Black Friday deal-seekers leading the way into the retail sector's busy time.
But the days of crowds lined up outside of shopping malls and big box stores have waned, with many shoppers and retailers instead opting for online.
So what does that mean for the spaces that used to be the hub of the retail sector?
"The U.S. has, for a long time, been over-malled. So in some ways, this is a correct adjustment to the amount of shopping that we need per-population," said Alexandra Lange, an architecture and design critic who authored the book Meet Me By the Fountain: An Inside History of the Mall.
That has led mall owners to seek new ways to keep their properties relevant, from redevelopment to rethinking who makes up a traditional tenant pool.
"It also sounds like the mix of things that are happening at Tucson's malls really track with what's happening elsewhere," Lange said.
In particular, she said that malls that are redeveloping into denser mixed-use spaces are following a national trend.
"The people living in those suburbs want more walkable communities, they want a more diverse array of stores. Maybe they want to work from home but have a place that they can go to every once in a while for meetings, so co-working spaces. Turning those formerly single-use retail spaces into more mixed-use villages actually makes a lot of sense."
As shopping malls search for ways to stay relevant in the retail world, one major mall owner is pushing to make the businesses it rents space to more racially inclusive.
Brookfield Properties owns the Tucson Mall, among other buildings in the region.
The company is looking to expand local, minority-owned businesses renting its spaces through its Partner to Empower program, which offers various forms of assistance including financial help, one-on-one guidance and a four-week course on running a retail business.
"To me, everyone does better when you add diversity," said Michelle Isabel, a vice president at Brookfield who heads up the Partner to Empower program. "So we want to add more diversity to our shopping centers. We want to add more diversity to the communities that we serve. You know, making them better, making them all inclusive."
Isabel said the campaign began in 2020 as Brookfield looked for ways to contribute to the fight against structural racism.
"I have to tell you, this program that we've rolled out as a company is brilliant for all the right reasons," said Tucson Mall Senior General Manager Jeff Berger. "And it's exciting for the mall because since the program rolled out, we've accepted two African-American-owned business applications, one being Majestic Jewels, which is an entrepreneur who sells affordable handmade jewelry, and Sweet Kisses, a young entrepreneur who sells personalized makeup products."
He also said that it ensures the mall has a better mix of shops and offers more than the chains many come to expect.
"I basically think that the success of any regional mall is to create a whole merchandise mix not only with your typical national stores that you expect to see, but I think the local and regional retailers really is what makes a mall special," said Berger.
While the Tucson Mall's owners are rethinking what is inside, the owners of the Foothills Mall on Tucson's northwest side are rethinking its space entirely.
The mall was bought by Bourn Companies, who previously owned it in the 1990s in 2016. In 2018, it received approval from the Pima County Board of Supervisors for a zoning change that would allow it to rebuild the mall as a mixed-use area with possibilities ranging from multi-family housing, office space, retail, restaurants and entertainment.
"We've had to go through the process of relocating certain tenants, and making agreements with those tenants," said Bourn Companies' Dillon Walker. "That's really been a core activity for the last four years and now we're finally through all of that and getting ready to break ground in the new year."
Demolition and construction was originally slated to start in 2019, but the company took time to rethink some of its plans before beginning.
"So, I think 2019 there was an opportunity to begin some of that work and I think we're better for it by having a more comprehensive picture of that work, and now we're able as we get started in 2023 to really take a holistic view of the project."
Demolition is expected to begin early next year, Walker said, with some spaces, including a movie theater and country bar, remaining open through the construction.
New spaces will open in phases, with some possible areas coming late next year or early 2024. "We're really trying to revitalize an idea of destination retail, destination entertainment, and that's really what malls were," said Walker. "We think that has to be dense, urban-feeling, it has to have the amenities. And that's what we're trying to bring to this project and create an environment that is super-safe, super-enjoyable, and you have a one-stop-shop for all these great activities."