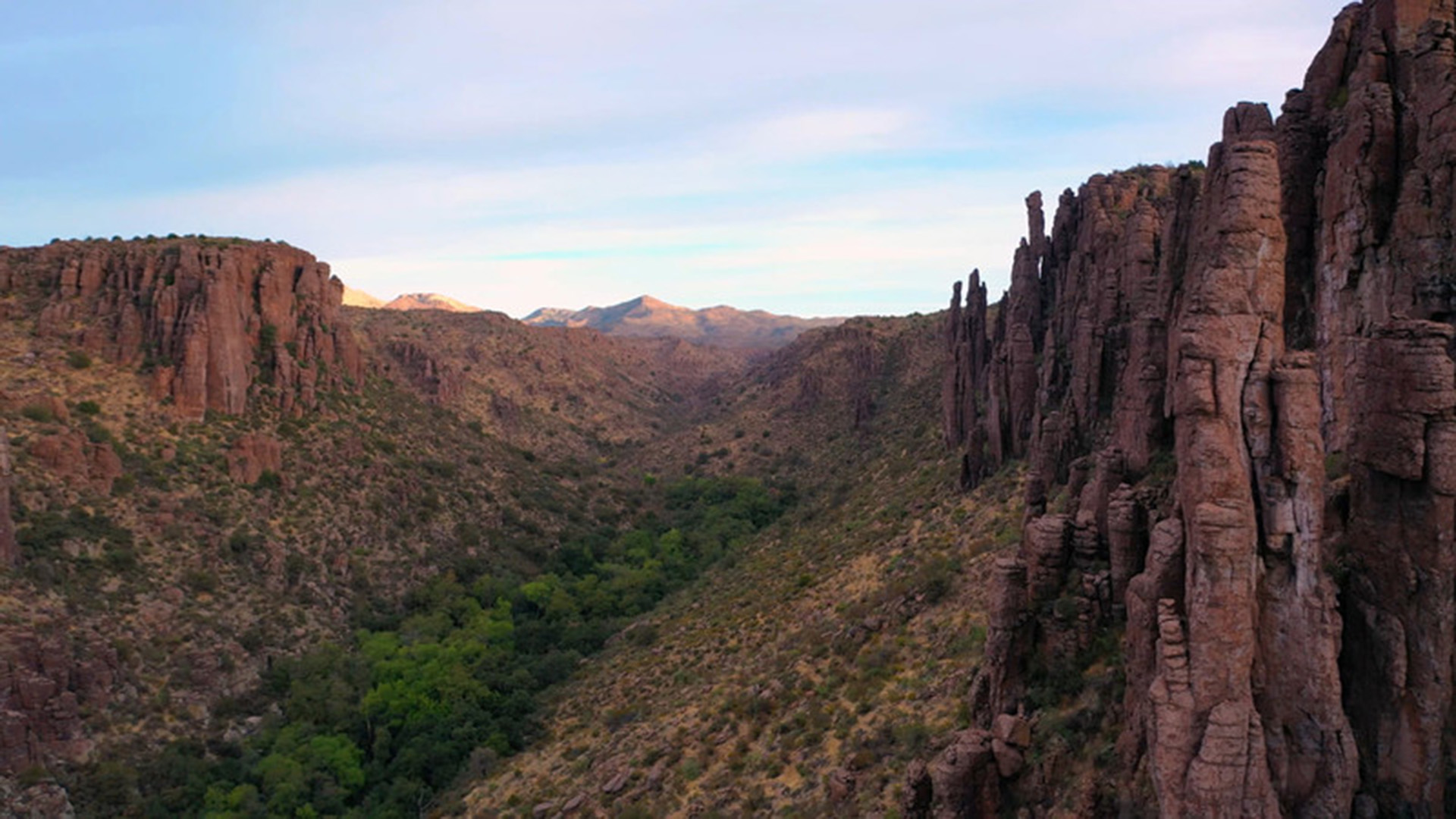 Ga'an Canyon is a place where beings who have been compared to angels live according to the Apache religion. It is near Oak Flat.
Courtesy of Russ McSpadden/Center for Biological Diversity
Nearly 200 businesses and Indigenous, environmental and religious groups sent a letter to President Joe Biden Tuesday asking him to stop the land transfer of an Apache religious site to a copper company.
The letter calls on the Biden Administration to stop the land transfer of Tonto National Forest land, which includes a sacred Apache site called Oak Flat, to Resolution Copper and to withdraw the final environmental impact statement from the U.S. Forest Service that initiated the 60-day window for the land transfer.
Randy Serraglio works for one of the organizations that signed the letter, the Center for Biological Diversity. He emphasized how important Indigenous voters were in Biden's win in Arizona.
"People voted for him for a reason, because they expect him to stand up and protect places like this," Serraglio said.
He said he thinks it's about time the protection of sacred sites comes before profits.
Resolution Copper is a subsidiary of British-Australian mining company Rio Tinto. After blasting 46,000-year-old rock shelters connected to the Puutu Kunti Kurrama and Pinikura people in Australia in May 2020, Rio Tinto came under scrutiny from the public and Australian government.
"The destruction of the rock shelters should not have happened and it does not reflect the values to which we aspire. We are absolutely committed to listening, learning and changing," according to Rio Tinto press release.
The groups that signed the letter are asking for the government to take a closer look at the environmental and cultural impacts of the proposed project — a mine that could be one of the largest in the country.
"We want the Biden Administration to know that there is very deep and broad resistance to this notion of trading away a sacred site like Oak Flat to an international mining company," Serraglio said.
A federal judge is weighing whether he'll issue a preliminary injunction, temporarily stopping any progress on the project.
"I am very encouraged by the number of people, not just in the United States but globally, who are speaking out against these kinds of atrocities," Serraglio said. "It's just unimaginable that we can let a place like that be destroyed just for the short-term profits of a major international mining company."