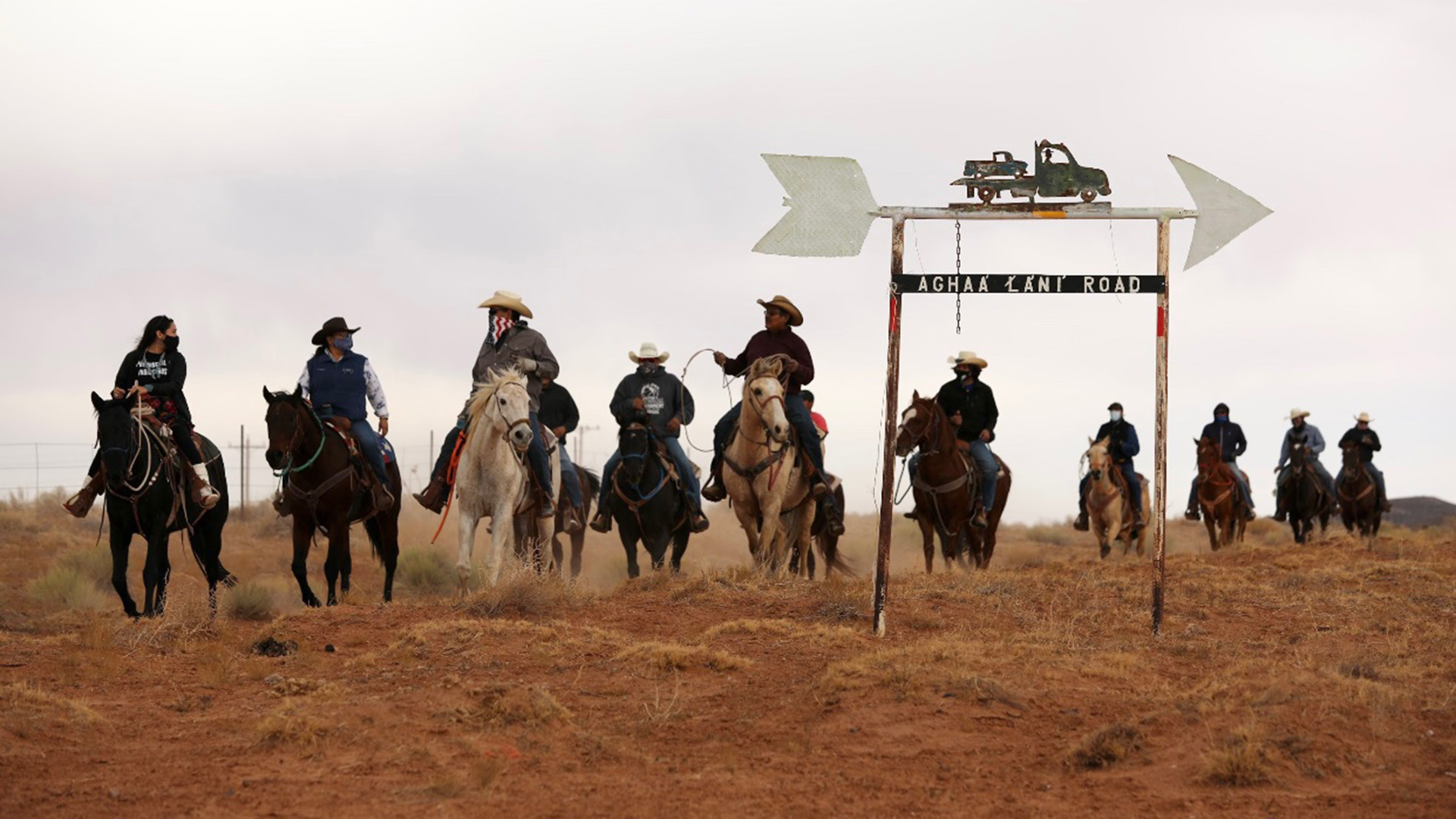 Allie Young, the founder of Protect the Sacred, leads voters to the polls within the Navajo Nation on Election Day 2020.
Courtesy of Sunshine Sachs; Photo by: Larry Price.
Indigenous voters made their voices heard throughout tribal lands in Arizona as voter precincts showed strong support for Democratic presidential and congressional candidates.
Across the country Indigenous Americans have been hit hard by the pandemic. Allie Young, the founder of Protect the Sacred, said over this election season voters continually told her COVID-19 and health care were issues spurring them to the polls. Protect the Sacred is a grassroots initiative responding to the pandemic within the Navajo Nation that turned to voter and census education once the amount of new coronavirus cases started to flatten during the first wave. One way she garnered excitement for the election in her community was a ride to the polls by horseback, and those long rides gave people the opportunity to share their thoughts.
"I heard a lot of conversation about COVID-19 — how there's going to be a second wave, third wave. Our community has been very terrified from that experience," said Young.
The per capita COVID-19 case rate in the Navajo Nation was higher than any state in the country in May.
She said she reminded people to take those concerns with them to the polls. Young said other priorities that inspired people to vote were the lack of running water or electricity in the Navajo Nation.
"When we come together like we did to fight against COVID-19, we are powerful," said Young, who is a member of the Navajo Nation. "We need to come together the same way for the election because this is the most important election of our lifetime."
High Country News reported that 60-90% of votes in precincts across the Navajo Nation went to President-elect Joe Biden and his running mate Kamala Harris. As of Tuesday, a map created by ABC-15 Arizona shows that more than 90% of voters within the Tohono O'odham Nation went blue, too.
"I'm very proud, especially of our tribal communities in Arizona, for showing the world that Arizona is Indigenous DNA — that we reclaimed Arizona," said Young.
The American Election Eve Poll suggests that 71-72% of Indigenous voters in the state voted for the Democratic presidential and congressional candidates.
Crystal Echo Hawk is the executive director of IllumiNative, an organization that pursues social and racial justice for Indigenous peoples across the country.
She's a citizen of the Pawnee Nation and said with 574 federally recognized tribes, and more vying for that title, Native Americans are not a voting monolith, but like those in the Navajo Nation, she saw Indigenous voters on a national scale prioritizing health care. While conducting the Indigenous Futures Project, which surveyed over 6,400 people from 401 tribes, IllumiNative, the Center for Native American Youth and the Native Organizers Alliance found out how and why Indigenous people were voting.
She said throughout the survey people also listed protecting LGBTQ Indigenous women and girls, elder care, the economy and the environment as reasons why they were voting. Young from Protect the Sacred also said education stimulated voting among Navajo voters.
"I think you really saw people of color across the board really made a difference in this election, and Native people were right there, making a big difference," said Echo Hawk.
The survey revealed that 77% of respondents voted in their last local, state or national election. She said this and the fact that six Indigenous people were elected to Congress this year goes against stereotypes that Indigenous people aren't politically active.
"I think often times Native people are very much sort of minimized or even erased out of national conversations when we start talking about the vote, and so to see those high numbers — that high level of engagement — was really fascinating," said Echo Hawk.
During CNN's live coverage of the election Nov. 3, it included a graphic breaking down voter participation as white, Latino, Black, Asian or something else, according to the Los Angeles Times.
Many Indigenous people across the country took to Twitter to voice their anger and concerns with being diluted to "something else" by the media outlet.
"It just said everything in terms of the way that we're disregarded, particularly by mainstream media," said Echo Hawk. "I think Native Americans made our voices known loud and clear that we will not stand for that. We are far more than 'something else.'"
Los Angeles Times Reporter Laura Zornosa posted on Twitter that CNN later apologized.
CNN has since apologized — but this is still a really important story about the erasure of voters of color https://t.co/fNmfqR7e9q— Laura Zornosa (@laurnosa) November 6, 2020
Echo Hawk emphasized that to be a Native American is a unique political and racial category with members claiming citizenship to both their tribal nation and the United States.
"I think that people are finally recognizing that Native American voters are important, and they are engaged," said Echo Hawk. "They cannot be taken for granted."