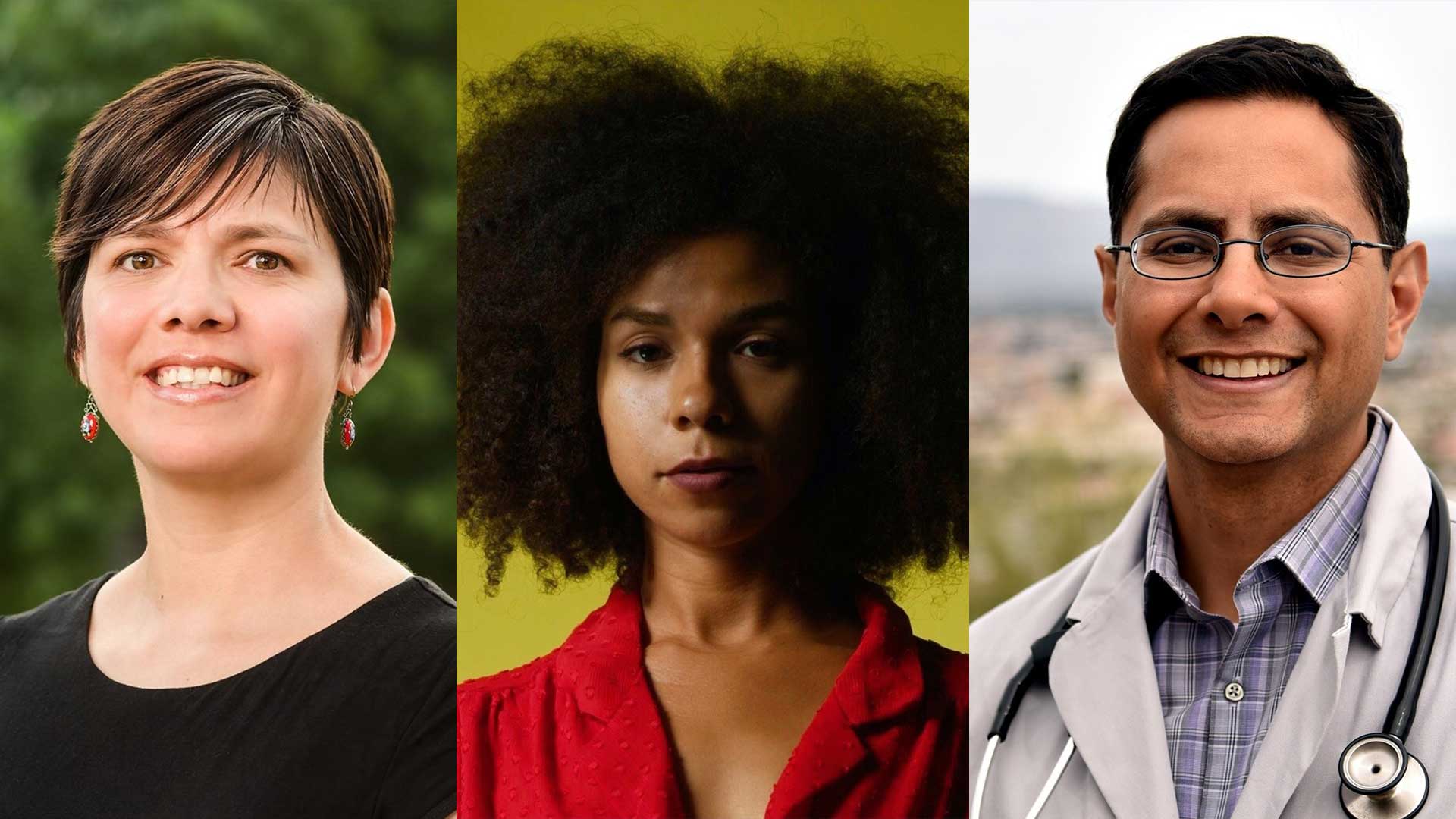 Natalie Luna Rose, Sadie Shaw and Ravi Grivois-Shah
Campaign photos
The Tucson Unified School District Governing Board will have three new members come January, and three TUSD parents are at the top of the ticket after initial election results.
Communications manager Natalie Luna Rose lead the group with 23.96% of the vote as of Wednesday morning. Artist Sadie Shaw had 17.8% of the vote and family physician Ravi Grivois-Shah had 17.28% of the vote. Just out of the top three spots was Adam Ragan, with 16.14% of the vote. While some ballots were still being counted, the Arizona Daily Star reported the top three candidates secured their place on the board for Tucson's largest school district.
Luna Rose focused on looking forward with the district during her campaign. Her top issues were the district's pandemic response, greater transparency in spending and commitment to diversity and equity in the curriculum.
She is a founding member of the Tucson Unified Parent Advocacy Council, which pushes the state legislature for better public education policies and funding. In her candidate statement, Luna Rose wrote that her diverse set of skills make her qualified for the role.
"I think we need a strong parent voice, and I believe I am that strong parent voice," Luna Rose said during an Oct. 8 candidate forum organized by the Coalition for Accountability, Respect and Excellence for TUSD Students.
Shaw also highlighted inequality in education as a major issue that she aims to tackle. In her candidate statement, Shaw wrote that these issues, like a lack of resources, were amplified by the pandemic. During the candidate forum, Shaw also said the district should focus on increasing access to student programs.
She also has a history of community involvement. She served as president of the Sugar Hill Neighborhood Association and started an oral history project for the neighborhood. She has also been a member of the League of Women Voters of Greater Tucson and the Arts Foundation for Tucson.
"This pandemic will exacerbate all the issues that TUSD has, like a lack of transparency, low test scores and leadership that refuses to take action in a timely manner, like we saw at the Oct. 6 board meeting," Shaw said at the forum. "We need to put politics aside and take care of business."
Similar to Luna Rose, Grivois-Shah identified the district's pandemic response, budget and disparities in education as his top three issues. During the candidate forum, Grivois-Shah committed to making scientific, evidence-based decisions when it comes to the pandemic.
Grivois-Shah also highlighted educational disparities in the district, particularly in access to supplemental programs, as an issue he was eager to tackle.
"As a community advocate who has fought to ensure health equity and access for patients from all backgrounds, I'll help our district navigate our desegregation order and reduce disparities based on race and zip code," Grivois-Shah said during the forum.
The new memebers will join the board during a time of uncertainty as the district faces the pandemic and declining student enrollment. This school year, the district has seen a 5.7% drop in enrolled students, which officials estimated would lead to a budget loss of at least $15 million next school year.
TUSD superintendent said that it is likely structural changes will need to be made because of that budget shortfall.
Current governing board members Bruce Burke, Rachael Sedgwick and board president Kristel Ann Foster will all end their terms on Dec. 31, 2020. Three new board members will officially begin their duties on Jan. 1, 2021.

Read more coverage of national, Arizona, and local elections at our 2020 elections portal,
Your Vote 2020
.