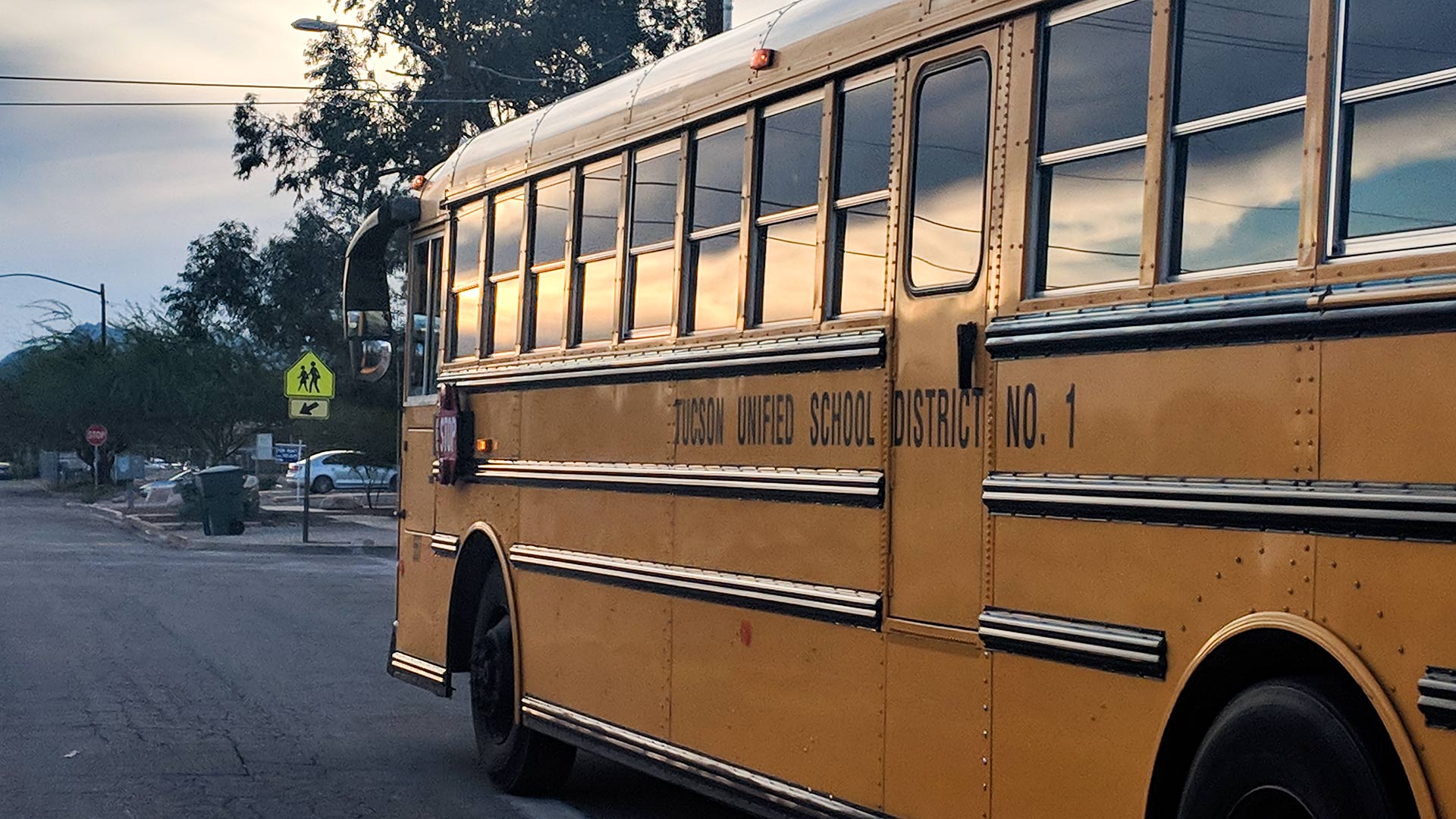 A Tucson Unified School District Bus.
AZPM
The Tucson Unified School District governing board approved a plan Tuesday night to bring students back to schools for hybrid learning, but with no official start date for the plan yet.
Board members disagreed on when to send kids back to school and sought to find a balance between giving teachers and parents enough time to prepare to return to school and waiting to see if Pima County COVID-19 cases decrease.
TUSD superintendent Gabriel Trujillo at the meeting initially proposed a hybrid start date of Nov. 12. He said he wants to give teachers and other staff time to plan and prepare.
The learning plan differs slightly based on grade. Generally, under the hybrid model, students who opt for in-person classes will spend their mornings at school with their teachers, then return home for independent, online work in the afternoon.
For students who remain fully online, the schedule is reversed. Mornings are for independent work and afternoons will be spent in online classes with teachers providing real-time instruction from their classrooms.
Schools will follow this schedule four days a week. On Wednesdays, instruction will be fully online while schools are cleaned. Middle and high school teachers are expected to sanitize their rooms between classes.
For schools where student demand for in-person classes exceeds a safe number — approximately 45% to 60% of school capacity — on-campus students might be split into cohorts. These cohorts would come to campus two days a week.
"I'm proud to say that we'll be presenting a model that differentiates options for both elementary and secondary schools and won't be looking at a one-size-fits-all-model," TUSD superintendent Gabriel Trujillo said in the board meeting.
Over 20,000 district parents filled out a survey regarding a return to in-person learning. About 55% of parents indicated they would keep their kids in online classes, while about 45% preferred a hybrid model. TUSD serves over 40,000 students.
Under this plan, students would remain with the same teachers they have had throughout the school year, something Trujillo said was a priority for both teachers and parents.
Trujillo mentioned several times that the plan was developed with feedback from the community and teachers in mind.
"We can't control the larger aspects of this virus, but we can do everything we can at the school level to make sure that our teachers are as comfortable as possible, that their input was implemented," Trujillo said in the board meeting.
Trujillo said his suggestion of a Nov. 12 start date would not only give time for teachers to prepare, but also give the district a chance to monitor Pima County cases, with hopes that cases related to the University of Arizona, which is near six TUSD campuses, will not spike.
"The additional month is going to assuage some of our concerns about truly being clear of the COVID-19 surge at the University of Arizona," Trujillo said in the meeting. "I think by Nov. 12, we'll be able to truly see if that surge is behind us."
If the district were to start classes Nov. 12, there would be only two weeks before Thanksgiving recess for both UA and TUSD. UA will not continue in-person classes after Thanksgiving.
The governing board approved the hybrid-learning model, without a start date, in a 4-1 vote.
"My concern is the continued pushing down the date really does cause a lot of stress," board member Adelita Grijalva said during the meeting.
Board member Rachael Sedgwick also voiced concern that giving teachers only two weeks notice before the official start date of classes would not be enough time for them to adequately prepare. She was the only member who voted against approving the plan.
"While I appreciate the move to delay for another month, I honestly think that's not enough," Sedgwick said during the meeting. She moved to delay the start of hybrid or in-person classes until January, when TUSD begins its third quarter. However, the board voted to table that discussion.
Data and criteria from the Pima County Health Department will be used to assess how safe it is to begin hybrid learning.
TUSD previously aimed for an Oct. 19 start date for hybrid learning.