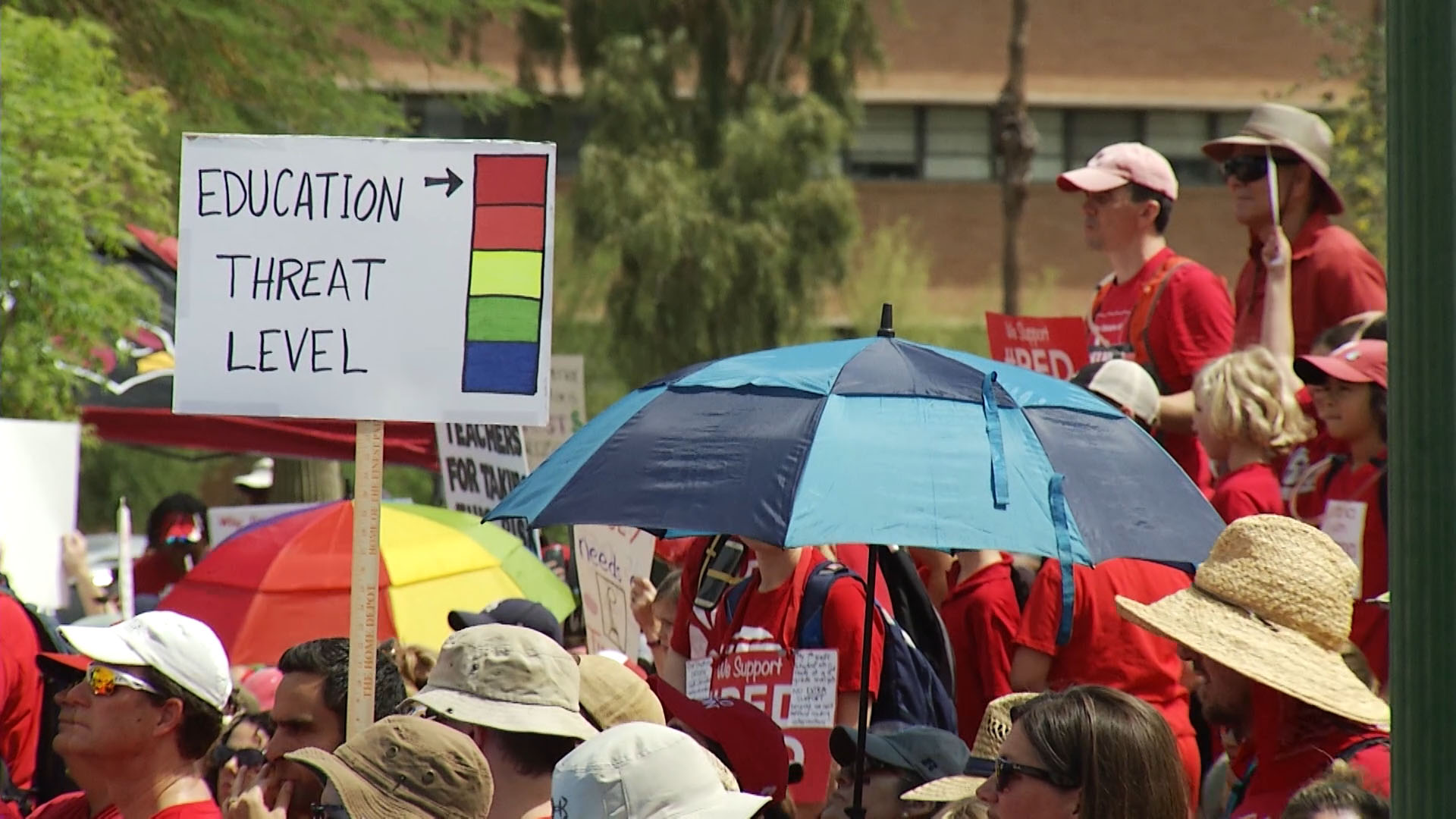 #RedforEd protesters descended on the Capitol in the spring of 2018.
AZPM
With the Arizona secretary of state certifying the Invest in Education initiative Friday, it's now official: It'll be on the November 2020 ballot.
The citizen's initiative, Proposition 208, adds a tax for wealthy Arizonans to increase education funding. It proposes a 3.5% surcharge for individuals who make more the $250,000 in taxable income each year and on couples filling together who make more than $500,000. The current income tax rate for individuals with more than $159,000 in taxable income and joint filings with more than $318,000 is 4.5%. When combined with the proposed additional surcharge, funds above $250,000 for individuals and $500,000 for joint filers would be taxed at 8%.

After some legal battles this summer, the secretary of state certified 253,047 signatures out of the 435,669 the group submitted July 2. It needed 237,645 signatures to qualify for the ballot.
"If it passes, this will be a huge win for Arizona students, teachers and parents, because it will put millions of dollars each year into Arizona's public schools," said David Lujan, one of the authors of the 2018 and 2020 versions of the initiative, and director of the Arizona Center for Economic Progress.
The Arizona Supreme Court overturned a lower court's decision Wednesday, putting the initiative back on the ballot. Superior Court Judge Christopher Coury ruled July 31 that the 100-word description for 2020 Invest in Ed initiative lacked vital information and was misleading.
This is the second time the Arizona Supreme Court has reviewed the initiative in two years. It decided the 2018 initiative's 100-word summary was not clear and kept it off the ballot.
Lujan said the 2018 Invest in Ed initiative proposed a change of the marginal income tax bracket by increasing the existing marginal income tax rates. They tried to describe this with a percentage increase.
"After 2018, what we realized is trying to change the existing income tax rates can get confusing for voters in terms of how you're describing the change in those rates," Lujan said. "What we decided to do is completely restructure this proposal so that instead of changing the underlying, existing income tax rates, we create a separate and independent surcharge on the wealthiest 1% of Arizonans."
Lujan said they estimate Invest in Ed would bring in $940 million each year. Those funds can only be used for certain staff salaries, like teachers, counselors, nurses and bus drivers. It can also be used for mentorship and training programs for teachers.
Lujan said some of Arizona's largest problems in public schools are teacher shortages, low teacher salaries and big class sizes. He said these funds could address all of these issues by hiring, retaining and supporting more teachers.
He said if passed, 50% of the Invest in Ed fund would be divided between all of the public schools in the state. Each one getting a portion based on the size of its student population. Each school can then use certain percentages of money for salaries and teacher programs and trainings.
"This will not tax people who are struggling to put food on the table," Lujan said. "This will not tax mom and pop small businesses. This will only impact people who are in the top 1% of incomes."