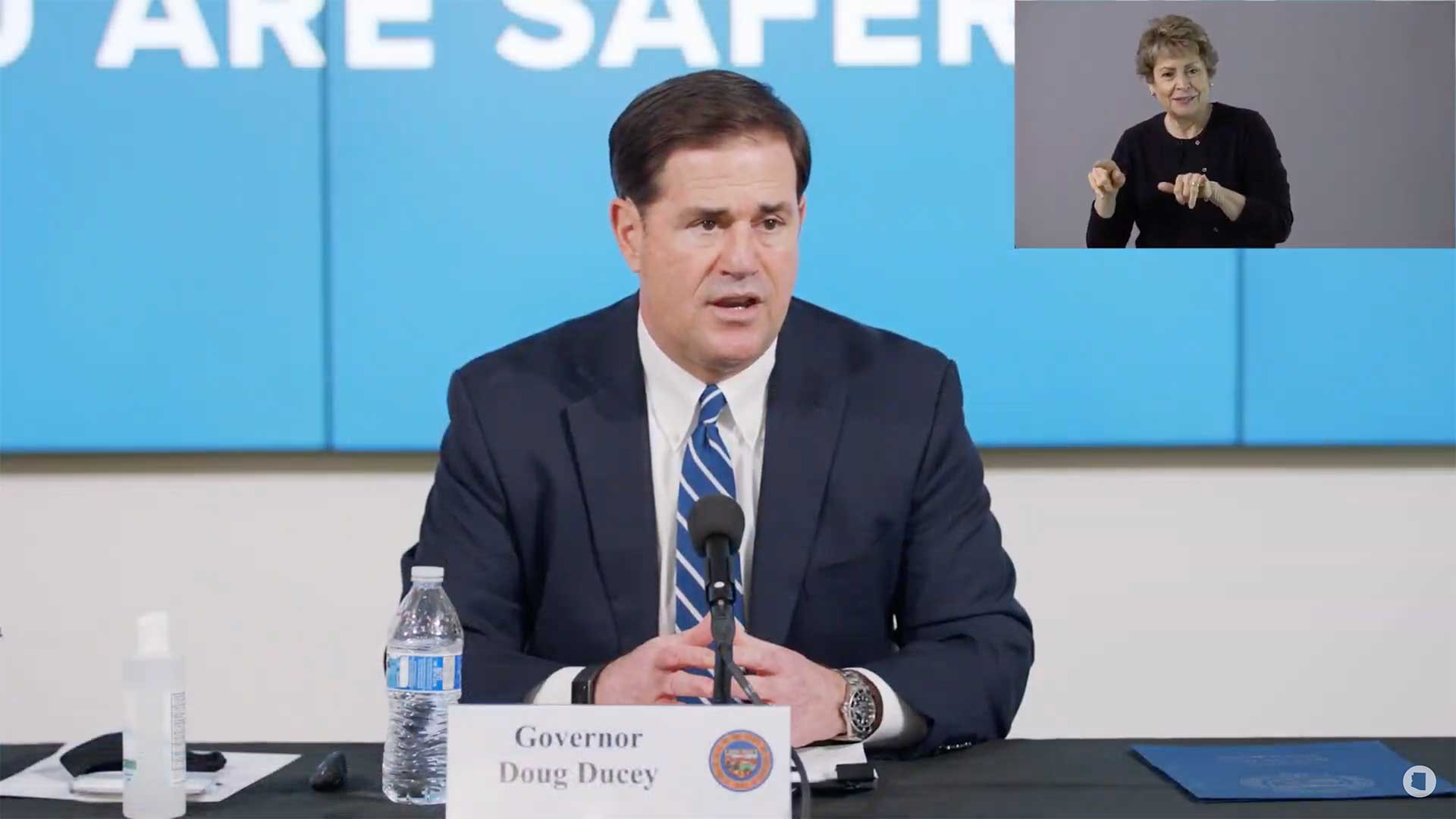 Arizona. Gov. Doug Ducey at a July 16 briefing on the state's COVID-19 response.
Office of the Arizona Governor
Arizona Gov. Doug Ducey on Thursday extended an eviction protection for renters that was set to expire next week, temporarily easing fears that thousands in the state would be forced out of their homes as the COVID-19 pandemic wreaks havoc on people's financial security.
The July 16 announcement extends a March 24 moratorium on residential evictions until Oct. 31. The governor also said $5 million would be going toward a program to provide aid to homeowners trying to avoid foreclosure without rental income, as well as additional funding for rental assistance.
The governor's March order, along with the CARES Act protections, likely kept eviction rates down, experts said. Without protections, varying predictions of the number of potential evictions had put the statewide estimates in the hundreds of thousands.
The $600 in weekly jobless benefits provided in the federal CARES Act will disappear on July 25, reducing Arizonans' weekly unemployment check from $840 to $240. Ducey said he was communicating with Arizona's congressional delegation and the White House about an expected aid package to address the loss of federal unemployment aid, but did not say the state would do anything if Congress fails to act.
Ducey promised more guidance next week for the reopening of the state's schools, whose start date had been delayed until Aug. 17, saying more flexibility would be built into the process.
Educators, families and students have been calling for more clarity and drawing attention to safety concerns in schools and their plans to reopen. One Arizona teacher reportedly died at the end of June after testing positive for COVID-19 following a return to a classroom with two other teachers.
Ducey claimed the positive percent of tests was trending down, and that data showed the first evidence that the daily number of cases was as well. The use of hospital beds, ICU beds and ventilator use continued to rise, he said. He said local mask ordinances were helping slow the spread of the virus, expressing gratitude to local leaders for implementing those mandates. Before June 17, Ducey had blocked them from doing so with an executive order amid calls from some mayors to lift the restriction.
In the week preceding Ducey's July 16 update, Arizona reported 21,942 new cases, a 19% increase; 454 more deaths, a 22% increase; and a statewide positive diagnostic test rate of 22.8%, calculated using daily reports from ADHS. On that day, 2,492 people were reported to have died as a result of COVID-19. The World Health Organization's recommended percent positivity rate needs to be at 5% or less for two weeks, a number that Arizona's rate has eclipsed for weeks.
In last week's briefing, Ducey acknowledged the direness of the situation, pleading with Arizonans to be safe and wear masks, but did little else to change course apart from issuing an order limiting capacity of restaurants, which were already subject to COVID-19 distance restrictions. Ducey had the worst approval rating on his COVID-19 response at the end of June than any other governor in the country, and even President Trump, according to a poll.
This week, Arizona topped all states and countries in the rate of daily new cases per capita, according to a Harvard analytical tool, unemployment set a new record and Pima County was already recording an uptick in evictions.