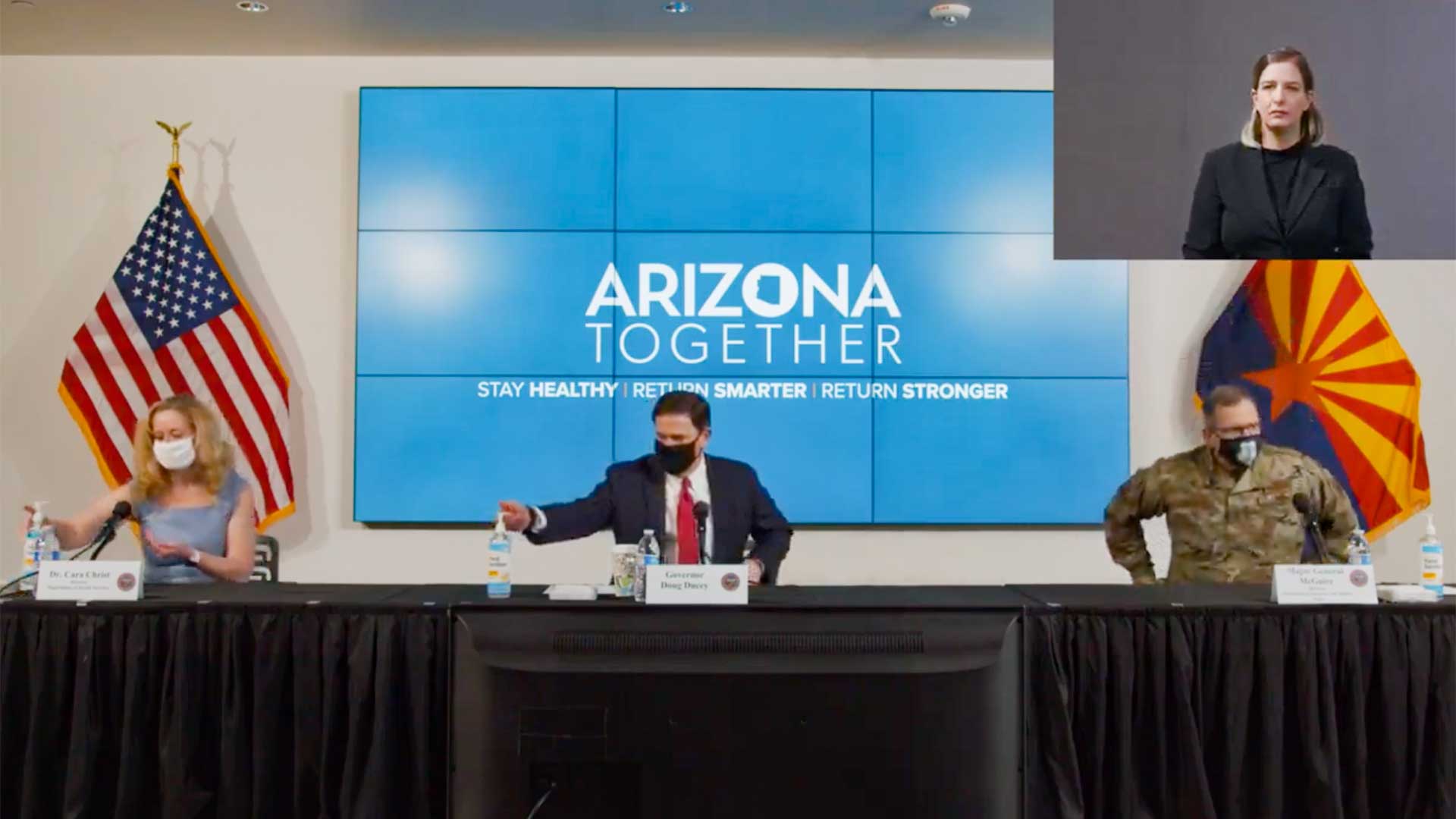 ADHS Director Cara Christ, Gov. Doug Ducey and Maj. Gen. Michael McGuire show up to a June 17 meeting wearing masks. They removed the masks after sitting down.
Office of the Arizona Governor/YouTube
Arizona Gov. Doug Ducey announced Wednesday that local governments could implement their own mask policies and enforcement to help slow the spread of surging COVID-19 cases, removing a barrier to local control that his office had put in place.
The change is one that several mayors in the state had been requesting, with Tucson's Regina Romero instructing the city to start making the change before the governor's announcement.
Ducey opened his June 17 media briefing on the state's COVID-19 response with the same run-through of recent data, saying the numbers of cases and positive percent of tests have been going up, with the modest admission: "There is a trend, and trend is headed in the wrong direction." Ducey went on to point out that hospitalizations have been on the rise and the hospital bed capacity was "concerning."
The briefing comes amid national attention on Arizona's rising COVID-19 numbers, with the state frequently breaking records in recent days for single-day reports of cases and hospitalizations.
Ducey, Arizona Department of Health Services Director Cara Christ, and Maj. Gen. Michael McGuire showed up to the meeting wearing masks, and promptly removed them. Ducey acknowledged the importance of masks in reducing the spread of the virus. Ducey outlined what he called a "plan of action," saying the state would increase testing, deploy 300 National Guardsmen as part of a contact tracing effort, release a PSA about safe practices, and create new guidelines about congregating.
He said businesses need to follow guidelines to protect the health of workers and guests and those that fail to do so "will be held accountable."
Public health experts around the country have been alarmed by the rise in cases in Arizona, one of a handful of states considered to be the new coronavirus hot spots in the U.S. The surge in cases and hospitalizations has been linked to Ducey allowing the state's stay-at-home order to expire on May 15.
A group of public health professors from the University of Arizona on Monday urged Ducey to implement additional measures to prevent the spread of the virus, saying case counts had not dropped to a level that would be manageable considering the limited guidance, efforts and restrictions the state had in place.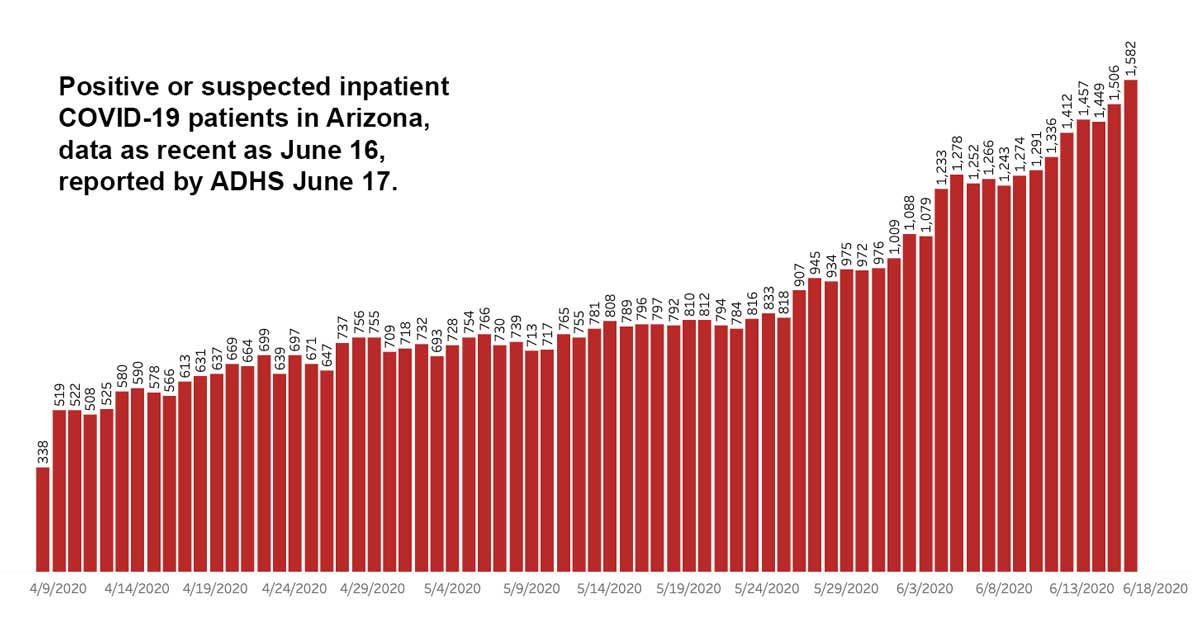 VIEW LARGER The number of inpatient hospitalizations has been on a steady climb in Arizona, with 1,582 reported for June 16.

ADHS, AZPM
In past media briefings, Ducey and Christ have cast the rise in cases as tied to increased testing rather than increased infection, something Vice President Mike Pence encouraged governors to do in a call on Monday. In response to questions from reporters, last week Ducey said the original stay-at-home order was put in place in order to prepare hospitals for "what we are going through right now." Today, Ducey acknowledged that the rising case counts are due to more than an increase in testing.
Arizona hospitals are treating a record number of coronavirus patients this week amid a surge of new cases. The state's Health Services Department confirmed 1,827 new cases and 20 new deaths Wednesday. That brings the total confirmed cases to 40,924 and deaths to 1,239.

Hospitals were treating 1,582 patients on Tuesday, an increase of more than 500 from two weeks earlier. Emergency Room visits for patients with virus symptoms soared to a record of nearly 1,100. Republican Gov. Doug Ducey is under increasing pressure to take steps like requiring masks to slow the increase.
The Associated Press contributed to this story.