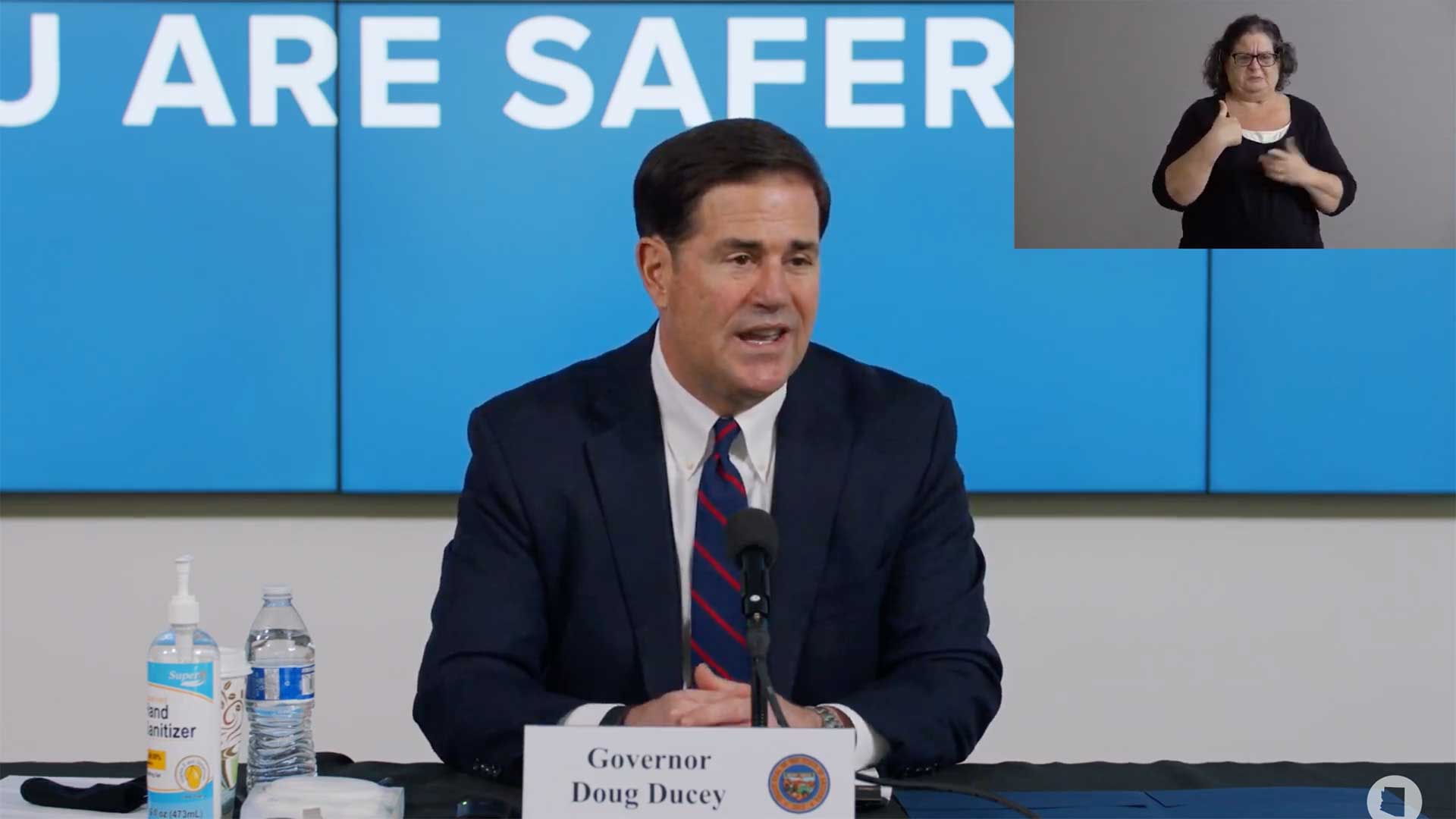 Arizona Gov. Doug Ducey at a July 9 news briefing on the state's response to the COVID-19 pandemic.
Office of the Arizona Governor/YouTube
Arizona Gov. Doug Ducey on Thursday allowed restaurant dine-in services to continue in the state as long as they operate at less than 50% of capacity to slow the spread of the novel coronavirus, in a new executive order.
The governor also issued an IOU for stronger guidance for businesses as the state grapples with COVID-19, a week in which it recorded some the worst COVID-19 numbers in the country.
In the press briefing, Ducey intensified his ongoing appeal to Arizonans to do their part to reduce the spread by wearing a mask, washing hands, and not going out, but did not issue any requirements to that effect. "This idea of sacrificing is really a mindset," Ducey said.
The governor worked to underline his pro-business credentials to soften the announcement that they would be strengthening "prescriptive" guidance for the state's industries, but didn't outline any specifics.
"There's no other way around it if we want to protect lives and livelihoods," Ducey said.
He also promised to "dramatically expand" testing in the state. The governor set targets of 35,000 tests per day by the end of July and 60,000 tests per day by the end of August and said labs would improve turnaround for test results. He also said more federal "help" for testing was on the way, and announced a plan for 12-day surge testing in two neighborhoods in Phoenix. He also said a collaboration with Arizona State University on saliva-based testing effort will start Saturday and expand over the course of a couple months.
Before the press conference, Tucson Mayor Regina Romero joined others to call for stricter measures to mitigate the COVID-19 outbreak as well as a more aggressive increase in testing and contact tracing.
I'm joining @MayorGallego, @Coral4AZ, @AnnaTovarAZ, and @coreywoodstempe, in asking @dougducey to take statewide action on COVID-19:

✅Statewide mask requirement
✅Increase testing + contact tracing
✅Additional statewide closures of venues w/ high potential for transmission pic.twitter.com/16nKlXPyc6

— Regina Romero (@TucsonRomero) July 9, 2020
In recent days, Arizona has recorded the highest rate of percent positive tests in the country, with around one-in-four tests coming back positive, eclipsing the recommended high-mark indicator of 5%. It also reportedly led the country in the rate of hospitalizations via inpatient hospital bed use.
Health experts say that the startlingly high percent positivity of COVID-19 tests in recent days indicates that the spread of the virus is well beyond the state's current capacity to keep up with testing and measure the extent of the outbreak, which has been driven by a rise in cases among younger groups.
At the end of May, Ducey told a Phoenix radio station that he was encouraging people to "get out and about" and that it was "safe out there" for those without underlying conditions. The interview came less than two weeks after he let the state's stay-at-home order expire.
Ducey didn't change course on formal COVID-19 restrictions in the state until mid-June when he finally yielded to local calls for mask ordinances and removed the ban his office had put in place on municipalities implementing such mandates. Many cities promptly did so. Around the same time, his tone started to shift in his calls for people to be safe and exercise their own personal responsibility. Gradually no longer claiming that the rise in cases was due to increased testing, Ducey's next restrictions came June 29, when he ordered the closure of bars, gyms and movie theaters and restricted large gatherings.
In the June 29 briefing, he stopped short of issuing a stay-at-home order, restricting dine-in services or implementing a statewide mask mandate. In addition, religious and political rallies were apparently exempt.
As the state embarked on its seemingly relentless series of record-breaking days for cases and hospitalizations in recent weeks, Ducey's tone eventually changed and he admitted the state was facing a "brutal situation" and that things were continuing to go "in the wrong direction."
On June 11, the governor said that the state's original stay-at-home was to bolster the health care system in preparation for a surge in cases, or as he said at the time, "what we are going through right now." On June 11, the state reported 31,264 cases. On July 9, it reported 112,671, according to the Arizona Department of Health Services, a 260% increase.