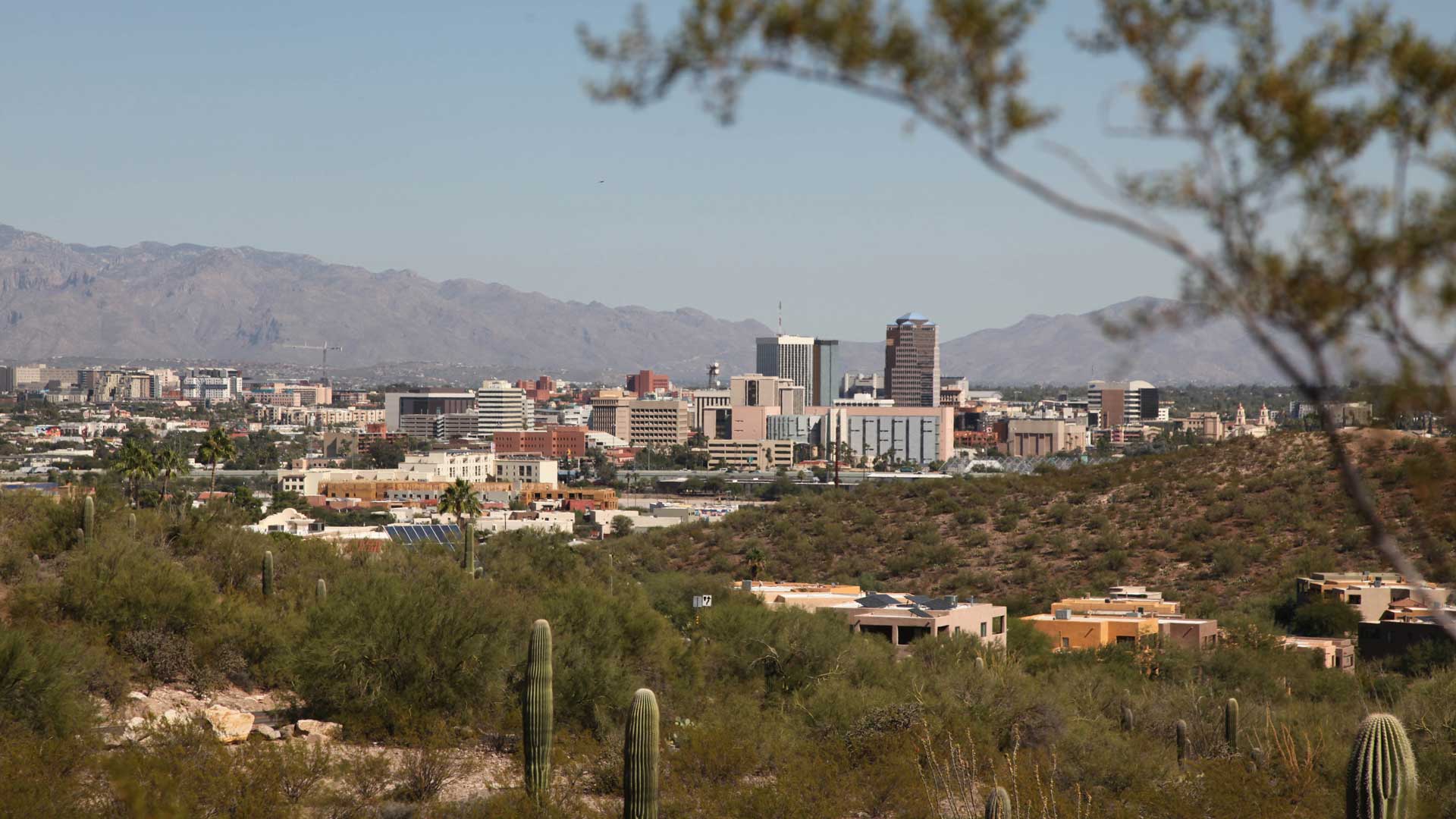 Downtown Tucson, Oct. 23, 2019.
Meredith O'Neil/AZPM
A roundup of coverage of the COVID-19 outbreak as of midday March 19. For more coverage, visit our resource page. This story may be updated.
---
Local restaurants counting on takeout to make it through virus
(AZPM) Tucson's Fourth Avenue at lunchtime Wednesday recalled a ghost town.
Every restaurant, bar and business owner in Tucson is trying to figuring out how to make it through the coming weeks. Many restaurants are hoping takeout and delivery will see them through the restrictions put in place on dine-in services.
"It's devastating. There's no sugar coating it," said Ande Motzkin, owner of Caruso's Italian Restaurant. Many businesses on Fourth count on St. Patrick's Day and the Fourth Avenue Street Fair to offset the slower summer months, when many students and retirees typically leave Tucson.
Listen to today's feature here.
---
More demands to close immigration courts
(AZPM) The Executive Office of Immigration Review announced Tuesday all non-detained hearings have been postponed due to coronavirus concerns. The step has drastically scaled back immigration courtroom operations, but detained individuals, unaccompanied minors and asylum seekers enrolled in the "Remain in Mexico" program continue in some courts around the country.
An immigration judge in Denver has a confirmed case of the virus, according to the National Association of Immigration Judges. A lawyer there and another in New York City suspect they may have contracted it as well. The organization's president, Judge Ashley Tabaddor, said those close calls have sent shock waves through immigration courts around the country.
"Every court is basically in panic mode because the appropriate measures have not been taken to protect people from exposure," she said.
Learn more here.
---
Tribes temporarily close casinos in Southern Arizona
(AZPM)The Pascua Yaqui Tribe is closing its two casinos in response to the coronavirus outbreak.
Casino del Sol and Casino of the Sun will be closed until the morning of Monday April 13. The Pascua Yaqui Tribe was the first in the state to announce it would shutter its casino operations, a major economic driver for the community.
Another major casino in the area, the Tohono O'odham Nation-owned Desert Diamond Casino, announced late Wednesday that it would also close its properties that night.
Learn more here.
---
More than 40 coronavirus cases now confirmed in Arizona
PHOENIX (AP) — Arizona health officials say there are more than a dozen newly confirmed cases of the novel coronavirus in the state. The state Department of Health Services confirmed on its website that there were 44 people with COVID-19 on Thursday morning, up from 30. The website said 331 tests had been administered.
Several of the new cases were found in Maricopa County, Coconino County on Wednesday saw its first case. Phoenix, Tucson, Flagstaff and other cities declared a state of emergency this week to slow the virus' spread. The formal proclamations has led to the closures of bars, gyms and other businesses.
---
National parks are open — with some changes — amid virus
SALT LAKE CITY (AP) — Most national parks are open as a refuge for Americans tired of being stuck at home because of the coronavirus. Entry fees have been eliminated, but many parks are closing visitor centers, shuttles and lodges to fight the spread of the virus.
Parks are trying to keep up with ever-changing rules and recommendations from government officials who are urging people to avoid gathering in large groups but allowing them to get outside for fresh air as long as they keep their distance from others. Not everyone is on board with people coming to parks to escape the virus. Gateway towns fear they couldn't handle a local outbreak.
---
As virus spreads, VA gets set to back up taxed US hospitals
WASHINGTON (AP) — The Department of Veterans Affairs is rapidly preparing for the possibility it may have to absorb overflow civilian patients if private hospitals are overrun by the coronavirus pandemic.
The government-run hospital system has already been bracing for a potential surge of 1 million veterans infected by coronavirus. According to a VA document obtained by The Associated Press, the agency is asking Congress for $16.6 billion in emergency money to cover coronavirus care over the next six months.
The money would be used to ramp up COVID-19 testing, cover hospital care and protective masks for 4,500 more veterans, add medical ventilators and boost online telehealth options.
---
Layoffs spike in US, Europe as virus shuts businesses
WASHINGTON (AP) — The U.S. and global economies have come to a shuddering stop, unleashing a wave of layoffs that is much larger and moving much faster than job losses in previous downturns.
They are swamping state unemployment benefits systems and leaving many Americans still working anxious about whether they will be next. Tens of thousands of laid-off workers have already flooded state unemployment websites across the country to apply for jobless benefits.
In the week ending March 14, the number of people seeking unemployment aid soared by 70,000 to 281,000, the Labor Department said Thursday. And many states are already reporting big increases in benefit applications this week, which weren't included in those figures.
---
US-Canada border to close late Friday to non-essential trips
TORONTO (AP) — The Canadian government says the Canada-U.S. border will be closed to all non-essential travel in both directions on Friday night.
Prime Minister Justin Trudeau says it will take "weeks to months" for social-distancing measures in his country to be lifted. Both the U.S. and Canada have been in talks in recent days to negotiate a mutual halt to tourism and family visits but leaving the flow of trade intact.
Canada relies on the U.S. for 75% of its exports and about 18% of American exports go to Canada. Much of Canada's food supply comes from or via the U.S.
---
US weighs warning against all overseas travel
WASHINGTON (AP) — The Trump administration is considering an upgrade to its already dire warning to Americans against all international travel as the coronavirus outbreak spreads. U.S. officials said Thursday the State Department could soon issue a new alert urging Americans not to travel abroad.
The officials spoke on condition of anonymity because a final decision has not been made. At the moment, the department's advice to U.S. citizens is to "reconsider" all international travel. If the upgrade from the current "level three" alert to a "level four" alert is approved, it would have little practical effect because it is not mandatory and there are now limited transportation options for international travel.
---
Hispanic Catholics asked to skip healing sites amid outbreak
RIO RANCHO, N.M. (AP) — El Santuario de Chimayó is one of many historic Hispanic Catholic healing sites limiting access — or outright closing — to pilgrims as the novel coronavirus spreads.
From Colorado to France, Catholic officials are discouraging big gatherings and halting traditional excursions to sites devotees visit to seek miracles or healing. Public Masses have been canceled and Holy Week events likely won't occur.
Catholic Studies scholar Andrew Chesnut says the restrictions are unprecedented and forcing believers to take their petitions and prayers online. Visitors to various sites said they had planned to pray for those inflicted by COVID-19 and ask for protection from the virus.
---
'Quarantine shaming': US navigates radical new social norms
There's a new type of social policing out there that's developed almost as quickly as the viral disease that spurred its arrival. It's called "quarantine shaming," calling out those who are leaving the house for daily activities or who aren't abiding by social distancing rules.
And it's part of a new reality for Americans who must navigate a world of rapidly evolving social norms in the age of COVID-19. As schools close and shelter-in-place orders sweep across the U.S., the divide between those taking the orders extra seriously and those trying to live their lives with some semblance of normalcy is growing larger by the day. Complicating matters: What was socially acceptable even 48 hours ago may now be taboo.