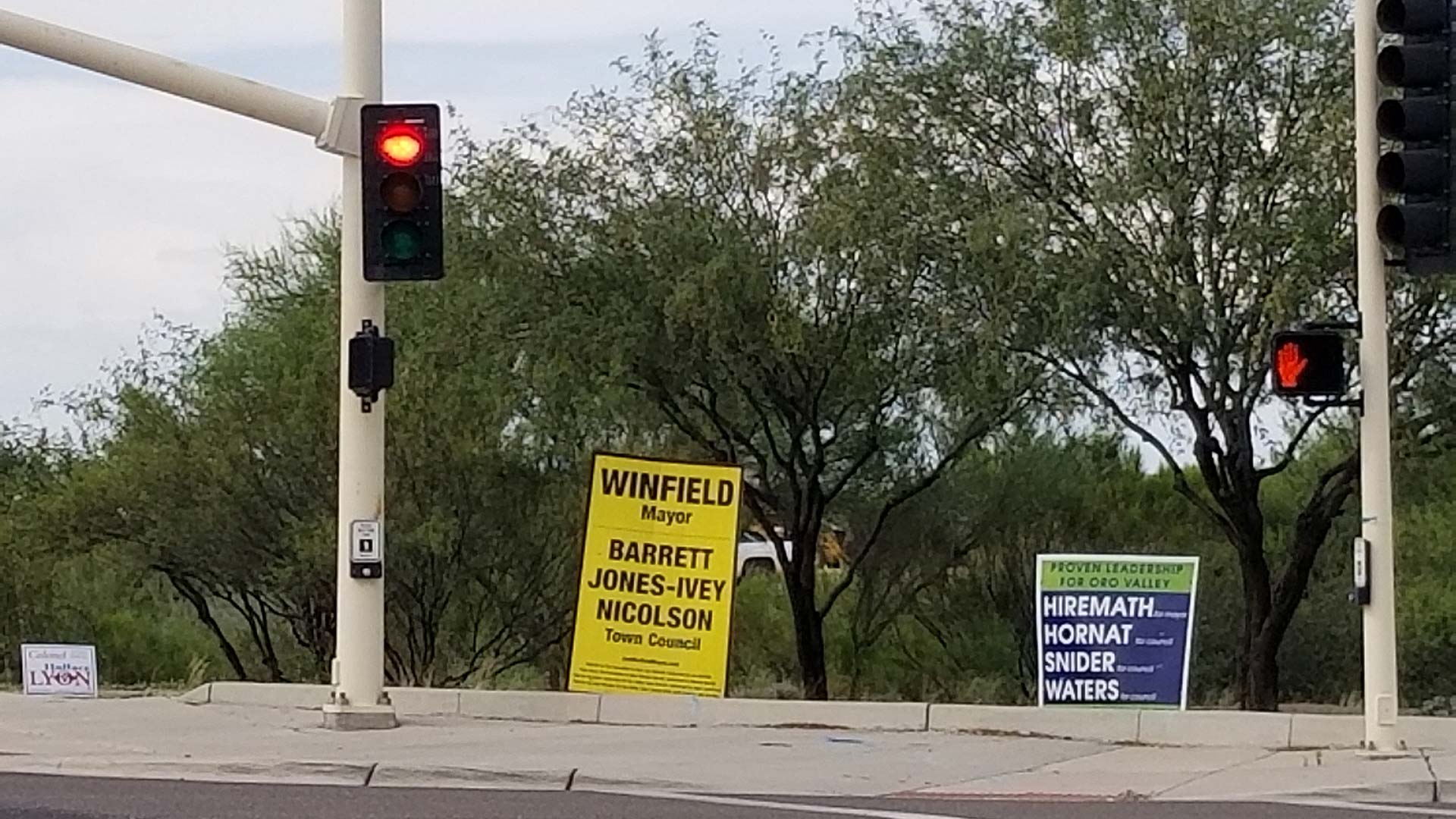 Local election signs in Oro Valley.
Ian Ingle, AZPM
Town council races in three Southern Arizona communities are nonpartisan, meaning open seats will likely be decided by Tuesday's primary. The top vote-getters will win seats, with a run-off occurring if there is a tie between two people and only one available seat, such as a tie for third place in a race where three seats are available.
Marana voters appear to be sticking with incumbents Patti Comerford, Herb Kai and Jon Post — along with recent appointee John Officer. They were leading the race for four council seats in against challengers are Mace Bravin, Jeff Gray and Jack Neubeck.
If the early results hold in Oro Valley, voters appear to be looking for new representation. Incumbent Mayor Satish Hiremath was lagging behind challenger Joe Winfield in preliminary results Tuesday night. The two squared off in a 2015 recall election. Challengers Melanie Barrett, Joyce Jones-Ivey and Josh Nicolson held early leads against incumbent council members Joe Hornat, Mary Snider and Lou Waters.
Three seats on Sahuarita's town council are up for election. Incumbents Kara Egbert and mayor Tom Murphy were ahead in the early results, along with challenger Dalia Zimmerman. The other challengers are Ryan Huber, Mitchell Miramontes, and Lora Nastase, who was close behind in the early vote count. Councilman Duane Blumberg is not seeking re-election. Once Sahuarita's town council is elected, the body will convene and elect a mayor from among the members.
In South Tucson, Akanni "Oye" Oyegbola, Robert S. Romero and Robert "Bob" Teso lead the five-way race for three seats. The other two candidates are Robert Larribas and Rufino Cantu Jr.
Visit our primary election results page for updated numbers on these races.