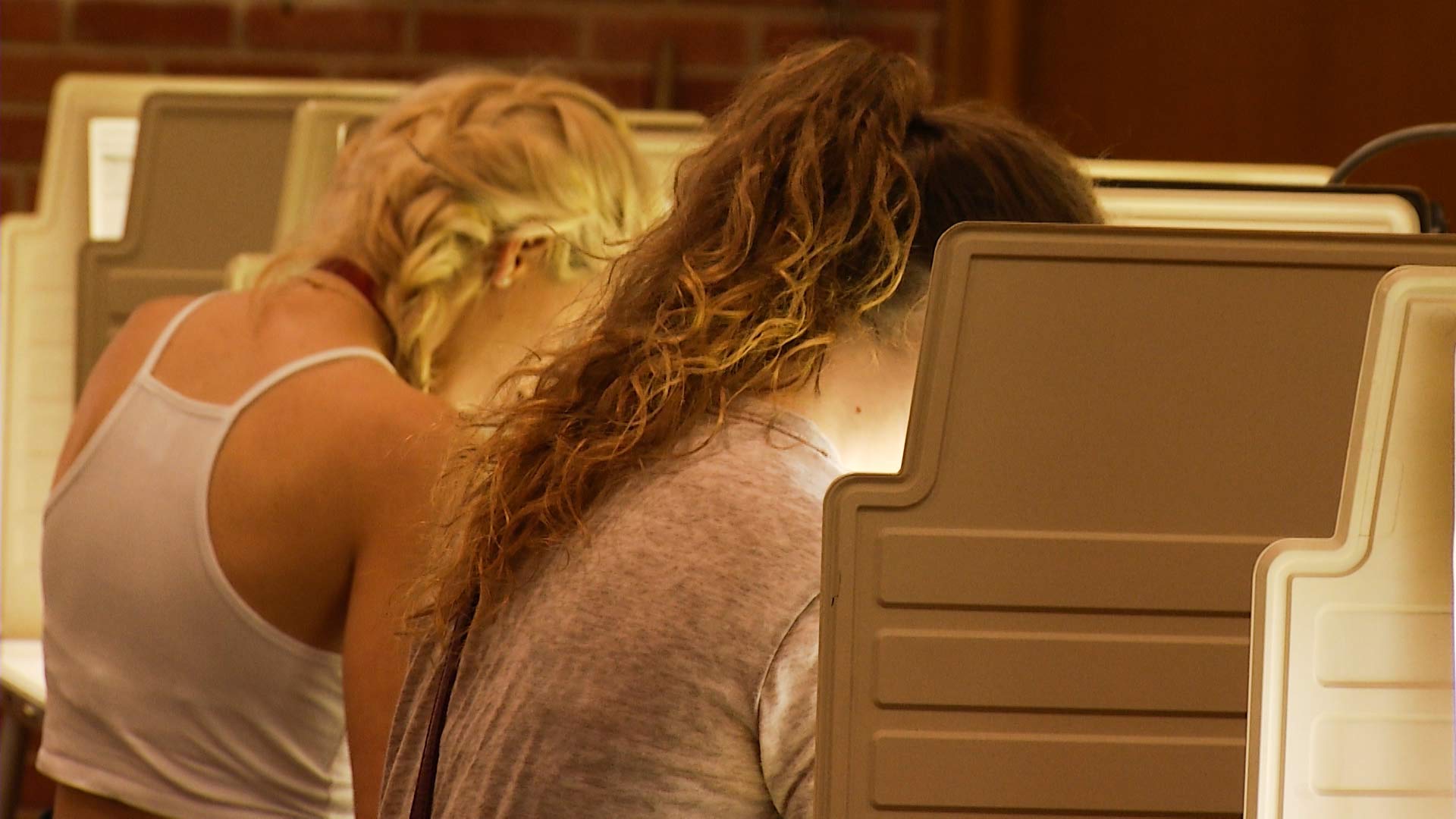 Voters cast their ballots at voting booths.
AZPM Staff
Elections are all about the numbers, and this time the numbers for the primary races in Southern Arizona's 2nd Congressional District stand out.
Usually, voter registration numbers in the district are what stand out. Republicans, Democrats and independents are registered in near equal numbers.
The figure attracting attention this year, though, is the sheer number of candidates. Twelve men and women qualified for the primary ballots. Four Republicans, seven Democrats, and a Green are all working to advance to the November election in District 2.
The major parties say they had nothing to do with the high number of candidates.
"People self-nominate and we don't have a meeting in a smoky back room and decide whose turn it is, and so bring it on. That's sort of our attitude," said David Eppihimer, chairman of the Pima County Republican Party.
In primaries, candidates have to set themselves apart from their competitors in the same party.
In 1966, then-California gubernatorial candidate Ronald Reagan issued what he called the "11th Commandment": "Thou shall not speak ill of any fellow Republican."
It is a statement party officials should hold true in this year's CD2 primary.
"We are advising all the candidates to keep it as above-board and clean and positive as they can," Eppihimer said. "We don't want our winner to come out so battered and bruised and negatively placed in the psyche of the voter that they are disadvantaged in the general."
Jo Holt, the Pima County Democratic Party's chairwoman, doesn't often find herself agreeing with Ronald Reagan or Republicans in general, but she said she has similar advice for Democrats.
"In my position as county chair I have a responsibility to party unity. I probably sound even a little bit like ... a broken record, that we are all in this together and, Democrats, please don't shoot yourself in the foot," said Holt.
State law sets how candidates qualify for the ballot, so parties really cannot do much to determine whose name appears.
"Anybody can sit down at a computer, put a 'D' behind their name and then they can go file. They can basically carry our flag without our say so. That's the way it is here. And that is not something I support, I'm not fond of that at all. It causes us a lot of problems," said Holt.
That is not true in all states. Officials with the Democratic Party in California recently tried to convince candidates to drop out of races that were crowded when the party was in danger of losing seats as a result.
Party action in a primary is not the norm. In Arizona, the parties almost always stay neutral in the primaries, meaning they do not endorse candidates.
But this year they are helping those seeking all offices.
"I tell them we are here for you," Holt said. "If you need something, if you want to do an event here at headquarters, anything that we can do to help you. Don't feel that you can't come to us because we are neutral. We might not be doing it for everybody, but it is only because they didn't ask."
Republicans in Pima County are taking a new, more active approach.
"We've offered them the assets of walking lists and precinct committeemen lists and a little bit of strategy on how you would approach getting your message out and assets like that the county party has at its disposal — instead of just saying, hands off and when one of you guys wins we will get involved in the general," said Eppihimer.
The focus during the primary season will be on the 11 candidates from the two main parties, but there is a 12th candidate, a member of the Green Party.
He must win his one-way race to advance to November and face the winner of the crowded Democratic and Republican primaries.