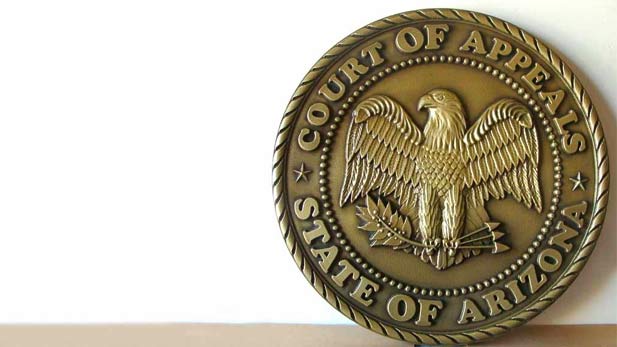 Seal of the Arizona Court of Appeals.

Courtesy Office of Gov. Doug Ducey
PHOENIX — The Arizona Court of Appeals on Tuesday dismissed the case of a woman who claimed discrimination because the state had provided some employee benefits to unmarried same-sex couples but not to unwed heterosexual couples.
The appellate court ruled against Renee Loncar, who had a long-term partnership with a man, including two children together.
It said Arizona's decision to provide benefits for state employees and their same-sex partners came at a time when same-sex couples could not wed.
"We hold that the state did not violate Loncar's state or federal constitutional rights because Loncar and her male domestic partner were not similar situated with same-sex couples who were legally prohibited from marrying," the opinion states.
The state hired Loncar in 2006 — a time when Arizona law had allowed certain benefits for domestic partners regardless of sexual orientation.
At the time, Loncar identified her longtime partner Christopher Kutcher as a dependent for state benefits, including life insurance.
However, statutes covering benefits were revised in 2010, giving unwed same-sex couples the same benefits as married opposite-sex pairs.
Under the change, Kutcher was no longer considered a dependent when he died in a 2014 car accident.