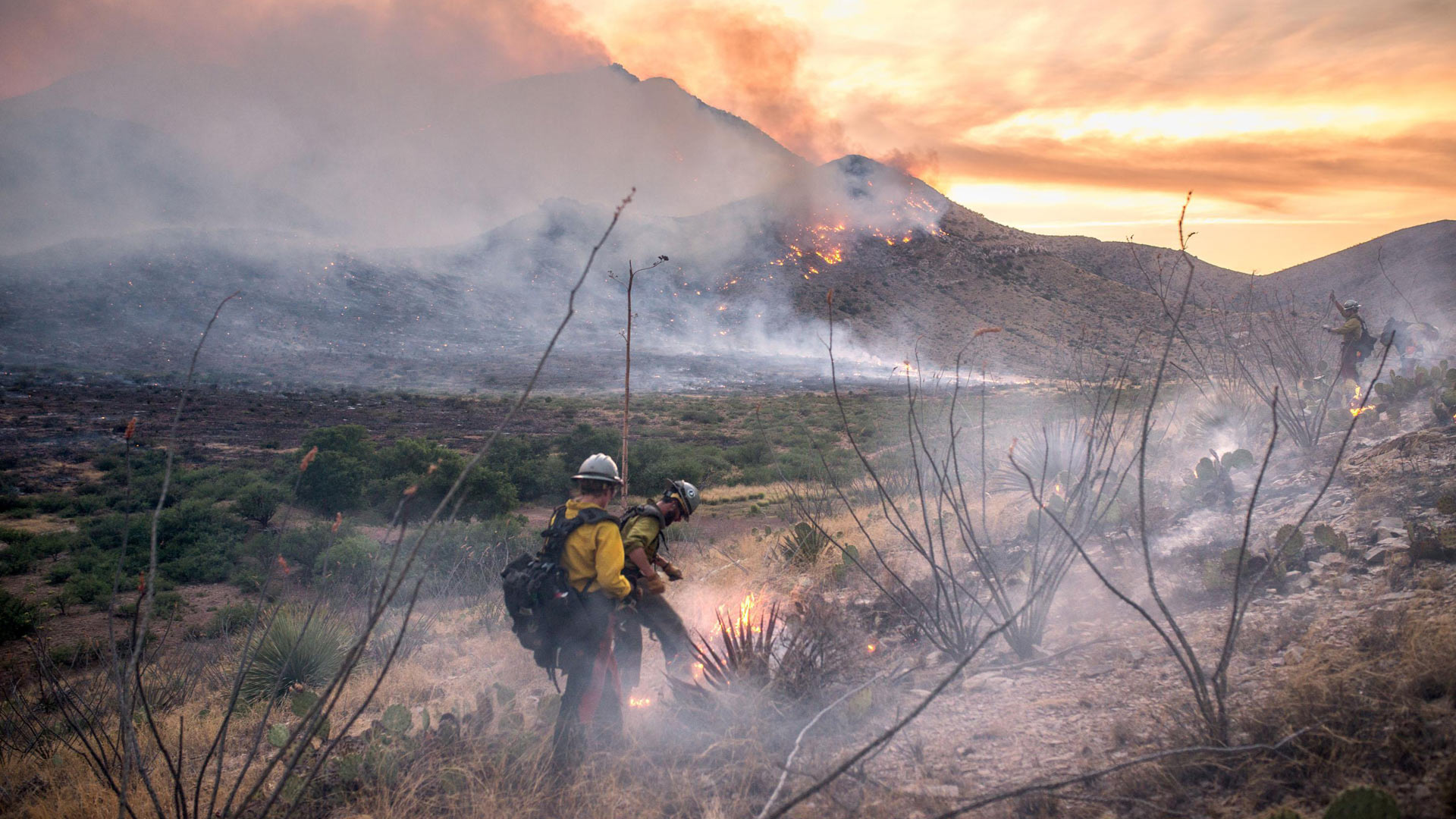 Firefighters battle the Lizard Fire on a smoky hillside, 2017.
Wyoming Hotshots via inciweb.nwcg.gov
A study done by University of Arizona researcher Donald Falk predicts that the area burned by wildfires could grow by a factor of six in the next 20 years.
"What we think is going on, in projecting this big increase in area burned, is that fire seasons are getting longer, everywhere," Falk said. "And that simply means that fires have a longer time to spread, get big and cover more area."
The main reason is climate change. As the overall temperature increases, the fire season gets longer, Falk said. Southern Arizona now has a 12-month fire season, where previously it would have only been during the heat of the summer.
What often happens is a place like Mount Lemmon will see significant rainfall one year, which encourages the growth of grass, shrubs and small trees on the forest floor. Then, the next several years will be particularly dry, that growth dies, creating highly flammable "fuel" laying all over the forest floor.
Wildfire experts say they have noticed this happening outside of Tucson.
"What we have seen in our personal experience is more severe fire seasons, and our fire seasons are increasing in size and in intensity," said Heidi Schewel, spokeswoman for Coronado National Forest. "We are seeing larger wildfires than we have seen in the past, and more difficult to suppress."
One factor that is often overlooked is snowfall. When it is dry, less snow falls in the mountains, and then in the spring and summer there is less snowmelt running into creeks and rivers. Trees and foliage that depend on the water dry up, or in some cases die, creating more fuel for wildfires.
To make things worse, Arizona is in the middle of a 20-year drought, with no signs of relief any time soon.
The bigger wildfires get, the more they tend to cost, and that is becoming a problem. Last year, the cost of fighting wildfires in the U.S. totaled $2.5 billion, according to the Department of Agriculture.
"It's going to be an issue until something gets taken care of," said Tiffany Davila, spokeswoman for the Arizona Department of Forestry and Fire Management. "We are constantly fighting to find funding. ... We are having to take funds from elsewhere and use them to fight fires."
The biggest difference that can be made is not in fighting wildfires, but in preventing them.
One way to do this is by thinning forests that have overgrown. Cutting the low-hanging branches off trees and then starting a low-profile controlled burn in overgrown areas will prevent a large wildfire from sweeping through.
"Any forest can have an adverse effect from a fire. But, certainly, when we see areas that have been well managed, or carefully managed, they are more friendly to fire coming in, and we get the right kind of fire," Falk said. "And that is the kind of sustainable optimum that we are looking for."
There are steps that you can make at home as well. According to Davila, clearing the brush away from your house, cleaning your gutters and getting rid of dead trees can go a long way toward wildfire prevention.
"The more you can maintain your property, the easier it is going to be for a firefighter to get into your property and possibly save your home," Davila said. "Along with the drought, the dry conditions and the unseasonably warm temperatures we have had this winter, one of the things that the public can do, is create defensible space around their property, and that will help immensely."
These steps become even more important as wildfires continue to grow each year.
Nate Airulla is an AZPM intern and student in the University of Arizona School of Journalism.