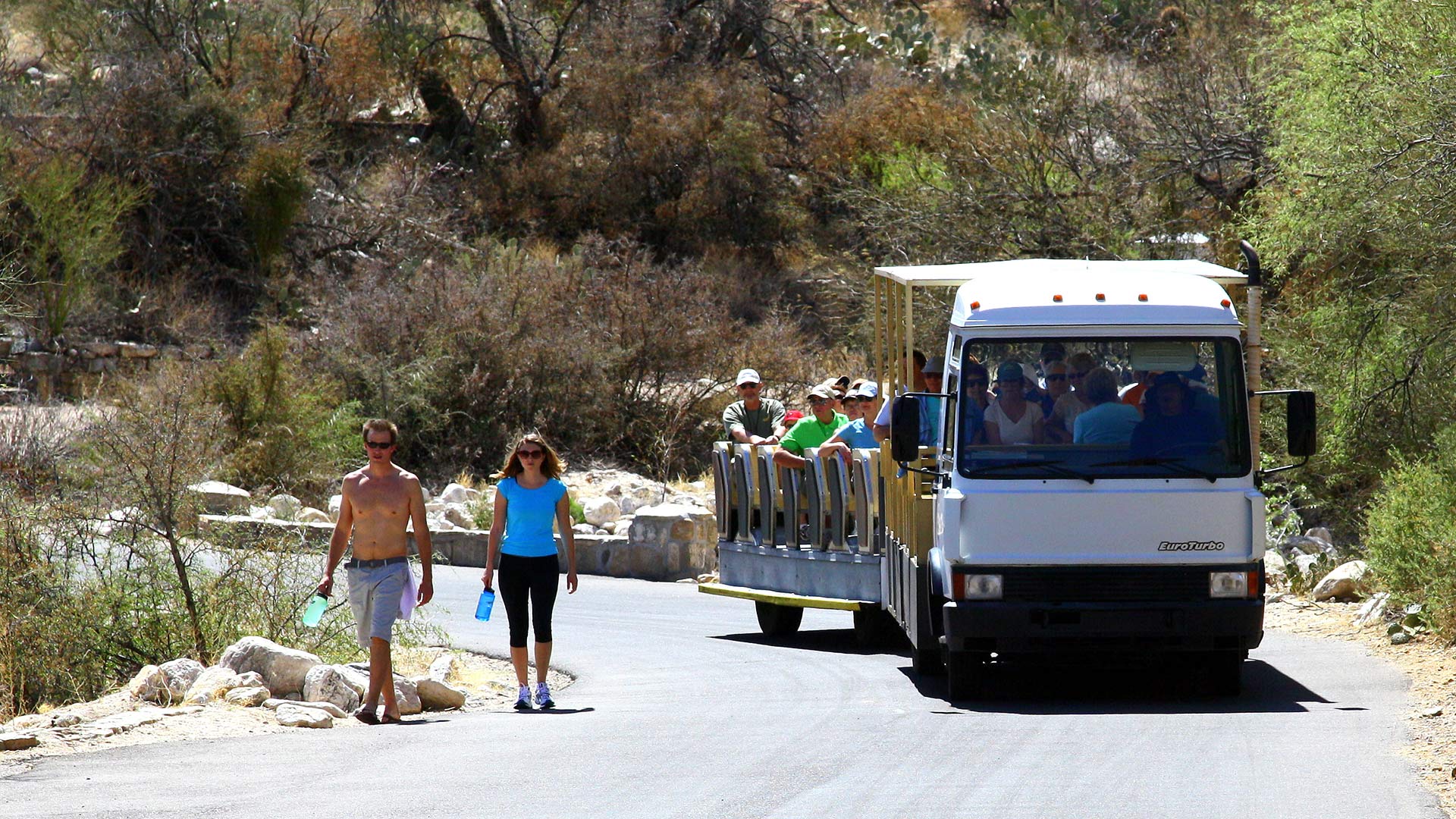 The tram at Sabino Canyon, 2011 (CC BY 2.0).
Bill Morrow via Creative Commons
A group headed by the Pima Association of Governments has submitted a proposal to run the shuttle service in Sabino and Bear canyons.
The proposal was assembled by the Regional Partnering Center and lists its collaborators as PAG; the Regional Transportation Authority' private companies, including Tucson Electric Power; and nonprofit groups such as Friends of Sabino Canyon and the Coalition for Sonoran Desert Protection.
PAG would contract operations to Total Transit Enterprises, which runs the RTA's Sun Shuttle program.
Tucson Electric Power would provide $2.5 million in startup funding, including a $1 million zero-interest loan to pay for a fleet of electric trams.
"It's a win, obviously, for Pima County at large because we're going to enhance and provide better service to Sabino Canyon. And also it's a win for nature and the environment," said RPC chair and Oro Valley Mayor Satish Hiremath.
The tram service in Sabino Canyon is operated by Sabino Canyon Tours, a private company founded in 1985. Common criticisms of the service include a fleet of aging gasoline and diesel trams that make use of loudspeakers to provide information to riders and only accept cash for payment.
The U.S. Forest Service issued a prospectus and request for applications in November 2017. Sabino Canyon Tours' contract ends in June 2018.
"The trams themselves are kind of breaking down, and the service is not the service level that we'd expect to have in Pima County," said Hiremath.
The proposed fleet would include five electric-powered trams and four gasoline- or diesel-powered vehicles. The electric vehicles would be used during a transition period, and then they would be used on the Bear Canyon route and on an off-site route that would pick up riders at Udall Park and Loews Ventana Canyon.
The new proposal would replace tram loudspeakers with a headphone-based system. Riders would use their own headsets or purchase headsets for $1.
Ticket sales could be purchased with cash or electronic payment, and would be available either at a kiosk or on the tram.
Shuttles would run every 30 or 60 minutes, depending on day and season.